Whenever I hear a story about a cat who got a new chance for a happy life, it fills my heart with joy. I'm not going to lie to you, I may even shed a tear or two. I can't help it, okay? Today, I have such a story for you, and it will remind you that you should never give up on yourself, and others around you.
Some wonderful people were doing their good deeds for the day, feeding a stray cat colony, and blessing these fluffs with basic needs that made them live through another day. That's when they spotted an adorable orange kitty with an injured leg, and their hearts dropped.
The little purrer was in a lot of pain, and they couldn't bear to see him struggling to survive. In order to rid him of his misery, they thought the best thing they could do to help him is to take him to the vet and put him down. It was a tough decision to make, and it truly broke their hearts, but it was for his own good.
However, the veterinarian, and the hero of this story, Dr. Matt McGlasson, had a completely different plan for this little feline fighter. He filmed a video for TikTok and asked his followers to help him name this adorable fluff. Together, they came up with the name Nemo.
He wasn't going to sugarcoat anything. The doctor knew that Nemo's leg was beyond repair and had to be amputated. He made it his priority and, to the joy of many people who followed Nemo's journey, the surgery was a success!
By now, the sweet kitty had many supporters who were determined to help him adapt to his new life as a superhero three-legged cat. He was a fighter, after all, and they knew he'll be alive and kicking in no time.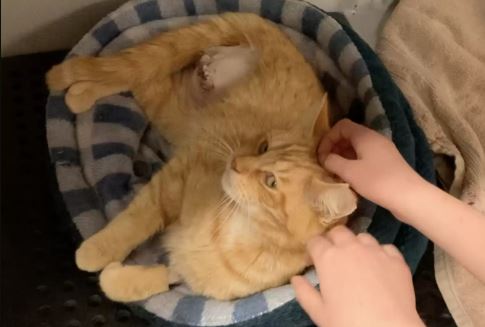 As everyone's favorite fluff started to heal, one thing became crystal clear: he was grateful beyond meows for all the love and care he was receiving. Dr. McGlasson couldn't hide his love and admiration for his new three-legged buddy, either. He was always talking about just how special Nemo is.
The doctor said he was the nicest cat he's ever met. Nemo was full of love for everyone around him, and he wasn't going to hide it. He was a real feline bundle of joy, spreading positivity and love all around him.
Now, it was time to find Nemo a loving home where he could enjoy the new life he was given. Unfortunately, Dr. McGlasson already had his furry companions at home, and he wasn't sure it would be the best idea for him to adopt Nemo.
No matter how much he wanted to, he knew he deserved someone who could give him more attention and care, just like he deserved. Luckily, fate wasn't going to give up on Nemo just yet, and Dr. McGlasson wasn't the only one who couldn't resist Nemo's charm.
One of the vet technicians fell head over heels in love with this sweet kitty that brought so much joy into their clinic. She couldn't imagine Nemo going anywhere else but straight into her arms, so she decided to bless him with a furrever home where he'll feel loved, safe, and protected.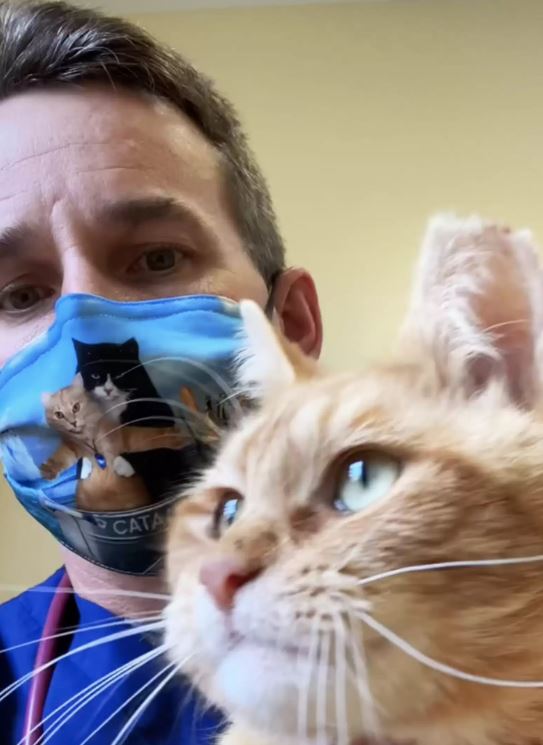 We're happy to tell you that Nemo is doing absolutely amazing in his new place. It quickly became his home, and he's loving every second of being an indoor cat. He's living like royalty, and he doesn't deserve anything less than that.
He fell in love with all the positive things that come with being a house cat. Nemo is a real king of the household, and he became a pro at getting around on his three legs. There's absolutely nothing that can stop this little champ, and he's using every opportunity he has to enjoy this new life he was given.
When he was a stray, injured kitty struggling to survive on the streets, he never knew what the future had in store for him. He fought to stay alive and, with the help of the wonderful people around him, he got the chance to live the life every feline deserves. A life filled with love, care, and delicious treats!
From the moment Nemo arrived at the vet station, everyone knew he deserved a chance to live a happy life and find his forever home. Dr. McGlasson said his staff knew he had a soft spot for cats.
In fact, they rescued and rehabilitated four kittens during COVID while his kids were doing school from home. When the staff found out about Nemo, they asked the client to assign him to Dr. McGlasson, knowing he'll be in good hands.
It didn't take long for him to realize that there was no reason for him to put Nemo down. Luckily, he trusted his instincts, and Nemo got a chance to experience what it's like to have a loving family.
Read more: Kitten Gets A Promotion Of His Life: From Being A Patient To Running The Vet Clinic