Who doesn't adore a feel-good tale of a cat frolicking with a baby deer or a golden retriever smooching every cow he comes by? Who doesn't want to hang out with a kitten-obsessed piglet (he knows what's up, doesn't he?) or an English Staffordshire bull terrier with a soft spot for magpies?
Witnessing such pure connections sends our serotonin levels soaring, and that's why we can't get enough of unlikely friendships among unique animals. We're peculiarly keen on friendships between puppers and kittens – we've been taught that these two don't go together, after all.
However, when we add a sprinkle of trouble or trauma to these tales, we know they're going to pull on our heartstrings.
Before you argue how that's not OK, how can we stop the waterfalls when we're presented with a tale of a paralyzed kitten that experienced love at first sight when she caught a glimpse of a big, strong dog? We're not monsters.
Meet Cinder and Bridger McPurr, a dog and cat sibling duo guaranteed to motivate you to add another member to your fluffy family. Cinder and Bridger are a part of Mojo's Hope, a rescue group for animals with special needs based in Anchorage, Alaska.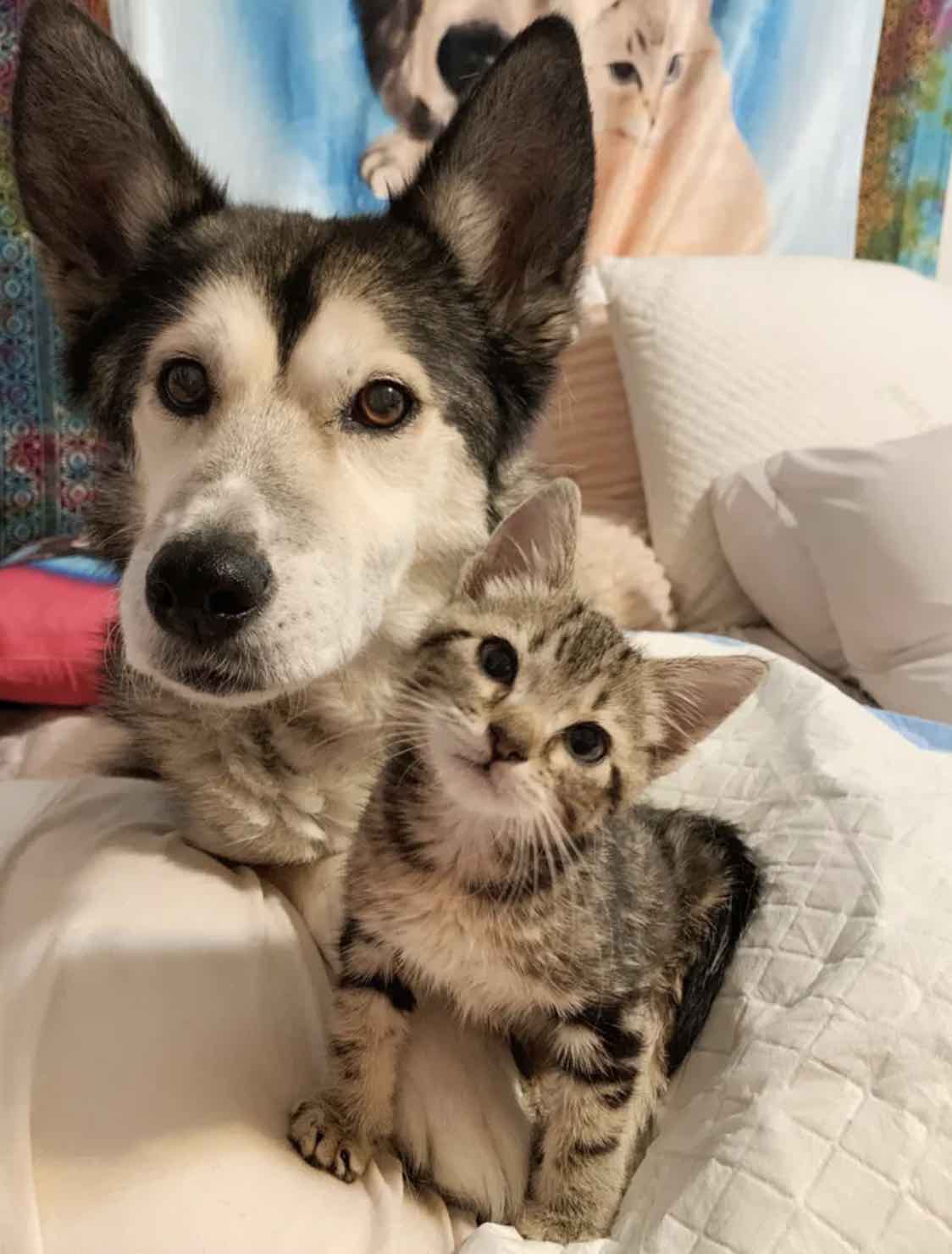 Mojo's Hope was started as an attempt to provide a safe, healthy, and compassionate environment for animals that aren't able to fend for themselves, whether that's because they're suffering from physical ailments or a little less visible ones.
On top of that, Mojo's Hope works to rehabilitate and re-home the animals that come to the rescue. But, some stay for many, many years because people aren't keen on adopting animals with special needs.
For better or for worse, that's how the story of Cinder and Bridger started. Cinder, a seemingly strong, sturdy husky dog was the first to arrive at Mojo's Hope.
She was rescued, alongside a litter of puppies, from the woods where she spend God knows how many weeks and months. She was scared to death, refused to spend time with humans or dogs, and ran away every time someone tried to approach her.
She was brought to the Mat-Su Valley Shelter, where she stayed for a few months. She received everything she needed, but she wasn't getting better. She was transferred to Mojo's Hope because the volunteers at Mat-Su Valley Shelter thought she might have suffered some sort of trauma when she was on her own.
Cider blossomed when she arrived at Mojo's Hope. She took her sweet time, but she figured out she could trust them. She started showing her nurturing and compassionate nature right away and became friends with a bunch of cats – she was a cat lady at heart, wasn't she? She was motherly, too.
She started taking notice of every rescue that came to Mojo's Hope and started nurturing them back to health. She provided them with affection, attention, and a shoulder to cry on. She continued caring for cats for years and years to come.
One day she was presented with the newest rescue, a kitten by the name of Bridger McPurr, who was paralyzed from the waist down – and everyone at Mojo's Hope witnesses something special. Bridger was found outside, frozen, and unable to move.
He was scooped off the ground and taken to Anchorage Animal Care and Control. He underwent surgery and spent weeks trying to recover. He was getting better with every day, eating more, and showing more enthusiasm. But, he wasn't out of the woods yet. Bridger's legs weren't working properly anymore.
Because of that condition, Bridger was transferred to Mojo's Hope. Bridger perked up right away. He was meowing, purring, and snuggling with everyone who came to say hello. He was excited to hang out with humans, cats, dogs, and pretty much anyone who wanted to give him the time of the day.
He was the exact opposite of Cider – but that's why the volunteers at Mojo's Hope thought the two would make the perfect duo. He was taken to meet Cider a few weeks after he came to Mojo's Hope and he was smitten by her.
Cider was obsessed with taking care of kittens and she couldn't believe her eyes when she saw Bridger. She was cautious because he was so small and fragile, she didn't want to hurt him. She noticed that he couldn't move and she didn't want to startle him.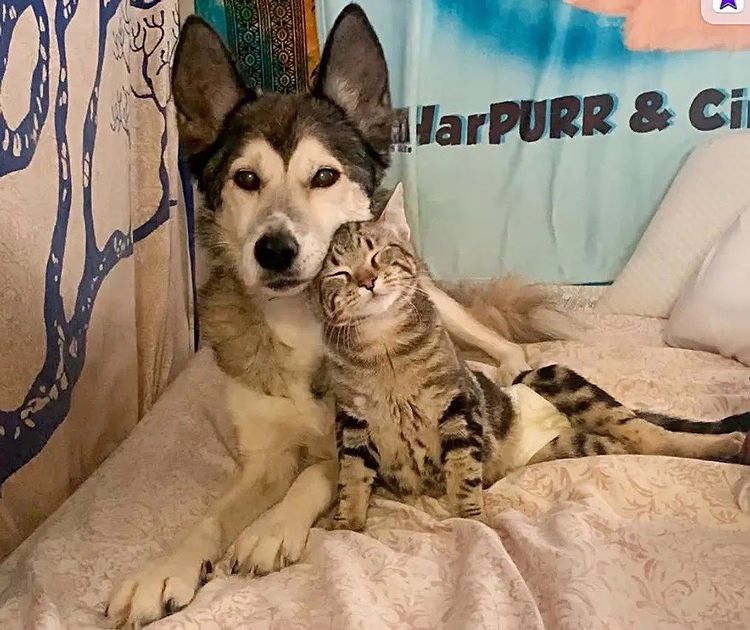 She was over the moon when she figured out that he wanted to cuddle as much as she did. Bridger wasn't as cautious as she was, though – he embraced her right away and he didn't want to let go, ever.
Cider and Bridger became BFFs overnight and the entire staff at Mojo's Hope couldn't get enough of the two. Cider was meant to be a permanent resident at Mojo's Hope from the get-go, but Bridger was searching for her forever family.
Cider took on the responsibility of being Bridger's foster mom for the time being, but she didn't know she'd continue doing that for years to come. Bridger was never adopted, but he doesn't seem to care about that at all.
Cider and Bridger's bond grew stronger over time, and the duo spends every moment of the waking hour by each other's sides. Mojo's Hope posts little updates about the two on Instagram (@mojoshope) and we can't get over how cute Cider and Bridger are.
Now, we do need to mention that Cider's grown weaker with time, and she's suffering from a myriad of health problems.
She's trying her best to stay strong for Bridger and the rest of her fluffy family, but she's growing older with every day. She's fighting the good fight with Bridger rooting for her every step of the way. And we're keeping our fingers crossed she continues to be happy and healthy for years to come.
Read more: Siberian Huskies Save This Kitten's Life And Now She Believes She's One Of Them