Sometimes even our feline friends see the light at the end of the tunnel. At least that's what happened to this gorgeous tomcat from Montreal, Canada.
A woman named Celine Crom, who just happened to work for an animal rescue specializing in orphaned kittens, spotted our protagonist, sniffing around her backyard. It was evident to her that he was lost, timid, reserved, and on the lookout for food.
Due to the nature of her work, but also the kindness of her heart, Celine simply could not leave him alone and hungry. She tried to approach him, but every time she got close, he would run away and hide.
However, his frightened behavior didn't discourage this benevolent woman. She took it upon herself to gain his trust and started to leave him food and water on her balcony. This went on for several months, and each day was a step forward, both for Celine and the cat.
Eventually, he loosened up a bit and stopped being so scared of her. These two got to a point where he wouldn't flee immediately after he saw her approaching, but would actually stay and mingle in her backyard.
This thing they had going on became a nice new habit, for both of them. The cat finally started eating regularly, and Celine got a fun interest outside of work. She even gave him a very interesting and totally appropriate name – Luckyou.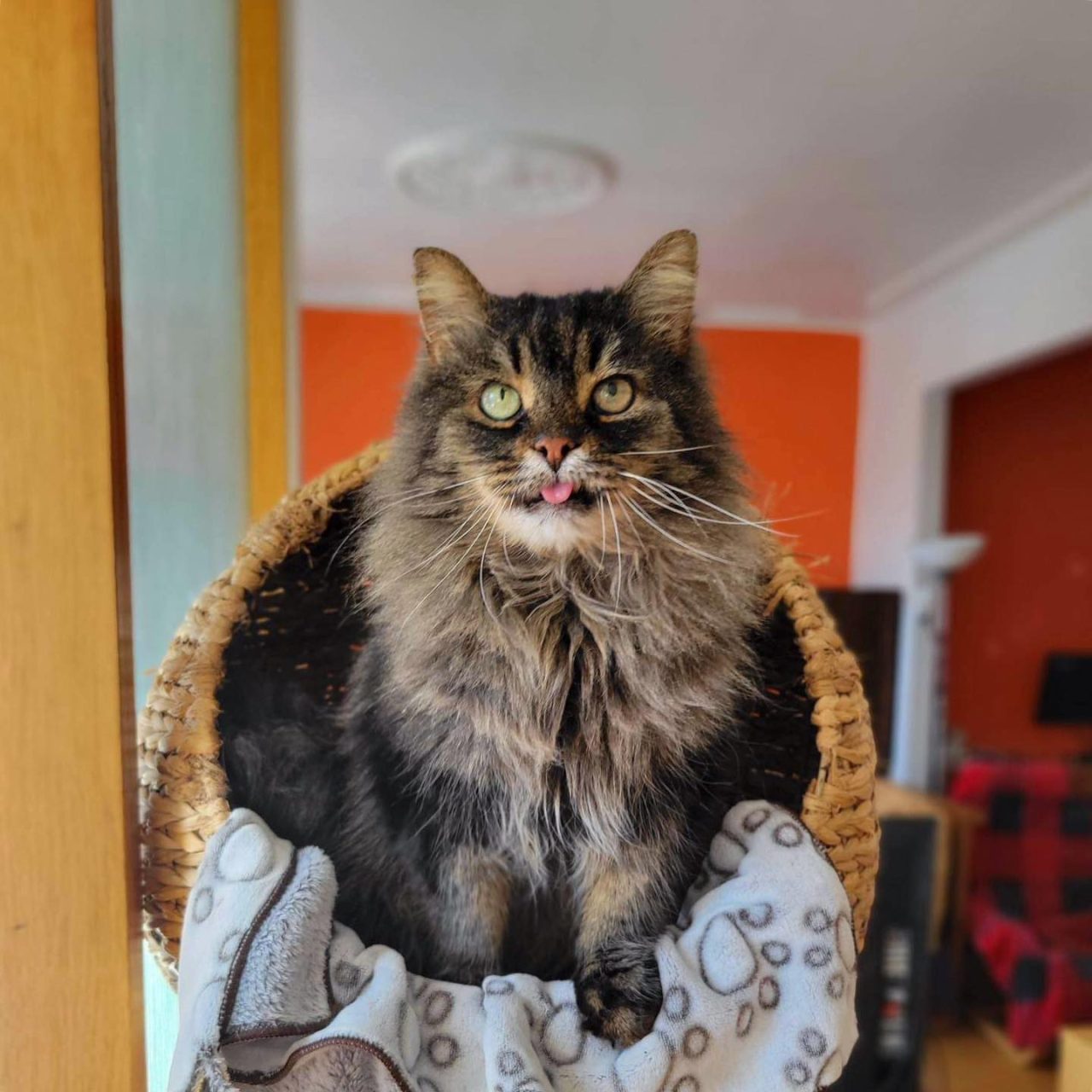 (Credit: Chatons Orphelins Montréal)
But, she knew she needed to do more. She was well aware that Luckyou needed proper care and medical assistance only professionals can provide. Luckily, he had stumbled upon the backyard of the very professional he needed in his life.
Thanks to her position in the shelter, she knew exactly what to do. One day, she placed some treats in her yard with a trap nearby. She was anxious because she thought Luckyou will be reluctant to get in and be caught, and she was afraid that this, potentially wrong, move, might cost her his trust.
But then, a surprise! Luckyou had no problems with being "captured." He walked right into his little trap, as though he precisely knew in what condition he had been for quite some time. One paw at a time, he walked away from the street life into the future feline royalty treatment he felt was coming.
At the shelter, they managed to fully determine the overall condition of poor Luckyou. They estimated he was around 7 years old, and since he had been covered in filth and mats for probably the majority of his life, he was also in desperate need of a bath, a trim, and a full medical examination.
Celine had previously noticed that Luckyou had trouble closing his mouth, so that was now identified as a severe mouth infection.
Poor Luckyou had all this time struggled to chew and swallow the food Celine has been giving him. So, apart from being hungry, he was also in a lot of pain and deprived of enjoying delicious food.
As a cherry on top, he had also tested positive for FIV – feline immunodeficiency virus. This virus is said to affect the feline immune system in a way that leaves it vulnerable to other, otherwise harmless bacteria and infections.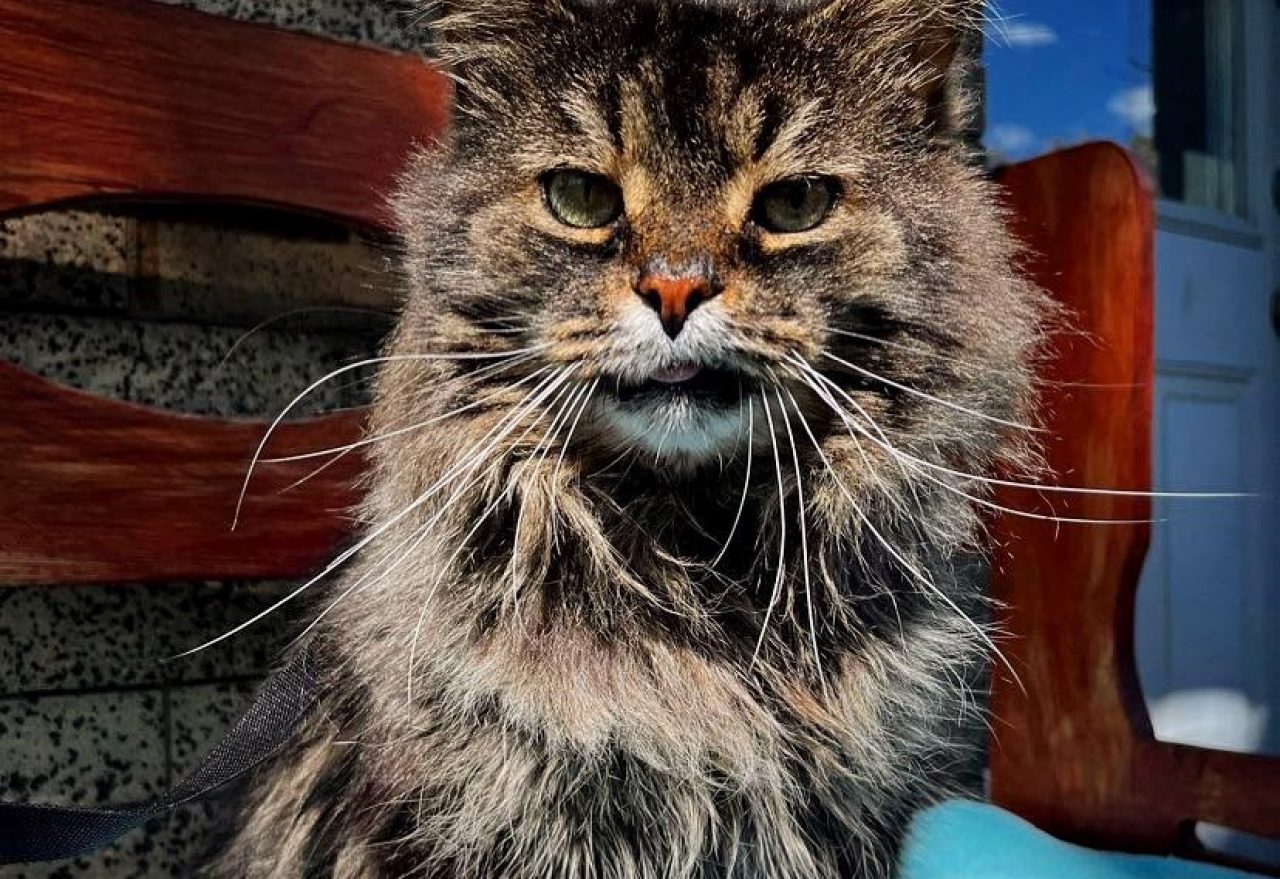 (Credit: Chatons Orphelins Montréal)
There's, unfortunately, no cure for this virus. However, with proper care, infected cats can live an average life span. This had been proof that Luckyou simply has to get all the love in this world. His well-being had to become everyone's priority.
After dental surgery, other medical examinations and treatments, and a much-needed grooming session, Luckyou was relieved from the pain and started to feel much better. The surgery left him with almost no teeth, which ensured he has a new charming characteristic -sticking his tongue out.
The process of recovery was long and hard, but everyone worked on ensuring Luckyou gains his trust back in people. Which is exactly what happened!
Soon after, Luckyou stopped hissing and growling and people, and became a loving and affectionate feline. It was as though he knew he had to purr his way into the hearts of potential future foster parents.
Today, Luckyou is very much adored and spoiled by his new family, Morgane and Alvin. They say that he is a very sweet and affectionate cat and that he fits in their home as though he was always meant to be there.
Our heart breaks for all stray cats out there. We hope and pray that they all stumble upon their own Celine who won't hesitate a second with helping them. Every cat deserves a loving home, and we are beyond happy that that's exactly what Luckyou got!