Whether we're getting soft and sensitive because we're writing about adorable, affectionate kittens every moment of the waking hour or because we're becoming aware of the problems scruffy, stray kittens face every day, we're bringing you a heartwarming story about Cooper.
Cooper's a beautiful, black-and-white kitten brought to our attention by the Saving Grace Rescue center. When you take a peep at Cooper, you might notice the dapper appearance, the black-and-white coat reminiscent of evening wear for men, and the bold, blue eyes.
Cooper's a regular tuxedo cat, which means he's sporting a black body with a white chest and paws. While some tuxedo cats come with a black spot at the throat that resembles a bow tie, Cooper's pretty unpretentious when we're talking about fashion.
When you observe Cooper's demeanor, you will notice that he adores running around the center, playing with other kittens, and snuggling with fosterers at the center. Cooper's very, very high-spirited, animated, and absolutely adorable.
Cooper's one of the youngest kittens at the center which means he's the one that gets the most attention (which he adores more than anyone might think). He's a bundle of cuddles, a purring machine, and everyone's favorite rebellious rascal.
But, Cooper's different from other tuxedo kittens. Cooper suffers from a condition known as hydrocephalus which translates to "water on the brain."
Cats that suffer from such a condition have a buildup of spinal fluid inside their skull which puts pressure on their brains and causes numerous complications. Cats, such as Cooper, end up with enlarged, egg-shaped heads, blindness, and behavior changes.
When Cooper arrived at the Saving Grace Rescue center, he appeared to be famished, beaten down, terrified, and blind as a bat.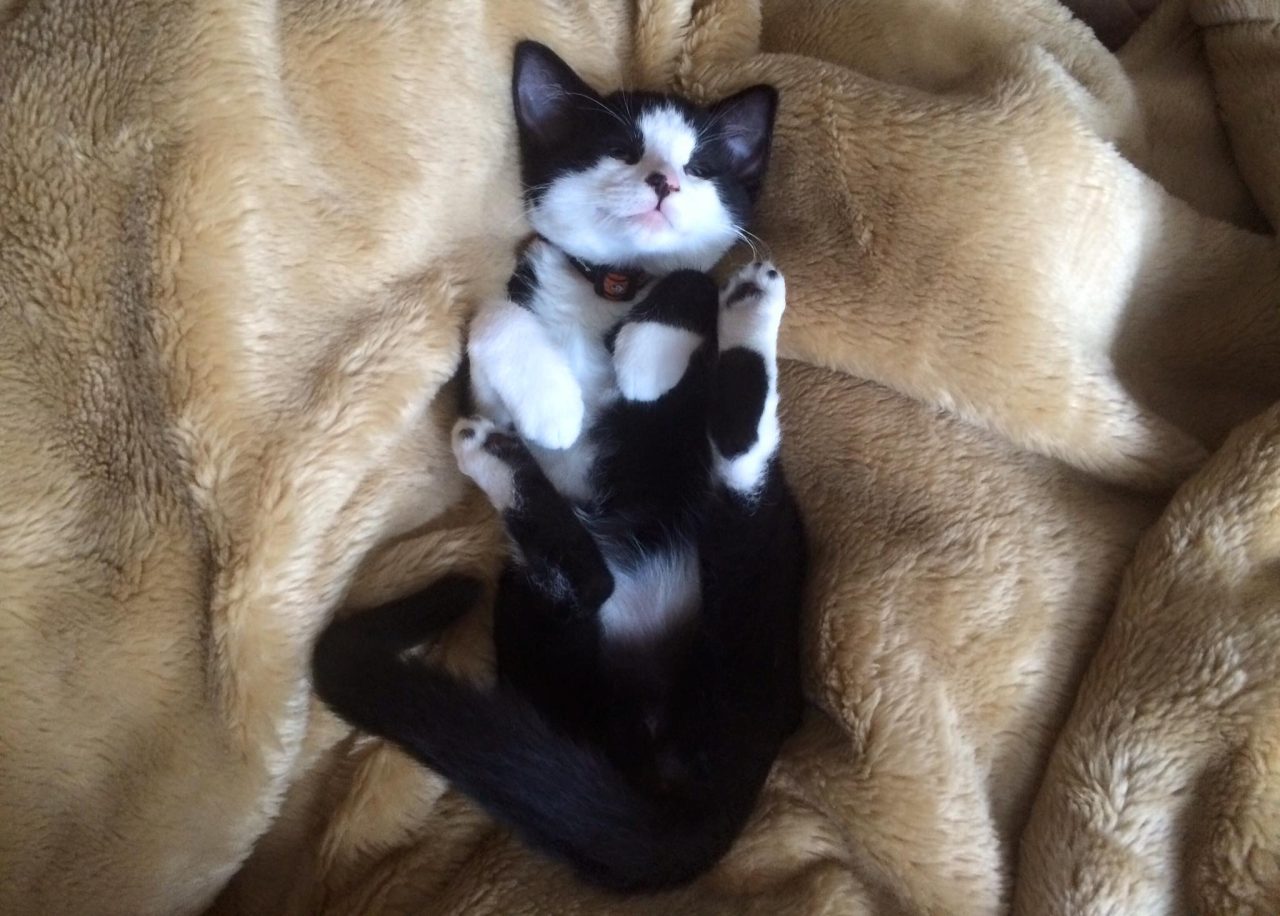 (Credit: Kanga Roo)
However, the fosterers at the center managed to nurse Cooper back to health. For example, he used to stumble down the stairs because he couldn't see due to the condition we mentioned beforehand, but with the fosterers' affection and attention, he managed to come down without tumbling.
When Cooper grew stronger and became more assertive and assured, the fosterers posted a notice that Cooper was searching for a forever home.
While we understand that not everybody possesses the means to care for a kitten with health problems or other difficulties, we're saddened by the fact that Cooper had to wait for a long time before someone decided he was worth the risk.
Cooper's mommy-to-be, Rochelle, hoped to bring Cooper home to her 10-month-old kitten Callie that was searching for a best buddy, a playdate, and a brother. Rochelle mentioned that she was a puppy mommy, too, and that she was excited for Cooper to grow up with a bunch of siblings.
Fast forward to today, Cooper and Callie are the best of buddies who adore climbing on cabinets, scratching trees (and actual trees), and annoying the dog.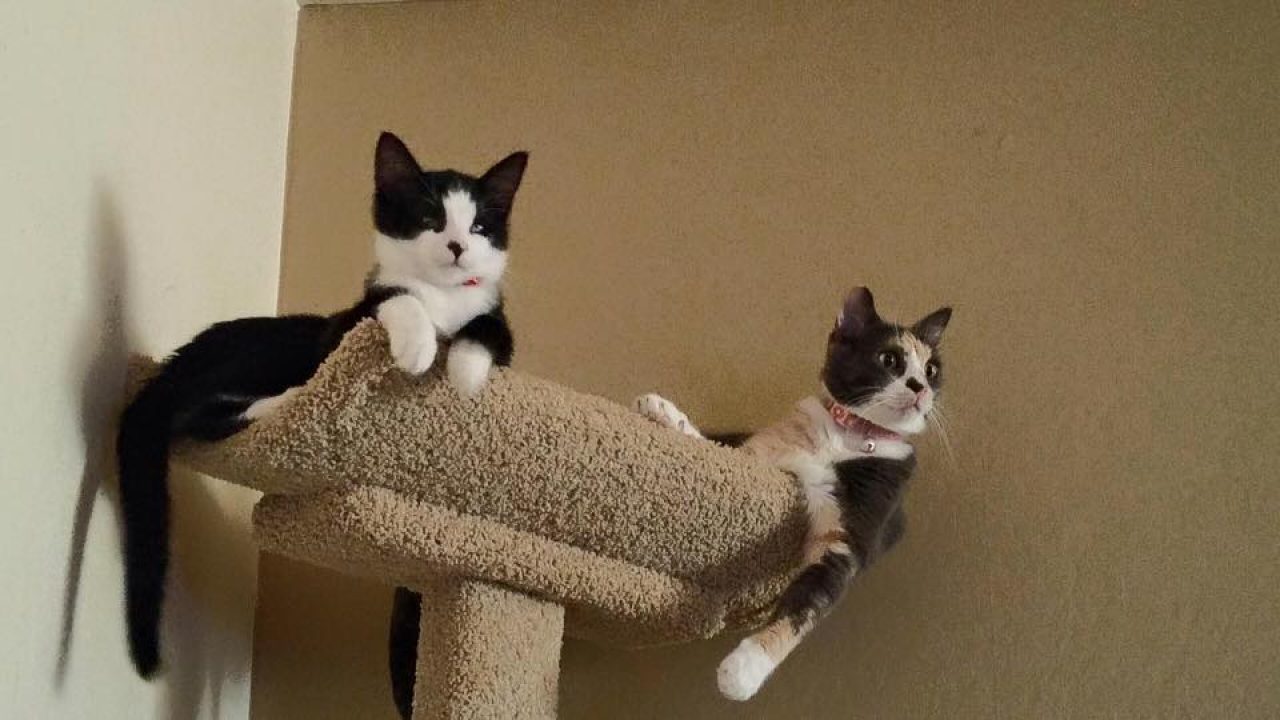 (Credit: Kanga Roo)
For better or worse, Cooper's gotten accustomed to the health niggles he experiences due to hydrocephalus and he's barely affected by the fact that he doesn't have the best eyesight.
Now, thanks to the Saving Grace Rescue center, Cooper's not the only one to find a forever home despite dealing with disabilities. As a matter of fact, the Saving Grace Rescue center's an organization that focuses on kittens under 8 weeks and kittens and cats with disabilities.
Amber Holly, the founder of the Saving Grace Rescue center, thought of opening a center of the sort when she fostered a kitten that was suffering from cerebellar hypoplasia.
Amber found out that kittens with cerebellar hypoplasia often end up getting euthanized because nobody wants to foster or adopt them. Amber made her dreams come true, and she continues to make the dreams of disabled kittens come true, too.
We won't bother or bore you with why you should consider fostering or adopting kittens with disabilities, we're not Karens. But, we are going to underline the fact that Cooper and other kittens with disabilities can have a happy and healthy life with a little accommodation and patience.
Sure, when you decide to foster kittens with disabilities, you know you're going to end up fostering kittens that are missing a limb or two or kittens that are visually impaired or blind.
However, when you decide to foster healthy kittens, you can't necessarily know whether they're going to contract a disease or develop a health problem over the course of time.
What are we trying to say? Cooper and other kittens with disabilities deserve as much affection and appreciation as kittens without disabilities and we hope that the story about Cooper simply motivates you to keep an open mind.