Cats are curious creatures, whether they're trying to figure out a way to go outside and chase after birds or how to get your attention when you're re-watching Friends for the fifth time. Contrary to what people may believe, cats aren't standoffish when they're treasured and taken care of.
When cats crave attention, want to snuggle, or share a paw-licking treat with you, they're more than willing to produce strange sounds and exhibit odd behaviors to get you to notice them.
We're pretty sure that your cat, even though she might be different from other moggies, exhibits some of the needy, clingy gestures, too.
Whether she's meowing, pawing at you, or waiting outside the bathroom door, she's pretty much saying "I'm here, human! Do you not see me? Do you not see how cute I am? Pet me!" Whatever the case with your fluffy friend might be, we've got stories and narratives galore about cats being cats.
We're bringing you a story about Mayhem, a shelter cat that uncovered the purrfect way to get people's attention and get adopted sooner than any of the other reserved, detached tomcats at the shelter.
Mayhem's story might have started with an unfortunate event, but that's not what made the gorgeous ginger popular on Instagram and TikTok. Mayhem was abandoned by a family who thought he was "a little too much" for them. So, this fluffer ended up at a shelter called Lollypop Farm in Fairport, New York.
Lollypop Farm's not an average animal welfare corporation, though. On one hand, they're focused on rescuing and rehoming pets.
On the other, they're adamant about "fighting the good fight," building a compassionate world, saving animals from abuse and suffering, and providing funds for people who are fighting for the same cause. They even put efforts into finding resources to help people keep their pets when they're struggling financially.
Now, Mayhem was around two years old when he arrived at the shelter. Right away, he was sweet, sociable, and easy-going. He adored hanging out with workers, charming visitors, and playing with other animals at the shelter. He appreciated the attention he was getting from pretty much everyone.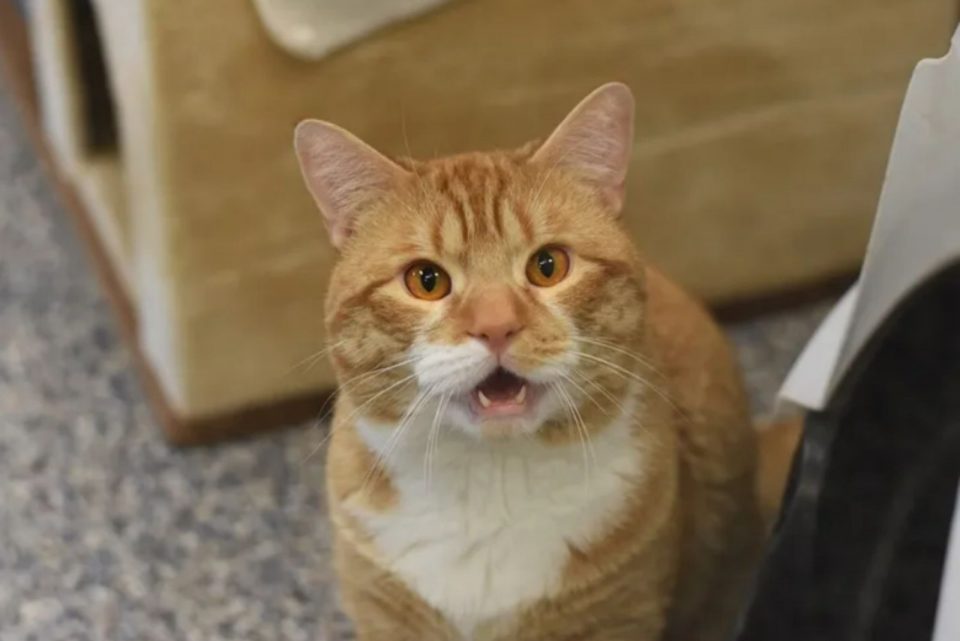 According to the Lollipop Fram's Instagram account (which documented Mayhem's shenanigans), he was awarded a room and a bunch of toys because he was energetic and demanded attention and affection at all times. And, because he was a ray of sunshine, he was adopted right away.
However, that's not where Mayhem's story ends. Mayhem might have been too energetic, too challenging, and too much once again.
That's because the new owners didn't take long before they returned to Lollipop Farm and demanded to get a refund. Not literally, but that's what Mayhem probably felt like at the time.
So, Mayhem was back at the shelter and he was determined to get adopted ASAP. We're pretty sure that every cat at the shelter wants to get adopted even though the workers take great care of them, shower them with attention, and spend every moment of the day with them – and Mayhem was no different.
But Mayhem decided to do something to attract attention and make sure everybody who comes to the shelter notices and remembers the gorgeous ginger cat that was stuck there.
Here's the thing, though – Mayhem's room had a glass door and everybody who came by could see the perked-up ears and almond-shaped eyes waiting to be noticed.
So, Mayhem started waving at everyone who went past the door, hoping they'd stop, take a picture with him, pet him, and fall in love with him.
Mayhem might have had a bunch of negative experiences with families who couldn't handle him, but he didn't lose hope. He truly believed he was going to find a forever home eventually.
Mayhem was an incredibly intelligent kitty, too.
When he started waving to attract attention, more and more people came to the Lollipop Farm to see the waving cat for themselves. And, even though he didn't get adopted right away, Mayhem kept on waving at people, hoping to attract the right family soon.
After some time, the workers at the Lollipop Farm filmed a video of Mayhem waving at the visitors, which went viral.
Mayhem became a social media star – soon after that, Lollipop Farm's Instagram account posted that Mayhem got adopted by a loving, loyal family that was looking for a charming, energetic feline with a huge purrsonality.
At the end of the day, Mayhem was onto something. He was surrounded by cats that were begging to get adopted and, even though he wanted every single one of them to find a family, he knew he needed to do something to stand out. He was a fighter, even though he was abandoned two times.
Nowadays, Mayhem's a happy and healthy five-year-old that adores being the center of attention, stealing the spotlight, and commanding the room. Mayhem might be a handful, but he deserves every bit of the affection and appreciation he gets. We're rooting for you, Mayhem!
Read more: Stray Cat "Knocks" At Window During A Snow Storm As If She's Asking To Let Her In