There was once this skinny cat wandering the streets of New Jersey all by himself, trying to make it through each day. It was heartbreaking to see the poor thing struggling to survive. Luckily, fate had different plans for this old fluff full of love.
Our hero ended up being taken by the Voorhees Animal Orphanage, where the staff quickly noticed something special about him. Despite him being 15 years old, this tabby fluff named Barnaby was super affectionate and was desperately looking for some love.
Just the thought of Barnaby spending his golden years in the shelter broke the hearts of the folks who worked there. Their little fighter deserved so much more, so they made it their quest to help Barnaby experience what it was like to have a real home, filled with warmth, love, and care.
Fate guided him to Dr. Ed Sheehan and his wife Clare from the Sheehan Veterinary Center, who saw a photo of Barnaby on Facebook. It didn't take long for them to notice how thin and old this poor furbaby was, and they knew he needed some special veterinary attention.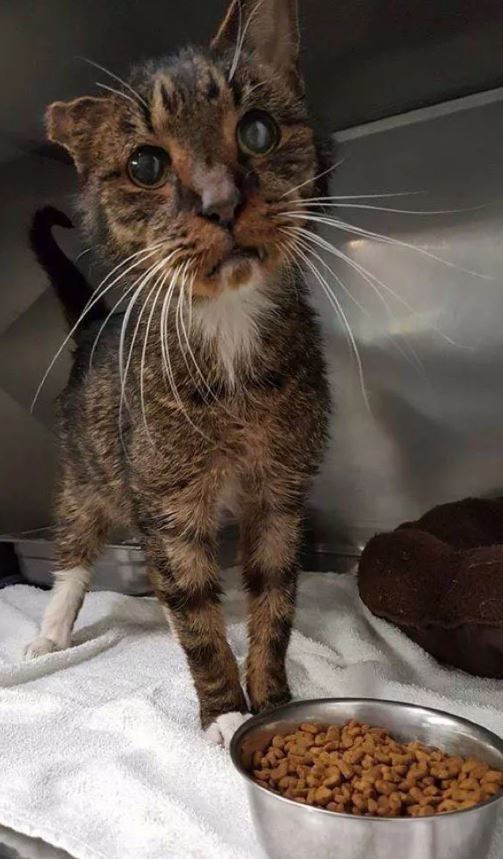 They didn't want to waste any time. They made a quick decision to reach out to the shelter and offer Barnaby a loving home. Just like that, our lovely fluff was on his way to his new home with Dr. Sheehan and Clare. Imagine how excited they all were! That's definitely a car ride we all want to be a part of.
Once he was finally at his new home, Dr. Sheehan used his vet magic powers and gave Barnaby a thorough health check. He ran blood tests and made sure everything was okay with his new feline buddy. It didn't take long before everyone at the veterinary clinic fell head over heels for their new furry friend.
And, how couldn't they? He looked like the purest little kitty in the world. With his thin body, big eyes, and messy coat that was once as soft as a cloud, everyone wanted to give Barnaby the world. They made it their mission to get him back on his feet and give him the safety he'd been looking for all his life.
Barnaby made himself at home, and he walked around the office like he was the boss. It made everyone so happy to see him comfortable around his new family. He was winning hearts left and right!
In fact, he's got so much love to give that he now follows everyone, no matter what they're doing. Rachel, a vet tech at the clinic, says he even follows her while she's mopping the floors! He's like a little feline assistant, making sure she doesn't miss a spot.
At the end of the work day, as any hardworking feline would do, Barnaby hops into her lap and naps while she does the books. They couldn't ask for a better assistant!
Given his age, they were worried about Barnaby's health. Luckily, as days passed, their little furry friend was getting better and better. Thanks to the power of antibiotics, he was gaining weight, and his coat was slowly getting back to its former glory. It was a huge relief for everyone at the clinic.
It was incredible to see that, despite being a senior kitty, Barnaby was still full of life. He had quite the purrsonality, too! This furball reveled in every aspect of his new life. From his senior food to daily brushing – he loved it all! He even took his antibiotics like a champ, with zero complaints!
It's no secret that taking care of a kitty his age can be challenging, but Dr. Sheehan and his wife were a purrfect match for Barnaby. With their rich knowledge of taking care of cats, they knew exactly what their senior fluff needed.
The picture they saw of Barnaby was a clear sign to them that they had to do something to help him. He deserved to spend his old age feeling loved and safe, and they gave him exactly that. This lovely couple made all his dreams come true.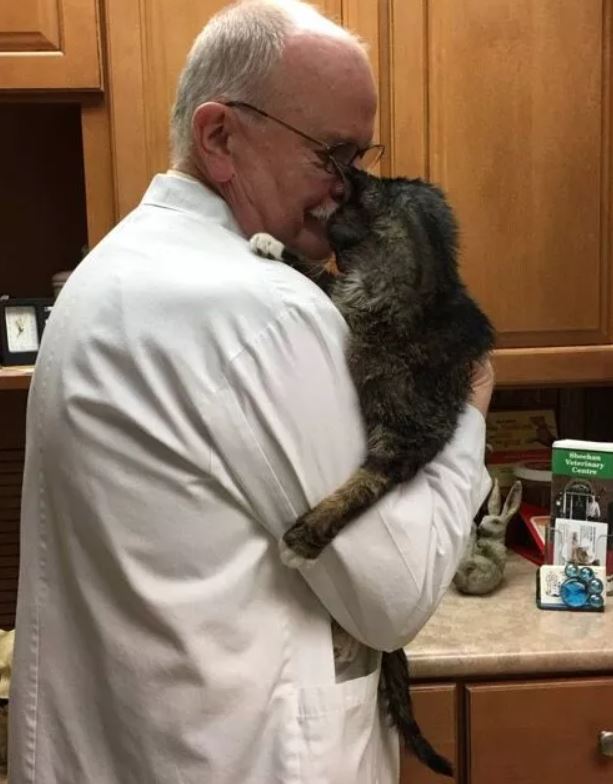 Although his appetite isn't great, the nurses go the extra mile and spoon-feed him. He's given the royal treatment! His food consists of gravy, vitamins, and all of the nutrients he needs. The doctor noticed that his pupils were dilated, most likely due to his old age.
But, you know what? It never stopped him from fully enjoying his new home. He gives love and receives love everywhere he goes, and he brought plenty of joy into his new family. He's surrounded by people who made it their goal to make the rest of his life the best it can possibly be.
Barnaby's story is a sign that you never know what's waiting for you around the corner. You'll never be too late or too old to experience love and all of the beauties that this life has to offer. As Clare said, Barnaby became more than just a "house cat" to them. He became family.