Is there anything cuter than a story about a kitty who shows love and affection to the baby? Absolutely not! If you're just like me and you can't resist adorable friendships like this one, I've got a perfect treat for you.
Let me introduce you to a wonderful kitty named Mia. She has a heart made of gold, that's for sure. From the moment baby Sonny entered her family's home, Mia fell head over paws in love with her new human sibling. And she made sure everyone knows that!
When she first laid her eyes on the tiny little human, she made a bold decision – it was her job to protect the baby, and she was going to do it no matter what. It was a truly beautiful thing to witness.
Most parents worry about what kind of a reaction their feline friends will have to their new addition to the family. These parents, however, were pleasantly surprised, as their biggest wish came true. Since the moment Mia met Sonny, she hardly left his side. Her feelings are a true example of unconditional love.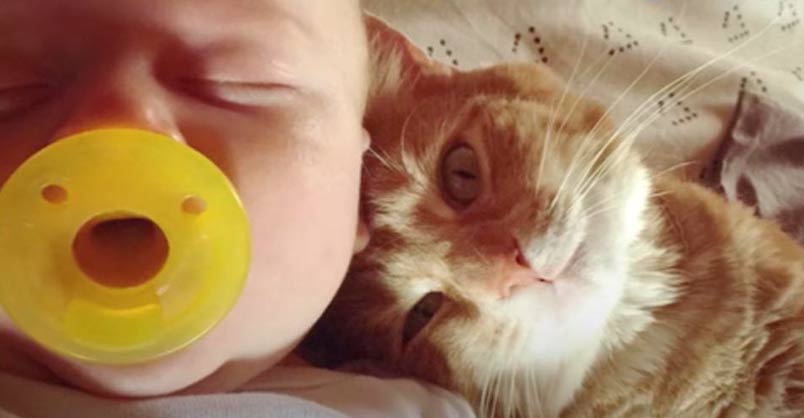 As Sonny's mom shares, Mia protects her baby brother when he's sick, providing him comfort on days when he needs it the most. On top of that, she often joins them when he and his mom go for a walk. She simply doesn't want to leave him alone, not even for a minute.
It's like she's saying "There's no way you're going on an adventure without me!" It's obvious that these two are going to be the best buddies ever once Sonny grows up. Good luck to her trying to keep up with all their future adventures! It will be quite a challenge.
Oh, but the fun doesn't stop there. Do you know that Mia has some other four-legged family members as well? Yep, four of them, to be exact! You'd think they're her fellow felines, but that's where you'd be wrong. Mia's best buddies are her four canine friends.
With a caring kitty, a baby, and four puppers, you can imagine just how amazing this family is! There isn't a single dull moment in their home, and their baby will most definitely grow up surrounded by unconditional love and incredible adventures that will make him a real animal lover.
Sonny's mom loves to share pictures of her baby with his furry siblings, and they're sure to melt your heart away. It's clear that this adorable little guy is surrounded by love, as all his furry buddies try to be as close as possible to their new favorite human.
Together, they make a beautiful family that knows very well how love and affection feel. They've created an incredible story where love knows no boundaries and everyone deserves to be taken care of.
Despite their differences, they live their lives together, loving and caring for each other. Who said that cats and dogs don't get along? And who told you that you should keep your cat away from your baby? This adorable family fights all the limitations.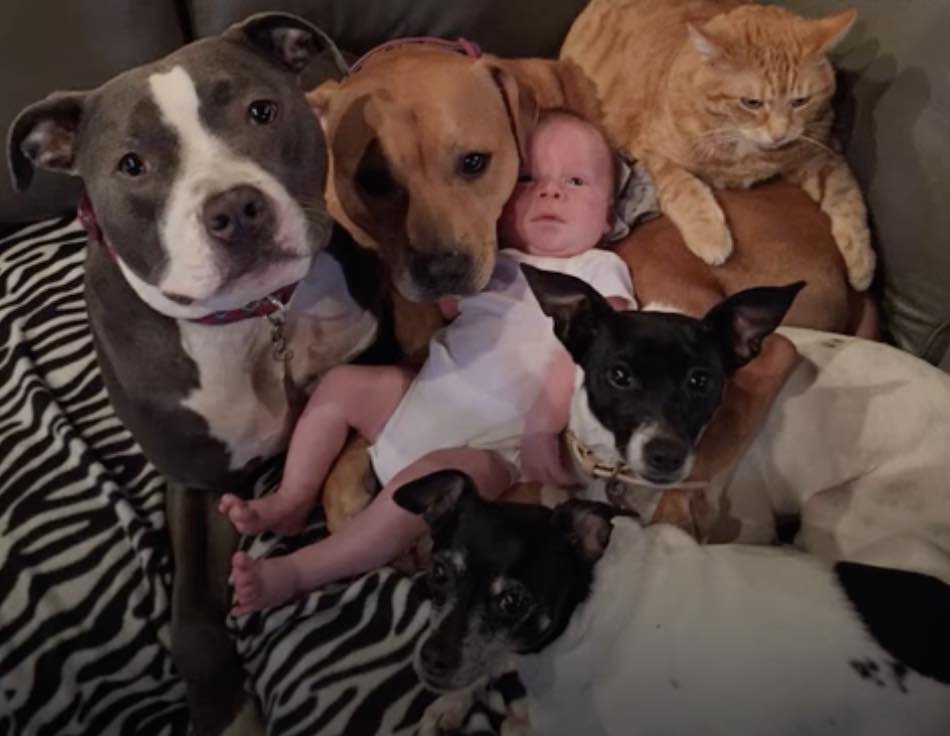 Although he doesn't know it yet, Sonny will learn a lot about love and respect from his furry family members. He'll understand that race, breed, and differences mean nothing when you care about someone.
His very first friends will teach him all about the beauty of life and how adventurous and exciting it can be. But, he's not the only one who's learning something from this unique friendship. His furry companions are, too.
When they met Sonny, he opened their little hearts to a completely new form of love. They've created an unbreakable bond that they've never experienced before, and they showed the world just how affectionate animals can be. It comes as no surprise that they've decided to become his guards.
With Mia's watchful eyes and nurturing spirit, and his dogs' protective energy, little Sonny is the safest baby in the world. Wherever he goes, Mia follows closely by, keeping an eye on him, as if she's his mom's assistant. She takes her role very seriously, and her human mom lets her protect their lovely baby boy.
She is always ready to shield him from any potential harm, but so are her other four-legged family members. On top of being loyal and brimming with energy whenever they see Sonny, these dogs are always on alert for any potential threats that may be around their sweet boy.
Sonny's mom can rest peacefully knowing her baby is in safe paws, with furry companions that want only the best for him. And, she should be proud of herself for their little family!
After all, she was the one who taught her furry friends how to behave around people, especially those who are a lot more fragile than them. She taught them love, compassion, and care, and they're showing what they've learned from her in the best way possible.
As someone who's always wanted furry friends as a child, I couldn't be more excited for Sonny. He'll live a beautiful life, filled with unconditional love from the most loyal friends he could have.