Cats might not be man's best friends, but the world wide web apparently didn't get the memo.
With more than 6.5 billion cat videos on the Internet, the word cat being one of the most-searched-for terms, and cats going viral for a myriad of reasons – we can argue that cats know how to capture our attention.
Whether we're scrolling through the neverending compilations of Nala the cat showing off her bright blue eyes and soft, supple fluff or tearing up at Stryker the cat's rescue story, we can't seem to shake off the obsession we have with cats – especially those that are different, distinctive, one-of-a-kind.
Now, there used to be a time when bad humans didn't want to take care of cats with deformities, disabilities, or health problems that set them apart from other cats.
We witnessed pet parents getting rid of three-legged cats, cats who suffered from cancer, or even deaf cats that appeared purrfectly "normal" on the outside.
Nowadays, the Internet demands a staring contest with a cat that doesn't blink and roots for a cat with a disability that makes her look like a little T-Rex.
We can say the same thing about the cat that happens to be the protagonist of the rescue story we're bringing you today. Simba, an ordinary cat with an extraordinary deformity, seems to have taken the Internet by storm.
Circling back to the beginning of the story, a few months back a group of warm-hearted humans came across a scruffy, grubby tortoiseshell moggy roaming around the streets of Perth, West Australia.
She was scared of people and she kept turning her head the other way, avoiding eye contact, and trying to run away.
She was trembling and she couldn't understand what was going on – the poor thing probably thought she was getting catnapped. She stood out from other moggies right away because she flaunted an odd deformity on her face – she was permanently sad because of her droopy, downturned eyes.
Simba the sad cat, as the volunteers decided to name her, was taken to a nearby rescue. Because of her eye-catching appearance, the volunteers posted her on Facebook hoping they'd catch the attention of whoever abandoned her on the streets. But nothing of the sort happened.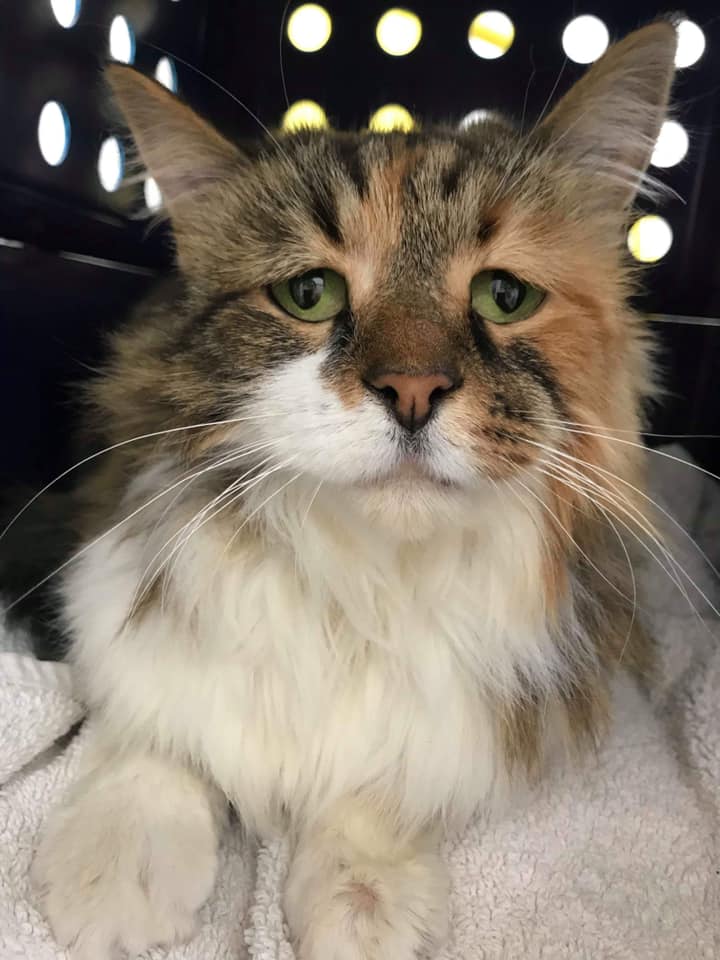 Cat Haven, West Australia's biggest shelter for homeless, lost, and abused cats, saw the post and decided to reach out. Cat Haven, or Cat Welfare Society, was established sometime around the 1960s.
From that moment onward, Cat Haven's dedicated staff and volunteers worked day and night to ensure every WA cat gets the care she needs and goes to a forever family.
Furthermore, Cat Haven offers shelter facilities for street cats, a foster care program that takes care of disabled, deformed, and diseased cats, and a cat re-homing program.
On top of that, Cat Haven has a zero euthanasia rate for treatable, re-home able cats. Of course, that means that Simba came to the right place. If anyone could figure out how to help the saddest cat stop being sad, that would be Cat Haven.
When the sad cat arrived at Cat Haven, she was welcomed by a bunch of friendly faces.
Cat Haven's volunteers noticed that she was microchipped (even though she was supposed to be a stray) which confirmed the fact that she was abandoned on the streets of Perth. Unfortunately, the volunteers couldn't make contact with the owners.
Simba couldn't cope with the people at Cat Haven, either. She was confused and scared, and she kept running away, hiding under the boxes, and spending time in the litterbox. She was getting sadder by the day, and her condition wasn't the sole culprit.
She was stressed out, overwhelmed, and overstimulated – and the volunteers didn't know how to make her more comfortable. She wasn't cut out for shelters, that was for sure. When nobody came to claim her, one of Cat Haven's fosters stepped up and took Simba home.
Simba took her sweet time – but after a few weeks of hard work, she started warming up to people. She figured out that she was safe with them and she started showing them her affection and attention.
She stopped running away from them and she started begging for more and more tummy rubs, pets, and snuggles. Now, because of her condition, she couldn't change her droopy eyes – but that's what made her stand out from the rest of the crowd.
She was ready to find her forever home, and her foster family made sure to post her on Facebook, Instagram, and even TikTok to reach a bigger number of people. And, as you might have guessed, the Internet was smitten with Simba's sad eyes.
A woman by the name of Chelsea reached out to Simba's foster family and asked to adopt her.
"It was love at first sight," she said. She knew she was ready to become Simba's happily ever after and she didn't want to pass on that opportunity. She hoped she could turn Simba's frown upside down and make her happy. And, she was right.
When Chelsea adopted Simba, she decided to rename her Molly. "I wanted to give her a brand new start," she said. Simba was abused, abandoned, and discarded on the streets of Perth, but Molly wasn't.
Molly was a happy 8-year-old cat that happened to have a permanent frown on her face. Molly didn't take long before she started warming up to Chelsea. She felt that connection Chelsea was talking about, and she knew she could trust her.
She started snuggling with her, following her around, and spending every moment of the waking hour next to her. Chelsea and Molly were meant to be together and we couldn't be happier for the two of them to have found each other.
We're keeping our fingers crossed that Molly's story motivated some of you guys to adopt a quirky kitty, too.
Read more: Sad Cat Rescued From The Street And His Eyes Finally Show That He's Happy