Traveling the world on a bicycle, spending the nights under the open sky, and meeting the cutest, cuddliest cat on the way sounds like a dream come true, right?
Yet, people don't seem to have the guts to bite the bullet, leave everything they've built behind, and rely on the thought that everything's going to be okay.
You know you're ready when you start daydreaming, though. You picture yourself cycling through the woods of an unknown country ready to be explored.
Your mind paints the people you'd meet, the animals you'd feed, and the adventures you'd tackle. Your heart screams "Go!" but your brain ensures you you're out of your wits.
What are you supposed to do when you start questioning your own sanity? You're over here wondering whether you'd be able to care for a cat when you're cycling around the world, but you don't even have a cat. You're pretty sure you'd ruin her life, nonetheless.
You'd forget to bring her litterbox, to start with. You'd need a cat carrier and you don't even know where to buy one – because you don't have a cat. You'd have to bring a few of her favorite toys to ensure she's happy.
"Why am I even thinking about cats, I don't even have a cat!"
We got you there, didn't we? Sure, you might be reading our article and daydreaming because you're on a break, sipping on a cup of coffee, or waiting for someone.
Well, the protagonist of the story we're bringing you today did the same thing until one day he mustered up the courage to escape his daily routine and to find a fresh purpose in his life.
Meet Dean Nicholson, a man who decided to cycle around the world without knowing that he was about to meet the furriest of friends that's going to change his life forever.
When Dean turned 30, he wasn't happy with the way his life was panning out to be. He felt like he was stuck in his hometown of Dunbar on the eastern coast of Scotland and he wanted to leave – but he didn't know how.
He was physically active and adored cycling so he thought "I might as well cycle around the world and figure out what to do on the way!" He was aware that cycling around the world would take a toll on his body, but he was ready for the challenge.
He left his hometown in September of 2018 and embarked on an expedition that lead him to a country far, far away – Bosnia and Herzegovina. He was in the mountains of southern Bosnia, heading toward the Montenegro border, when he heard a sound that resembled a meow.
He stopped and noticed a "scrappy wee thing," with perked-up ears, scrawny legs, and beautiful, bright eyes. He knew he had to do something because the kitten was in the middle of nowhere.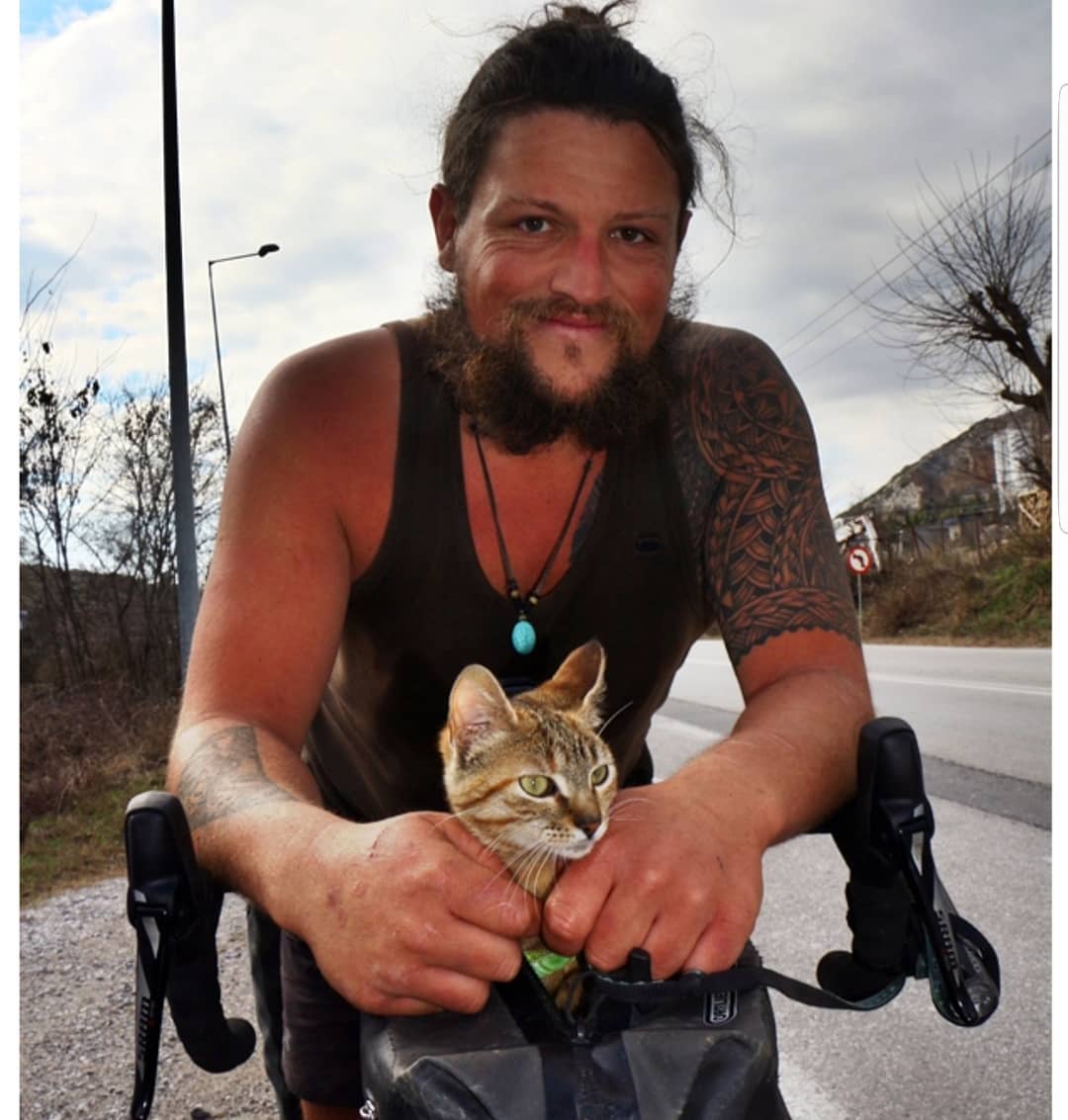 He didn't know whether somebody abandoned her there or she escaped her litter and couldn't find her way back home, but he knew that he needed to save her.
Worried that somebody or something might hurt her, he put her into the pouch on the front of his bike. He began cycling, hoping she wouldn't hop out of the pouch and escape. She had other plans, though, because she hopped on top of him, clambered onto his shoulders, and fell asleep holding onto his neck.
He was over the moon even though he wasn't much of a cat person – he preferred dogs and he never thought he'd be drawn to a kitten. She was a force to be reckoned with and he decided to name her Nala after Simba's childhood friend in "The Lion King."
Dean and Nala made an odd duo, that's for sure. Dean proceeded to cycle toward Montenegro with Nala attracting attention wherever they'd appear.
She spent most of the time on Dean's shoulders, smiling at passersby, and making everyone's day better. She was a sight for sore eyes, especially when she was hanging out with Dean who was a big, bearded dude. Nobody expected to see the two together, but Dean and Nala proved to be a perfect match.
Now, Dean decided to make an Instagram account (@1bike1world) to post about everything that was going on. When a website wrote a story about the two of them, they seemed to have taken the world and the Internet by storm.
Dean's followers started to grow and strangers started to stop the two of them on the street begging for a photo – Dean couldn't believe what was going on. His Instagram account gathered more than a million followers and people around the world started showing support for this unlikely, but adorable duo.
Dean couldn't even fathom what was going on – he managed to raise money for local animal welfare charities, with a calendar featuring photos of Nala raising over £90,000 for 30 charities. Nala might have changed Dean's life, but she was changing the lives of abandoned animals, too.
Nowadays, Nala and Dean are traveling the world with another abandoned animal – a puppy the two encountered while traveling through Serbia. Dean noticed that the puppy couldn't move and went to the local vet to ask for help.
However, the vet told Dean to leave the puppy behind because he was severely injured and wouldn't walk again. Dean couldn't bare to leave him behind and decided to stick around and do everything he can to help. Yasuki the puppy turned out to be the first of numerous Dean's foster puppies.
Dean continues to cycle the world with Nala, save abandoned puppies and kitties, and make the world a better place. Go, Dean and Nala!
Read more: Guy Recreates Famous Movie Scenes With His Cat And You're Going To Love The Results