Okay, trying to get your hands on a cat tree for Maine Coon cats wasn't meant to be that hard. But Maine Coons are different from other felines.
Friendly, fluffy, and freakin' humungous, Maine Coons are the reason more and more humans decide to ditch the idea of dogs and turn to cats. Coons are cute and cuddly, but that doesn't mean that they're happy to spend most of the day lying around, lounging on the floor, and napping.
Coons are gentle giants of the feline world, which pretty much means that they're affectionate, appreciative goofballs who adore humans. Because of that, they're often considered sluggish, mellow, and mild. But, they're far from that – Coons are in fact friendly and physically active.
Maine Coons need to move because they're prone to obesity. Coons are already pretty hefty – with a few extra pounds, they're guaranteed to experience a myriad of health niggles.
Contrary to what you might assume, Coons need plenty of physical activity, proper nutrition, and regular checkups to have a happy and healthy life.
Cat trees are a great way to ensure your Coon gets the exercise she needs without bringing her to the gym with you every morning. Now, Maine Coons aren't cat tree-savvy, but they do need different cat trees from other cats because they are bigger, bulkier, and heavier than the average kitty (obviously).
Read more down below!
Why does your Maine Coon need a cat tree?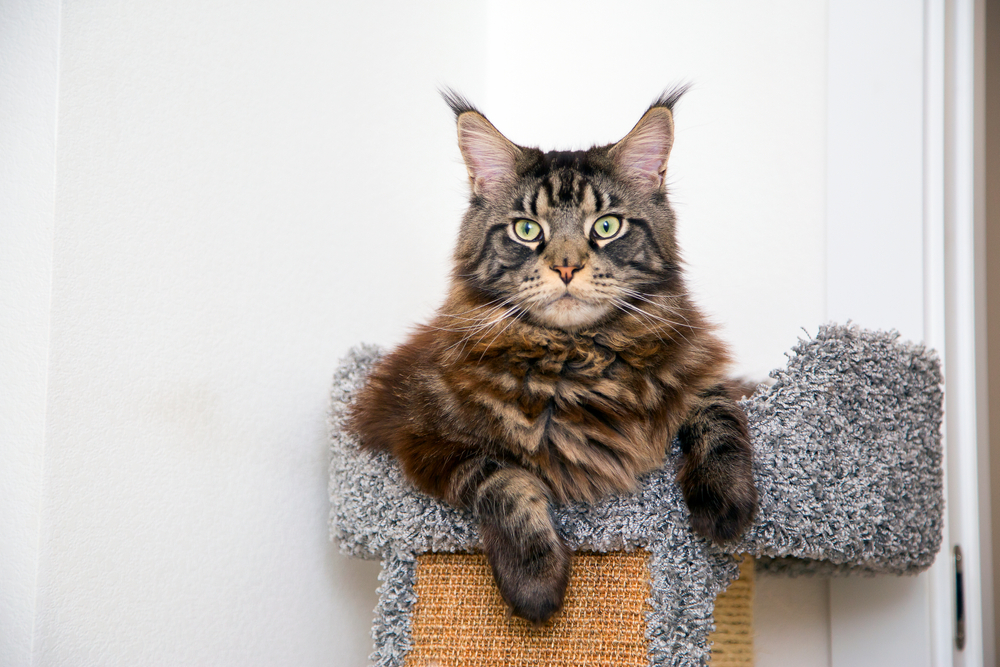 Maine Coon cats need exercise – that's one thing you can't forget when thinking of getting one of your own.
When you Google search "Maine Coon cat living needs," you're probably going to encounter thousands and thousands of answers telling you that these curious creatures get attached to humans and that's the one thing you need to focus on.
While that's true, there's much more to taking care of a Maine Coon cat than allowing her to follow you around and snuggling with her whenever you get the chance. Where do we even start?
Maine Coon cats need to play with mentally stimulating toys, go for walks around the neighborhood, explore your backyard, run around your apartment, and exercise. Whether you teach them how to play fetch or you get them a cat tree, they're going to be more than happy to move and get tired.
Cat trees are a great way to keep them entertained when you're at work, making dinner, or doing something that requires them to not be your shadow.
What to consider when shopping for a cat tree for Maine Coon cats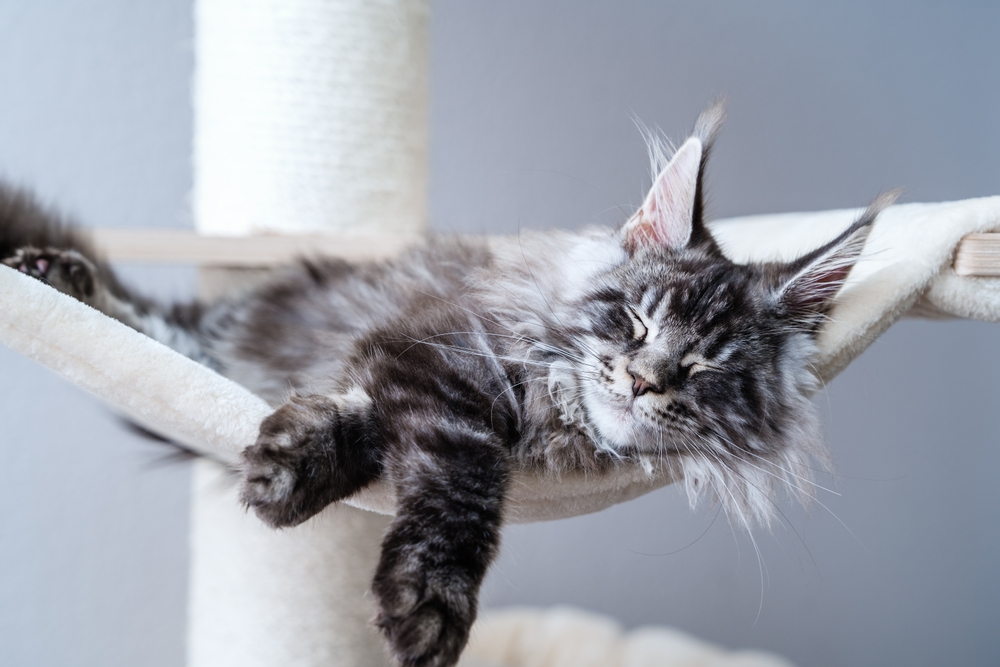 We know what you're thinking.
"Okay, my Maine Coon needs a cat tree. I can order one from Amazon and be done with it, right? I don't see why you would try to sell me a cat tree for Maine Coon cats!?" We can assure you that we're not trying to sell you a cat tree; we're trying to make sure your curious Coon gets the best tree for her.
Maine Coons are big, but you already know that. Because they're quite hefty, they're not happy with the flimsy, fragile cat trees most cats play with. But they can't tell you that and they're forced to play with whatever you provide them.
Now, you can avoid annoying your furry friend by getting her a proper tree. Keep an eye on a few tips and tricks we've prepared for you, and there's no reason you won't be able to get something she can actually climb on and enjoy.
First and foremost, figure out what you need the cat tree for – climbing, napping, scratching, or a little bit of everything. Also, pay attention to the measurements. You need the tree to be big enough for your Maine Coon but small enough to fit your apartment.
Last but not least, you might want to pay a little extra for a few features your Maine Coon will appreciate. Scratching posts, dangling toys, climbing ropes, condos, hammocks, high perches, and ramps are some of the things your Coon can play with while you're watching your favorite Netflix show.
We sensed you might need more help, so we've gathered a few of our favorite picks to make your quest for the perfect cat tree for Maine Coon cats much, much easier.
Top cat trees for Maine Coon cats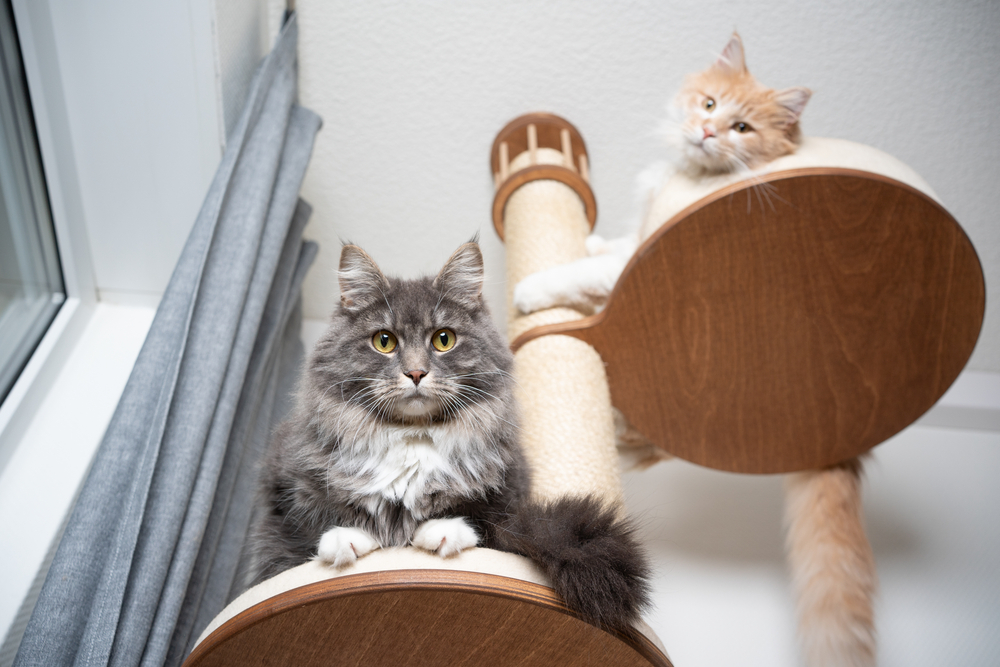 1. Frisco Faux Fur Cat Tree & Condo
When you have a large cat, you need a large cat tree – naturally. Frisco's got your back with Faux Fur Cat Tree & Condo which happens to be over 6 feet tall. For what it's worth, you won't have to worry whether your Maine Coon's gotten a little too big to climb on cat trees.
Frisco cat trees are high-quality and durable and you don't have to worry about wasting your money on something that's going to wear out within the first few weeks. On top of that, your Coon will appreciate the multiple nooks and perches she can use when she's napping or sharpening her claws.
2. Tucker Murphy Pet Siegfried Cat Tree
Moving on to a similar style, the Tucker Murphy Pet Siegfried Cat Tree is guaranteed to blow your (and your Coon's) mind. The condo comes with two padded perches, two nooks for napping, a hammock for more napping, and a bunch of scratching posts.
The cat tree features a few toys, too, so there's no doubt your Maine Coon will be over the moon to start playing with it right away. The fabrics and materials are high-quality and hard-wearing, and we're sure you're going to use this cat tree for years to come.
3. Catit Vesper High Base Cat Tree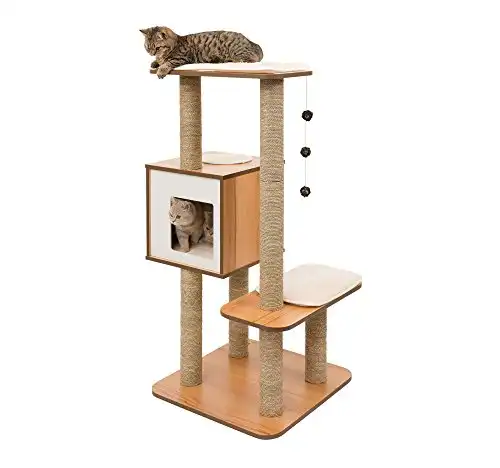 This High Base cat tree looks like something straight out of Architectural Digest, and we're here for that. If you're on the hunt for a classic, chic cat tree for Maine Coon cats, you need to check out the Catit Vesper High Base Cat Tree.
Made with laminated MDF surfaces and removable memory foam pads, this cat tree is on a different level. Moreover, your Maine Coon can count on a cubbed den, a platform for napping, and a bunch of wrapped pillars for scratching. What's not to adore?
4. The Refined Feline Metropolitan Cat Condo
What do you do when you're worried that your cat tree might ruin your apartment's aesthetic?
Worry not, you can turn to The Metropolitan Cat Condo by The Refined Feline. It's simple, sleek, and customizable – the entire thing looks like a bookshelf and comes with plenty of pretty colors and configurations to choose from.
When you're done with that, you can proceed to embellish the cat tree with accessories, platforms with built-in food bowls, or replacement sisal scratch pads. We're more than happy with how that sounds!
5. Trixie Baza Scratching Post with Hammock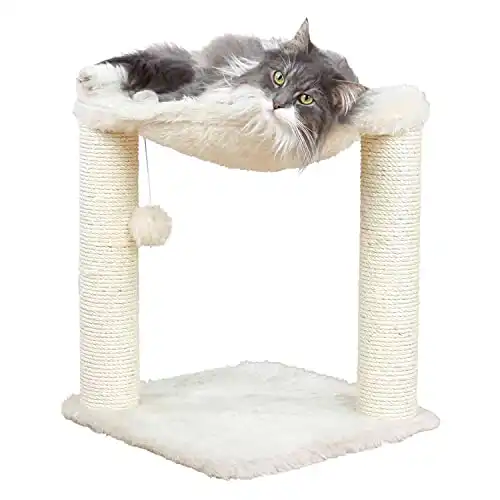 Now, what are you supposed to do when you have a big cat, but a small apartment that doesn't have the space for the Friscoes and Tucker Murphies of the world?
Trixie Baza Scratching Post with Hammock might not be the biggest cat tree out there, but we're sure your Coon won't even notice – with a place to scratch and a place to chill, chances are she's going to be too happy to care that you've gotten her the bare minimum (We're kidding, we're kidding!)
6. Siegfried Cat Tree
Siegfried Cat Tree works wonderfully for Maine Coons that can't (and won't) stop scratching your furniture.
With 6 scratching posts, you're guaranteed to notice a difference within the first few weeks of use. We recommend you show your Coon that she's supposed to scratch the tree, but we're sure she'll eventually figure it all out on her own either way.
7. Hey-Brother Extra Large Multi-Level Cat Tree Condo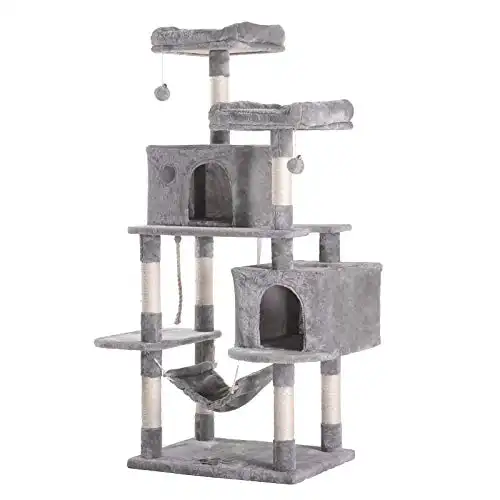 Are all cat trees for Maine Coons starting to look alike, or are we getting overwhelmed with the sheer number of great, affordable options? After all, we thought that finding the right cat tree for a big boy would be an equally big challenge – but here we are.
Hey-Brother Extra Large Multi-Level Cat Tree Condo will have your Maine Coon purring in delight with its multiple nooks and beds, numerous components, and a myriad of scratching posts.
8. Feandrea Cat Tree for Large Cats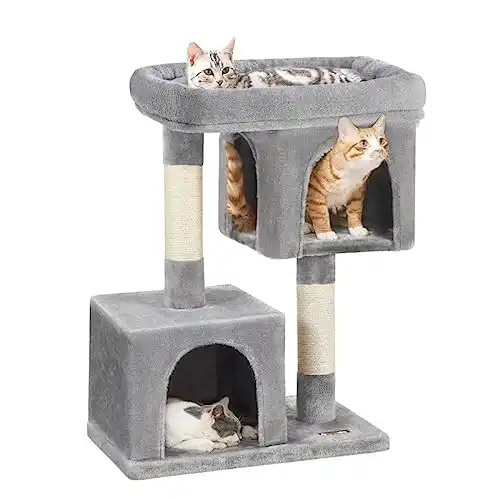 We've got another one for smaller spaces. The Feandrea Cat Tree for Large Cats promises to keep your Coon entertained without taking up too much of your living room.
With a humongous, padded top perch, you can count on your Coon to sleep through the night without waking you up with her paws on your face.
9. Byerly Cat Tree
What's better than a big cat cave, two built-in hammocks, and multiple perches? Nothing, according to every Maine Coon ever.
Because of the staggering number of cat trees we've already recommended, the Byerly Cat Tree might scream "I've never seen a cat tree like that!" But that doesn't mean that your curious creature won't appreciate the opportunity to lazily bat around the dangly toys all day long.
10. Tuft & Paw Frond Cat Tree
We're ending the article with an odd one. Tuft & Paw Frond Cat Tree offers more than meets the eye. With perches that can rotate for endless configurations and lots of scratching surfaces, your fluffy friend will spend hours and hours hopping and climbing.
Follow our step-by-step guide and you're guaranteed to keep your Maine Coon happy and healthy!