If you happen to be a proud Coon parent, then your whole life is probably covered with hair. I know you don't mind it at all, but I also know you're probably looking for the best brush for Maine Coon cats you can get to make your life a little less hairy.
Because grooming your giant purrer is no walk in the park, right? Even though it's a wonderful opportunity for you to spend some time with your feline buddy and bond a bit, it is still a hard, tedious, and unbelievably messy task.
That's why you need to be equipped with the best cat grooming tools on the market, so you can stop living your very own version of The Nightmare on Hairy Street. And so your kitty can be well-groomed, happy, and content.
So, if you want to buy the best brush for your Maine Coon fluffer, take a look at the list we've compiled below.
What is the best brush for Maine Coons?
1. Hepper Deshedding Cat Brush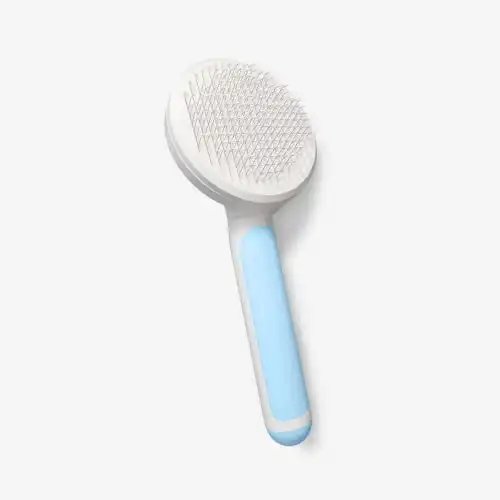 Hepper's deshedding brush is considered to be truly the best brush for Maine Coons. It features a round, easy-to-handle design and a swivel head for grooming.
The swivel head features 60-degree needle bristles which are exceptionally gentle at pulling your kitty's hair. This is because, during brushing, the needle bristles bend a bit, which ensures your furriend feels no pain whatsoever.
But if you ask me, the standout feature is the fact that it is specially designed to collect loose hair as you're brushing your Maine Coon. With just one click, the brush collects every single hair and you can easily discard everything.
Amazing, right? Especially when you remember the excessive amount of shedding that Maine Coons are known for.
Oh, and the brush is waterproof, too, which means it can be used during bath time. This Hepper Deshedding cat brush comes in three beautiful pastel colors, blue, gray, and pink, and it only costs $11.99.
2. Hartz Groomer's Best Combo Dog Brush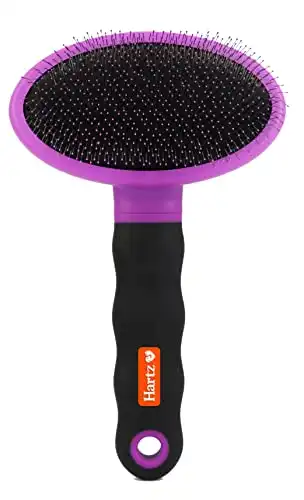 Did you know that the best brush for Maine Coon cats can also be a dog brush? Well, there are certainly no rules in the animal world. And besides, aren't Maine Coons said to have a dog-like personality anyway?
This brush by Hartz has two sides, both of which feature different types of bristles for different brushing needs.
The first side features stainless steel tips with a protective coating, which is great for detangling and removing loose hair. And the second side has dense nylon bristles perfect for redistributing natural oils for a healthy and shiny coat.
This amazing brush does wonders for your kitty's fur, and for a very reasonable price of around $8.
3. Coastal Pet Safari Self-Cleaning Slicker Brush
The third place on our list belongs to Coastal Pet Safari brush.
This is a very handy cat grooming tool as it comes with retractable bristles, making disposing of cat hair ten times easier and the whole process a lot less messy. With just one push of a button, the pins of this brush retract, leaving the chunk of fur collected in one place.
The stainless steel pins are very durable, long-lasting, rust-resistant, and efficient in removing loose hair, knots, tangles, and mats. This is a perfect brush for long-haired Maine Coons, and it costs around $20.
4. FURminator Firm Cat Slicker Brush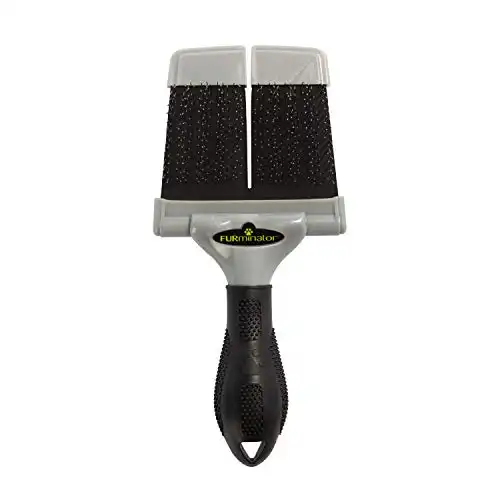 Another great dog brush which just so happens to be purrfect for our long-haired feline friends. This FURminator brush comes with soft metal bristles that perform well in detangling Maine Coon's fur and removing loose hair.
The double-sided head features straight bristles on one side and slightly angled ones on the other. Each side works purrfectly fine, depending on your (and your kitty's) preference or the situation you're in.
This amazing brush is easy and comfortable to use and comes in at around $14.
5. BV Dual-Sided Pin Brush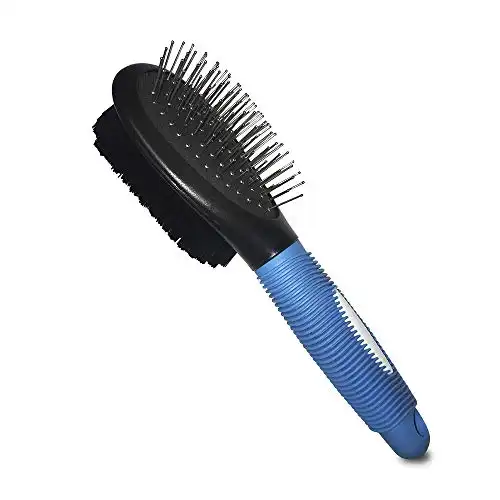 This is a great everyday grooming tool for your Maine Coon. As the name suggests, this brush comes with two sides: the pin side is great for preventing the formation of mats, while the bristle side is made for ensuring the coat is silky smooth and plush.
This brush also features a rubber handle that has a good grip and sits comfortably in your hand. It is also easy to remove the hair from it and keep it clean in general. And it can be purchased anywhere from $8 to $14.
6. Pet Republique Dematting Rake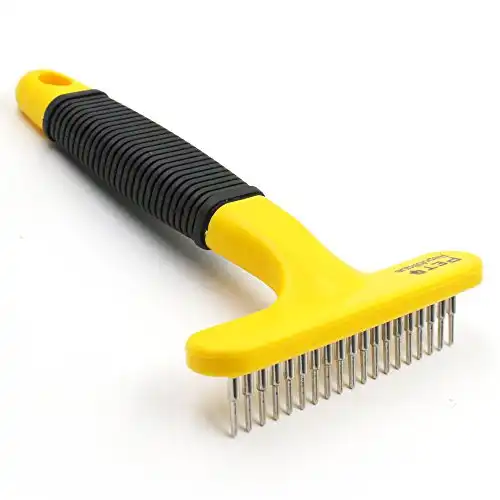 When I first saw this scary-looking de-matting rake, I thought it was some kind of gardening tool. "Ain't no way this is supposed to be used on cats!" was my initial thought, but I soon realized this is rightfully considered one of the best brushes for Maine Coon cats. And here's why.
This brush has steel blades that perform as a comb. Those blades have a round tip, meaning they won't cut or hurt your kitty in any way. The inside of the brush features a sharp edge whose purpose is to cut the tangles and mats and thin out the fur.
These blades are extremely durable and won't dull or rust anytime soon. This means that once you buy this brush, it'll be a part of your Maine Coon's grooming routine for quite some time. And all of that for only $9.
7. Hertzko Self-Cleaning Dog & Cat Slicker Brush
When you're caring for a Maine Coon kitty, you need all the help in the world. Especially in the form of a self-cleaning brush like this one by Hertzko.
This brush also features retractable stainless-steel bristles which make cleaning it after the grooming session super easy. As with the Coastal Pet Safari brush we've mentioned above, all you have to do once you're done brushing your cat is to push the button to retract the pins, and you're be able to catch the chunks of your kitty's hair.
The only flaw of this brush is the fact that you have to hold the button down all the time while brushing your cat. But if you can live with that, then this can be your new favorite cat grooming tool at a price tag of $30.
8. Frisco Cat & Dog Pin Brush
This Frisco pin brush is another great option for your long-haired beauty-Coon. It comes with soft plastic pins with round tips that are gentle on your cat's fur. It does a decent job at detangling but is amazing at spreading your kitty's natural oils throughout her fur, making it softer and glossier.
The only drawback of this brush is that after some time the bristles start to push into the brush, which can still be ignored since this brush retails only for $6.
9. Shiny Pet Stainless Steel Comb
Sometimes after brushing your Maine Coon you need an adequate comb to give her fur a finishing "floof" touch. And this Shiny Pet comb is simply the best for that task!
This comb is great for those situations where you need to be extra precise and get rid of those stubborn mats. It comes with both wide and fine teeth with rounded ends for guaranteed safety, and the non-slip handle makes it comfortable to hold.
And the best part about it is, since it's made out of stainless steel, this comb can be washed in the dishwasher. What a lovely feature! For only $12, you get a comb that will last you a long time and that your Maine Coon kitty will adore.
10. Ethical Pet Spot Grooming Glove
This one is not strictly the best brush for Maine Coon cats, but it can certainly be considered one of the best grooming gloves. When you think about it, with this glove you're actually cuddling your gentle giant while doing the tedious work of grooming.
With that in mind, this is probably one of the easiest cat grooming tools on the market. This glove features a rubbery side with small bumps that do an amazing dual job of catching loose hair and massaging your kitty.
Some Maine Coon parents have said that their kitties enjoyed this glove, only if it was used occasionally and in moderation. This is because the rubbery side may pull on their fur too much, making them agitated and their skin sore.
This glove is also not the best option if you need something to detangle your cat's fur, so you'll definitely need a second tool just for that purpose. But it can be a great addition to your grooming kit. You can use it from time to time when you and your kitty feel like it.
And it cost only $7, so you're not exactly going to be breaking the bank for something you're not going to be using regularly.