We've heard a number of beautiful stories about stray kitties being saved and finding their new families. If you're one of the people who shed a tear or two at this kind of story, wait until you hear about a girl who saved, not one, but 14 beautiful kittens!
It's not often that you hear about a teenager who decides to spend their pocket money to save a life. Lucinda, a 13-year-old girl with a big heart, decided to use her birthday money and save the lives of 14 kittens she found abandoned one day.
As she was riding her bike along the Moonee Ponds Creek track, she noticed five stray kittens on her path. When she saw how lost and distressed they were, she couldn't leave them there. Plus, they were really adorable. How could she resist?
Since she was on her bike, she had no idea how to carry them to safety. A laundry basket seemed like the only way for her to gather all five kittens, so she hurried back home to get it. When she came back for the kittens, she realized she might need a bigger basket…
There were nine more kittens running towards her! To say she was surprised would be an understatement. She was surrounded by 14 adorable balls of fluff, waiting for her to save them. Although it was quite a handful, she managed to bring them all home safely.
Now, with 14 kittens under her care, she knew she had to get some help, so she contacted the local animal hospital. The wonderful people who work at the Lort Smith Animal Hospital encouraged her to bring her new feline friends in, despite it being the heat of the "kitten season."
There were hundreds of feline babies waiting for help and care, but the staff was deeply touched by Lucinda's act of pure kindness. How could they say no? After all, a 13-year-old girl can't take care of 14 kittens all by herself.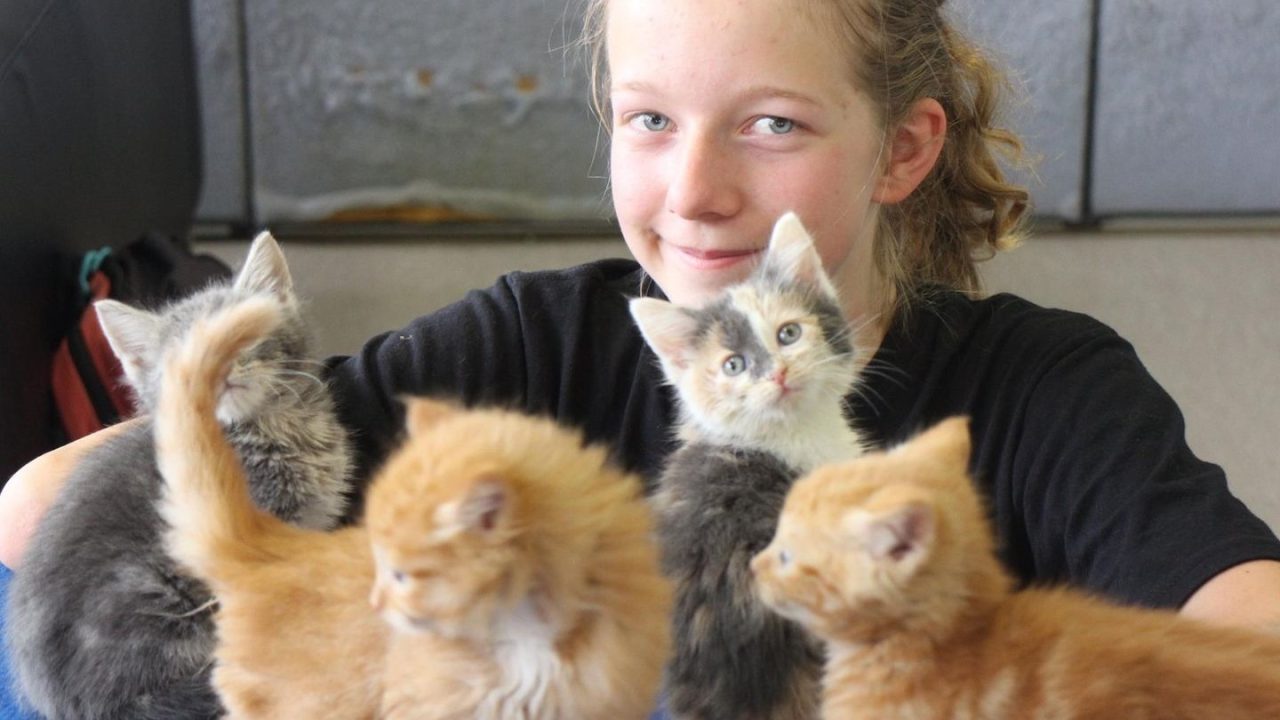 (Credit: Lort Smith)
There was one problem, though. With that many kittens, Lucinda had no idea how to carry them to the hospital. She can't ride her bike to the center of Melbourne! That's when she remembered – she had $50 someone gave her for her birthday a few weeks ago. What if she used that to find transportation for the kittens and her?
And that's exactly what she did. She used her well-deserved pocket money to pay for a taxi that drove her to the Lort Smith. When they got there, the staff took care of all the fluffy babies she brought. They were given proper health care and a safe place where they can sleep, grow, and play.
All 14 kittens were vaccinated, microchipped, and castrated before they were ready for their furrever homes. In no time, they were strong enough to be put up for adoption, and Lucinda's kindness and selflessness helped her save 14 lives!
This beautiful story inspired Lucinda's community, and it didn't take long before it appeared in local news and was shared with people all over the world. The photos of her with the fluffs she saved touched the hearts of many people, and the comments she received were full of support and love.
One person was especially touched by her story and offered to give Lucinda her money back. In their response, Lort Smith said that another person offered a reward for her beautiful act of kindness, but that Lucinda's family said they'd prefer if the donation went to the hospital instead.
With such a wonderful family, it comes as no surprise that Lucinda was raised to love and care for all beings in need, especially those who aren't able to help themselves. This 13-year-old's beautiful gesture helped 14 kittens find a loving home, and it inspired other people to help their community, too!
Next time you think your small acts of kindness don't mean much, remember Lucinda's story. When she first saw the abandoned kittens, she thought she'll be helping five kitties in need. As a result, she ended up saving 14 lives, and even more!
The people continued to help the Lort Smith hospital, which was able to save other animals who desperately needed their help. A little bit of love can do wonders, and we applaud Lucinda's parents for raising her to selflessly love and care for everyone.