Getting a purring pet can become quite an exciting experience when you don't have a clue what you're doing. As cute and cuddly as most cats are, there's always a chance you might end up with a pet you don't see eye to eye with. And when you're choosing between two breeds (Ragdoll vs. Himalayan e.g.), there's plenty to consider.
Cats are rumored to be standoffish and detached, but they're self-sufficient more than anything. That's why pet parents tend to think all cats are low-maintenance. Or at least easier to deal with than dogs.
Granted that you have your heart set on a Ragdoll or a Himalayan cat, don't bank on a trouble-free experience.
Before going any further, these two breeds are freakishly similar (some might even argue they're the same). You might have a hard time looking through pictures of these two scruffy, fluffy, and pawsitively enchanting kitties and choosing the one you prefer.
Whether that sounds strange or not, you can make so many mistakes when choosing between cats that have a similar appearance. That's not to say that you would regret getting any of them.
But, there's something heartbreaking about bringing a Ragdoll home (for example) only to figure out you would've loved coming home with a Himalayan, too. And, that's why you're better off doing your research before heading off to the nearest shelter or breeder.
When you're trying to choose between the Ragdoll vs. Himalayan, you ought to know what you're getting yourself into.
Would your life be better with an adorable Ragdoll fluffer? Would you prefer the presence of a Himalayan mouser? Keep reading to discover what sets these two breeds apart, as well as what makes them America's (or the world's) sweethearts.
Ragdoll vs. Himalayan: What's there to know?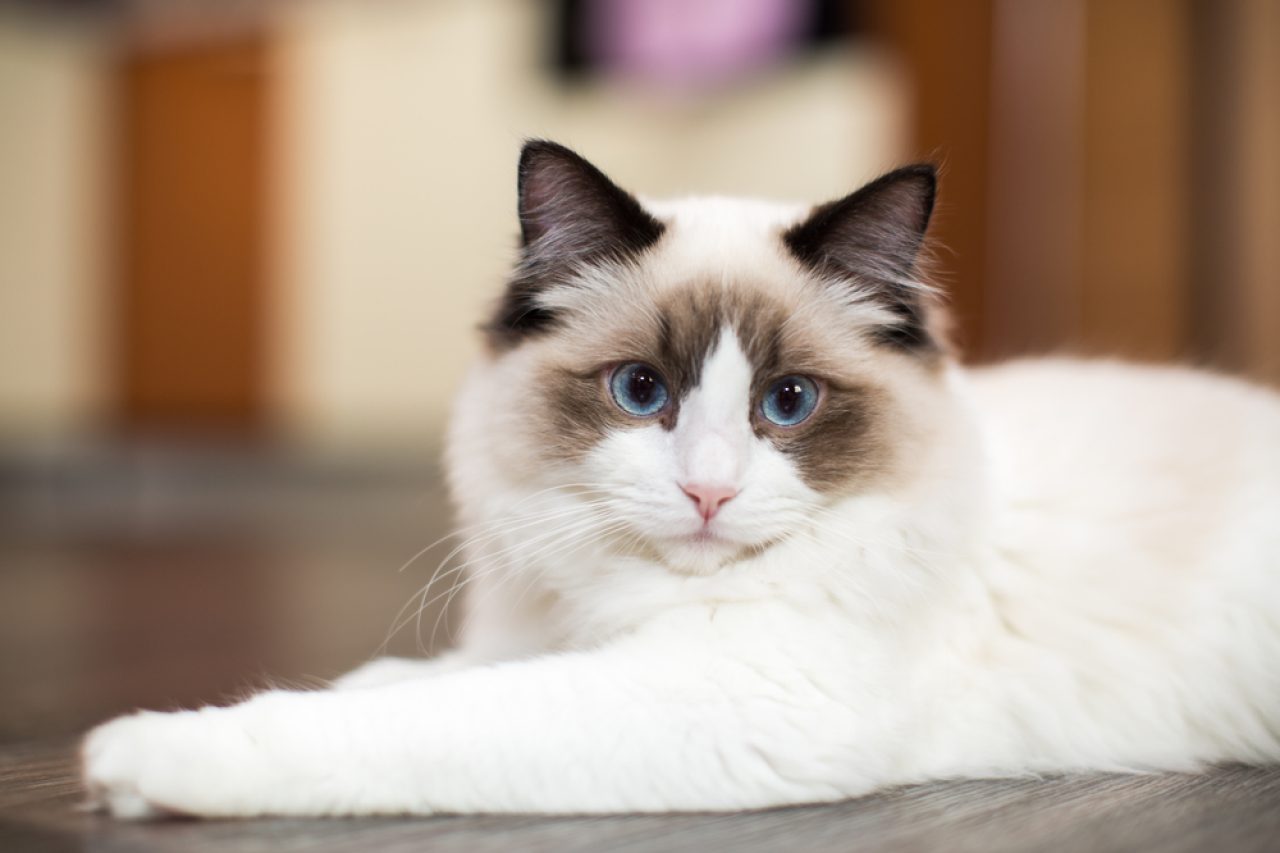 "Wait a minute! We're talking about Ragdoll vs. Himalayan, right? Weren't these two the same? Or at least from the same family?" We can't argue with the fact that these two mousers look freakishly alike. They're completely, irrevocably, and unequivocally fluffy, which makes them appear bigger (and better).
They're hefty (not that we make a habit out of telling ladies they look overweight). And they have those darker patches of color scattered across the face (and the body). However, that's not to say you won't be left open-mouthed when you learn how different these frisky felines actually are.
First things first, they're not quite the same when we're talking about appearance. Himalayans are dwarfish compared to Ragdolls – they're smaller, but they're fluffier and stockier (which can be taken as a compliment).
Both have the same colorings and eyes (we can't look away whenever we cross paths with those ocean blues). On the other hand, they're quite different when we're talking about temperaments and purrsonalities, likes and dislikes.
Himalayans are the embodiment of "calm and collected". On the other hand, Ragdolls are a force to be reckoned with (they're much more active and animated).
Seems like these two mysterious mousers share an array of differences you've never heard of. Take a look at some we've gathered for you and buckle up. You're about to learn which of these belongs on your sofa. Starting from the beginning, what's up with Ragdolls?
Ragdolls: The fluffiest of felines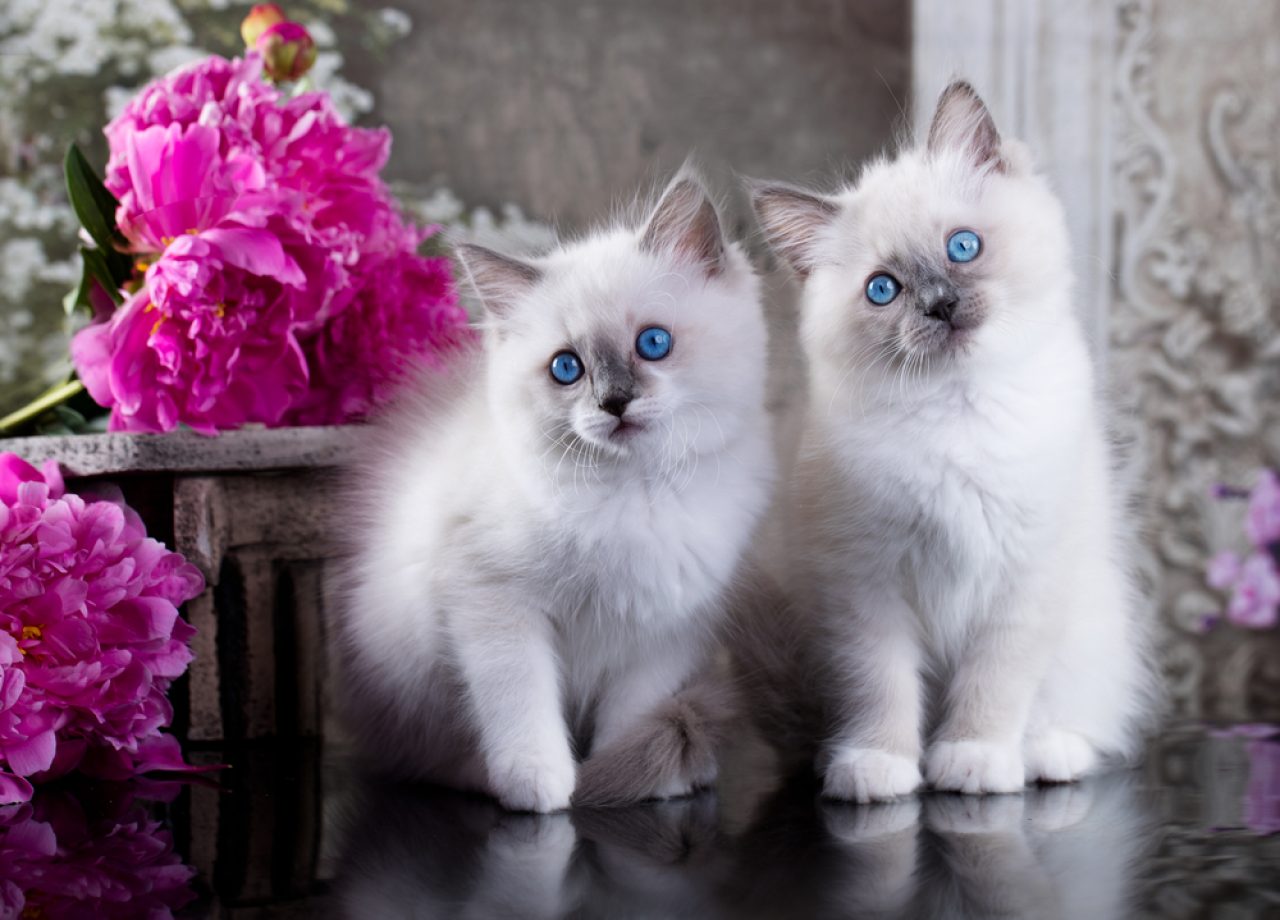 Scouring the world wide web and searching for the scoop on Ragdoll vs Himalayan might not answer the question of the day – which one's better for you? But, mastering the essence of each breed should help you make a decision based on something more meaningful than "the eyes on this one are bluer."
Right off the bat, Ragdolls have to be some of the most affectionate, warm-hearted, and gentle kitties out there. Sure, the beauty they possess gets them the popularity they deserve. But, when you scratch more than just the surface, you won't be able to overlook the fact that Ragdolls make for the cuddliest of pets.
However, turns out you need quite deep pockets to be able to afford one of these high-end kitties. When getting one from a reputable breeder, you're looking at anything between $1,500 and $3,500. Adoption, on the other hand, doesn't cost as much and typically ranges between $100 and $200.
As extravagant and sought-after as Ragdolls are, you might have a tough time trying to get your hands on one through an adoption agency (something to keep an eye on).
Truth be told, you might be more fortunate getting your hands on one as a present from a friend that happens to have a litter of flabby kittens. Whatever path you decide to take, throw a glance at some of the breed's characteristics. This will help you understand what Ragdolls are about.
1. History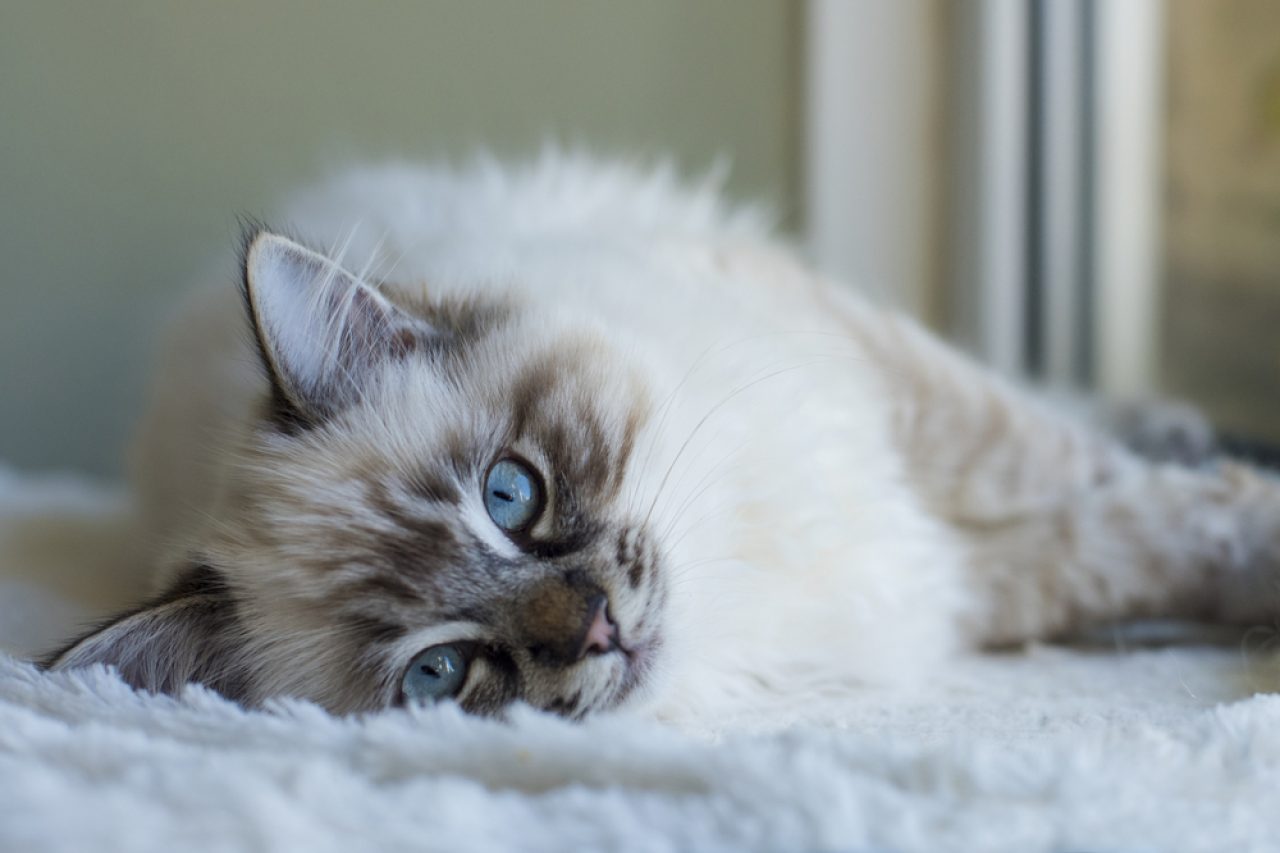 Oh, Ragdolls are one of those "California Gurls" Katy Perry was going on and on about! Actually, she was right to put such an emphasis on the beauty of everything that comes from California. As a matter of fact, Ragdolls came from Riverside around the 1906s when they were created by Ann Baker.
Ann was such a controversial figure when we're talking about the breeders that were responsible for some of the most popular breeds out there.
Ann started working on Ragdolls because she was looking to create a breed that was non-aggressive, mild-mannered, and even-tempered. She crossed breeds that posed those characteristics hoping they would transfer onto the offspring.
As time went on, she became more and more successful with her attempts. But, at the same time, she became more eccentric and controversial with the claims she was making about the breed.
She even went as far as to argue that the breed was a result of medically altered genetics (which wasn't the case). She didn't take long before chasing pretty much everyone away from her. Other breeders decided to part ways and move on with the research without her.
Whatever happened between them didn't hurt the breed that much, though. The Cat Fanciers' Association recognized Ragdolls as purebred around 1965.
2. Appearance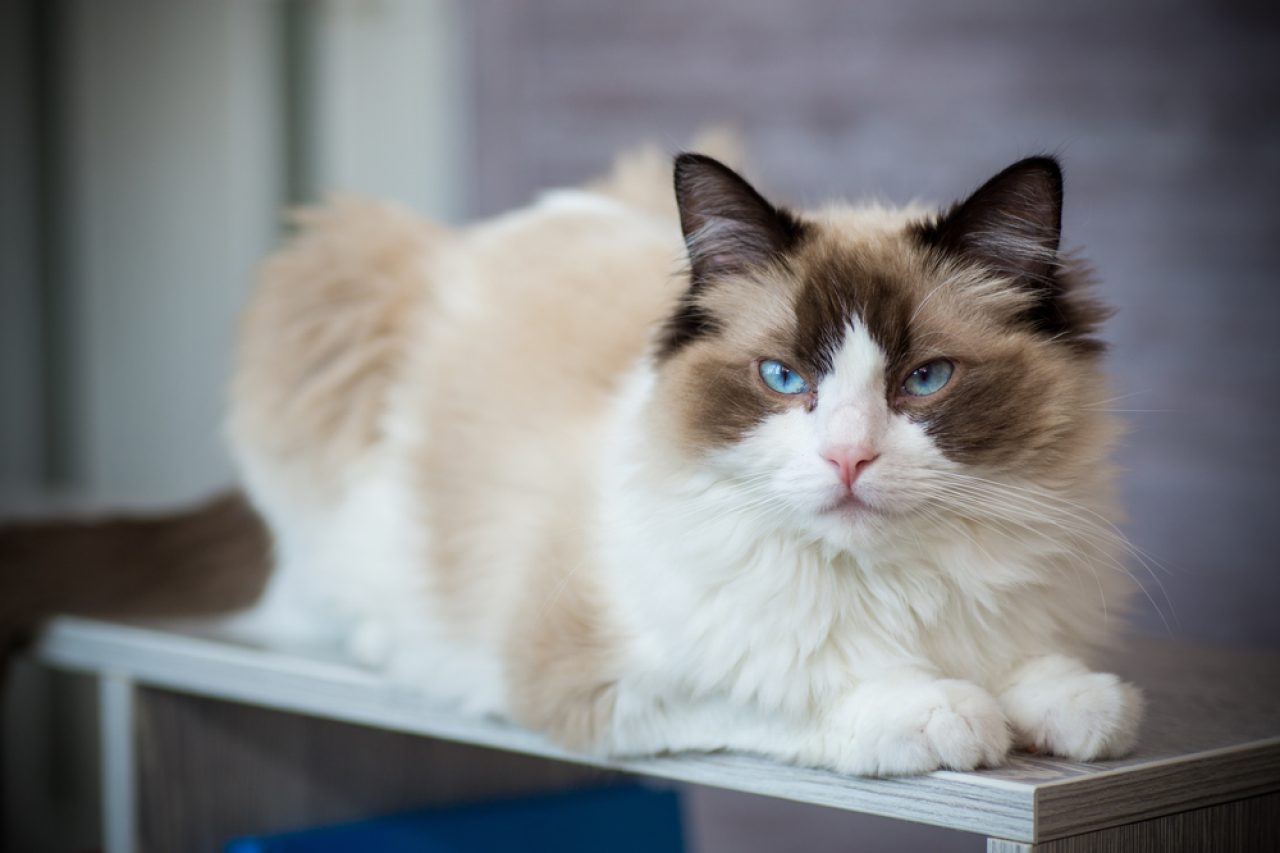 That's right, you can't go bigger and better than a Ragdoll. These gentle giants can grow anywhere from 9 to 11 inches tall and 17 to 21 inches long. That is without counting the lengthy, fluffy tail that makes them appear even longer.
And, these kitties can weigh anywhere from 10 to 20 pounds. But, we're not trying to comment on the fact that they're hefty.
Who doesn't need a Ragdoll kitten that weighs more than your average watermelon!? Other than that, Ragdolls are strong (and muscular) with soft coats that can assume a bunch of color combinations and patterns.
As they're true fashionistas, they can choose between white, black, ebony, red, orange, blue, gray, lavender, silver, cream, beige, tan, chocolate, brown, sable, and lilac color combinations; as well as colorpoint, bicolor, mitted, lynx point, and tortie point patterns.
And, we can't overlook the fact that these coats (as fluffy as they are) don't have a problem with shedding – other than the seasonal shedding in spring. Ragdolls don't have an undercoat (that most other fluffy cats do) and that's why they don't lose as much fluff. But, they aren't hypoallergenic.
3. Purrsonality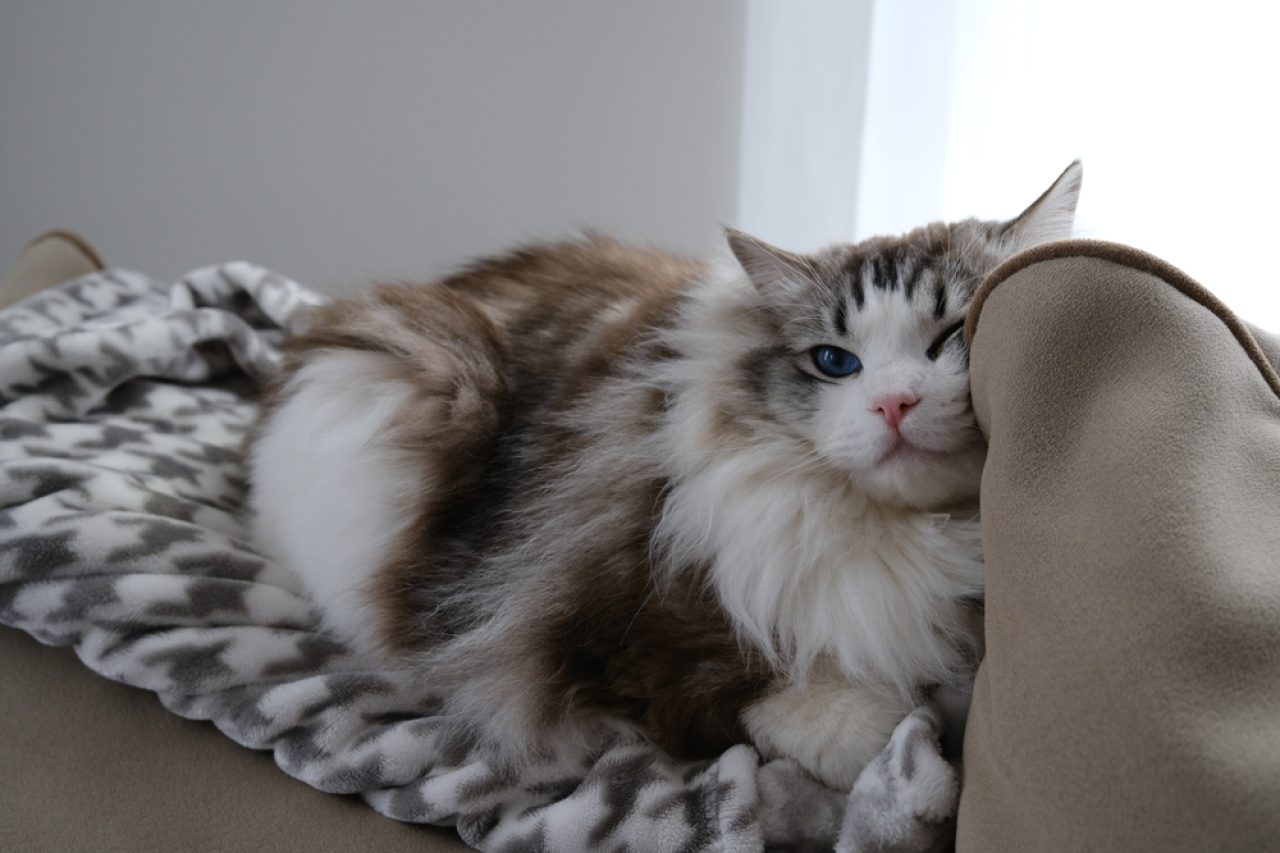 Of course, a Ragdoll vs. Himalayan search wouldn't be complete without a purrsonality check! Now, these two breeds are super similar when we're talking about temperament, wants, needs, and preferences. Both breeds are affectionate, tender, and sweet – they're perfect pets for pretty much anyone.
But, we're focusing on Ragdolls (for now). Sure, these floppy felines can catch everyone's attention because they're that adorable. Nevertheless, there are times when people wonder why they're named after ragdolls (because they're cute like dolls!).
And, we're here to give you the story you didn't expect. Ragdolls love humans to the point where they turn completely limp and lose the moment anyone picks them up. Just like ragdolls.
They're clearly the most trusting felines out there because they don't doubt (not for a second) that you're going to catch them and keep them safe and secure. However, Ragdolls wouldn't demand your attention even though they crave to spend every moment of the waking hour with you.
We would argue that quality time might be a love language they're fond of. They're not as energetic as the Bengals. But, they prefer doing something with you rather than lounging around day in and day out.
4. Health
We know what you're thinking – "Health should be the number one priority when deciding which one to get! Which one's healthier?"
We're here to let you know that you're largely the one responsible for the longevity of your cat's life (as well as the quality!). What do we mean by that? Ragdolls are overall healthy cats, and with proper care, they can live as long as 13 to 18 years.
But, without appropriate nutrition, physical activity, regular veterinarian checkups, affection, and a bunch of other factors, there's no way of knowing what diseases they might battle down the line. Nonetheless, there are a couple of health niggles your Ragdoll might experience as she grows older.
Arthritis, hypertrophic cardiomyopathy (HCM), urinary tract problems, and dental problems are ones that keep popping up whenever you search for Ragdoll health complications. Schedule regular checkups and you should be able to battle any of them before they get out of control.
Himalayans: The miniature Ragdoll counterparts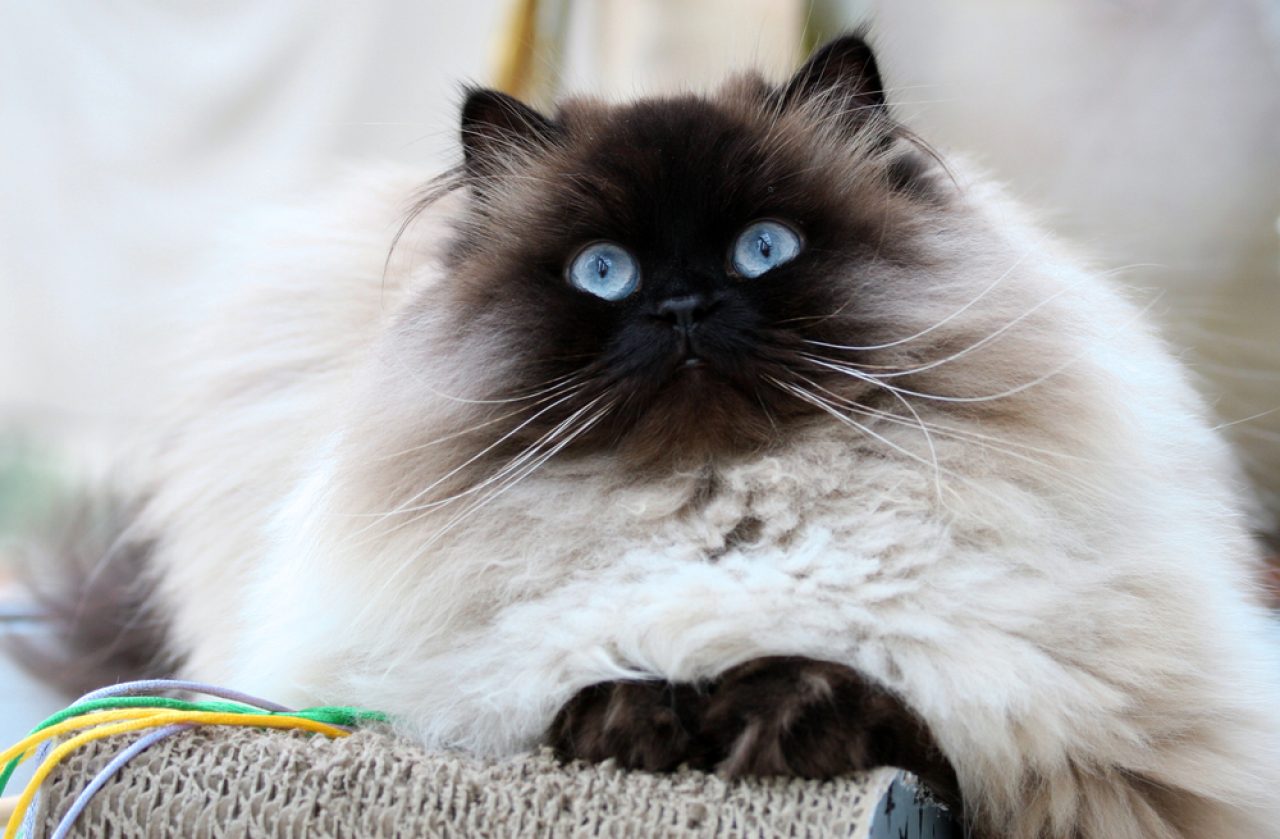 Look at you googling "Ragdoll vs. Himalayan," landing straight at the doors of our page, and running across an article that answers your questions to a tee.
Known as "color-point Persians" or "Himmies," these curious creatures are incredibly intelligent, loyal, and loving. Which makes for everything you've been looking for, right? There's nothing better than snuggling with a lazy, lap pet on a Sunday morning.
That's exactly what you can have, granted that you contact your breeder right now and demand you get a Himalayan kitten ASAP. But, but, but… There's always a but when we're talking about the depth of your pockets when you're looking for a breed as cute as this one.
Himalayan cats are far from cheap. Getting one from a reputable breeder might cost you anywhere between $1,000 and $2,500 (depending on age, health, and some other factors). But, getting them from an adoption agency or a rescue shelter might be a better option, with prices starting from $100.
Himalayan cats aren't as popular as Ragdolls. Hence, you might have an ever harder time getting your hands on one without spending thousands and thousands of dollars.
However, where there's a will, there's a way. And, we're bringing you a rundown on these bad boys (starting with how the heck they came to be?!).
1. History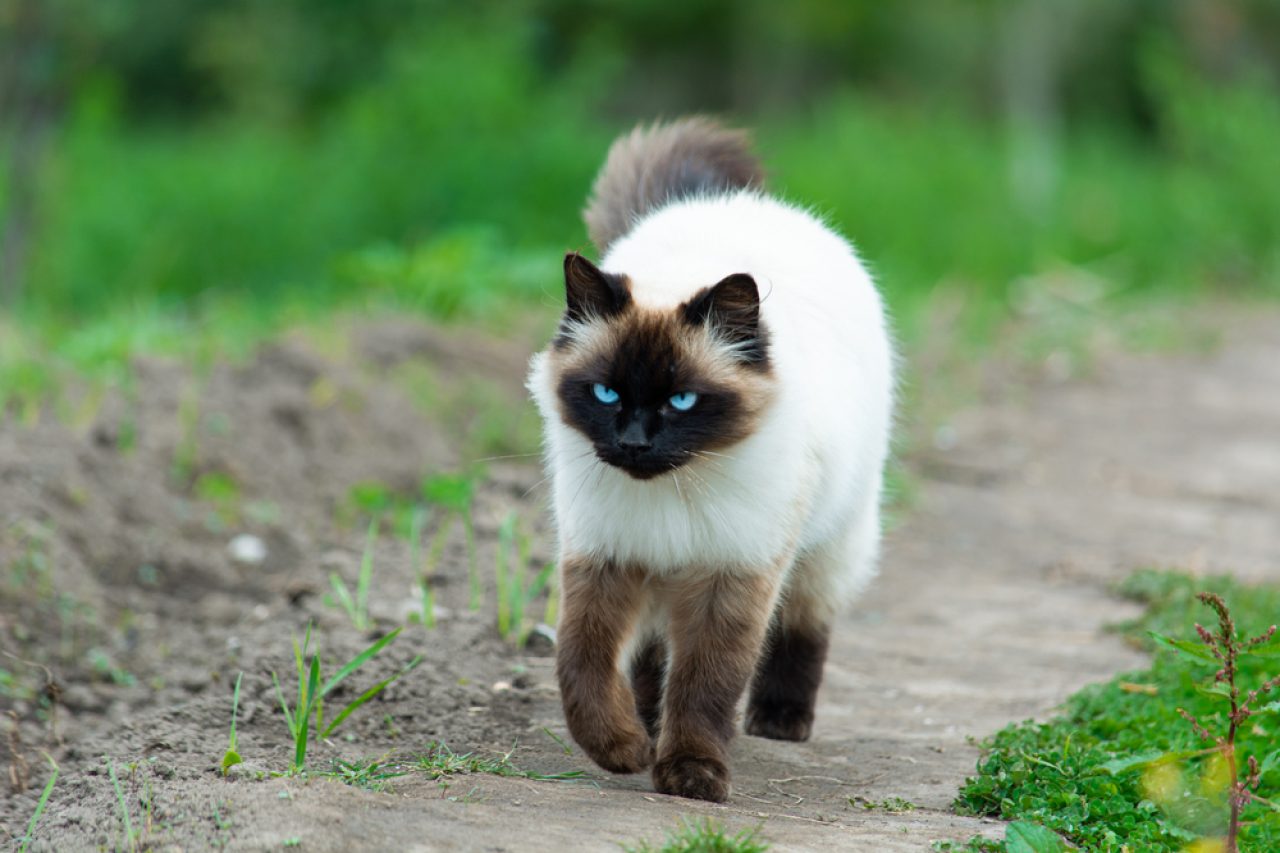 Now, the tea seems to be piping hot and spilling everywhere with this one! Whether you're trying to decide on the Ragdoll vs Himalayan thing or you're trying to satisfy your curiosity, we're about to tickle your fancy with the history behind Himalayan cats. We're not kidding, they're a mysterious bunch!
Starting with a bang, Himalayan cats are a breed that hasn't been around for long. Early attempts at creating the breed were made up of mating Persian cats with Siamese cats (hence the smooshy faces and the color-point patterns).
They took place around the beginning of the 1950s. But, Marguerita Goforth was the one that perfected the breed (and created the Himalayan we recognize today) not long after WWII. The Cat Fanciers' Association accepted the Himalayans a couple of years later; but, not without a veil of controversy.
While the CFA might be one of the most prominent cat organizations, there are others across the world working on recognizing and accepting different breeds. Turns out that not every one of those organizations accepted the Himalayans as a breed.
Some did, but some decided that the Himalayans belonged to the Persians (and couldn't have a group of their own). Whether they were right to do so (or not), these beauties deserve couldn't be happier even without the status.
2. Appearance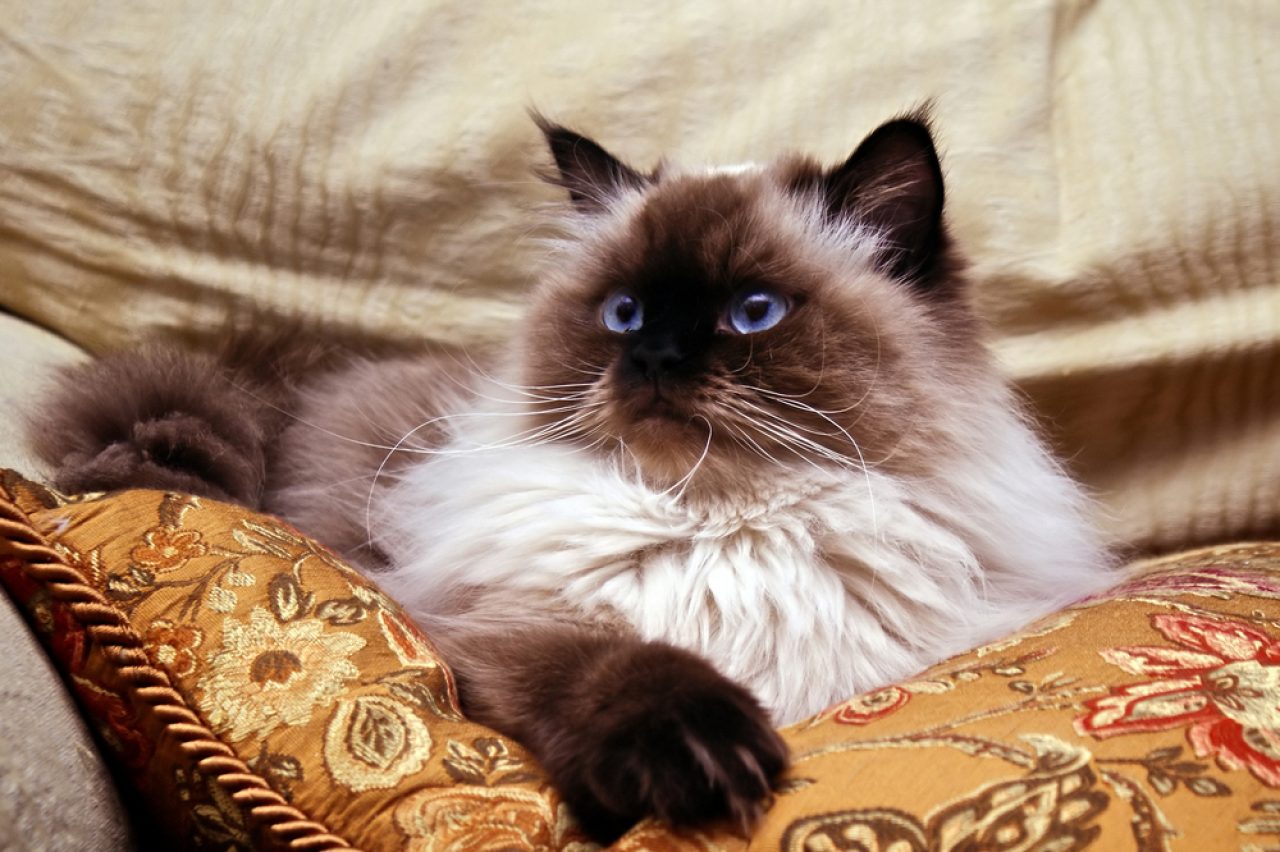 Himalayans are super similar to Ragdolls (depending on the Ragdoll color combination). But, they're even more alike than the Persians we mentioned beforehand. That makes sense, obviously, because they came to be as a cross between Persian cats and Siamese cats.
And, you can see traces of both when we're talking about appearance. Himalayan cats have long, luscious creamy coats with contrasting patches around the face, ears, and legs.
Those patches can assume a wide variety of colors such as seal, blue, lilac, chocolate, flame, and cream; as well as an array of patterns such as tabby, lynx, and tortoiseshell. Needless to say, these frisky felines are some of the most stunning specimens you might ever cross paths with.
Much like their Ragdoll counterparts, Himalayan cats sport those ocean blue eyes Billie Eilish has been writing songs about. And, we can't forget about the proportions.
Grown Himalayan cats aren't that big, but they appear bigger because of that super fluffy and super long fluff. However, they're typically 10 to 12 inches high and weigh between 7 and 12 pounds.
3. Purrsonality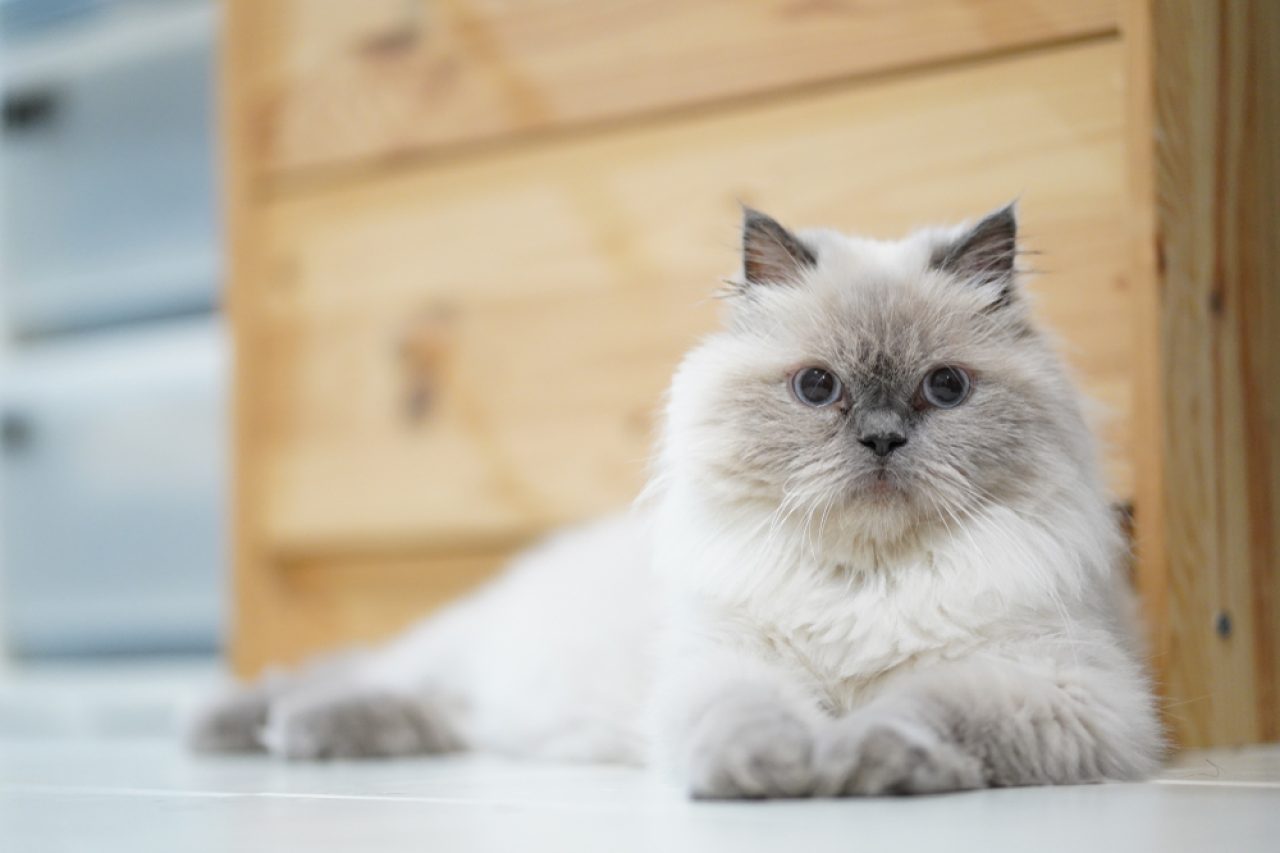 Himalayan cats are as sweet as they appear to be. When you look at that charming, squooshy face, you know you're getting your money's worth.
Whoever you're rooting for (referring to the Ragdoll vs. Himalayan battle of cuteness), you can't argue that Himalayan cats are some of the most loyal, laid-back companions ever. First things first, they can adapt to pretty much anything.
They're great with children and wouldn't freak out over the fact that a tiny, tiny human keeps squeezing them too hard. They're great with traveling, moving houses, or doing anything out of the ordinary. And, they're lazy – which means they don't care what you do as long as they don't have to do the same.
But, like their Siamese cousins, Himalayan cats can have some behavior problems. Now, cats can act out when they're stressed out and overwhelmed. It can even happen when they're newly added to the family and don't know what's going on. Worry not, Himalayan cats are good to you as much as you're good to them.
4. Health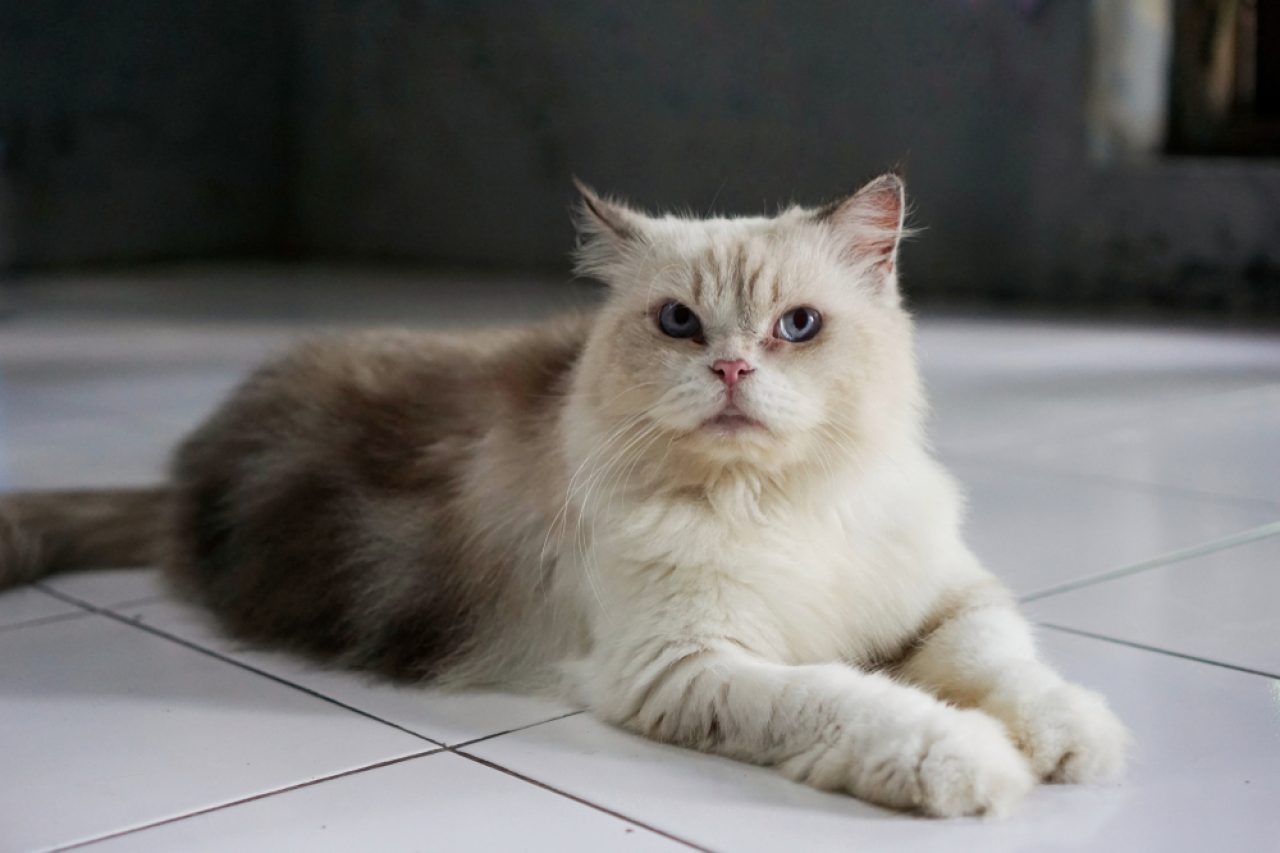 "Oh, those flat faces can't be good, right?" Right, but only to a certain extent. We don't want to dispute the point we made earlier.
A cat's health mainly depends on proper nutrition, physical activity, affection, and regular checkups. We do, however, have to underline the fact that Himalayan cats can deal with health niggles based on genetics.
For example, some Himalayan cats might have to deal with diseases such as polycystic kidney disease (PKD) and progressive retinal atrophy (PRA). Some might even develop breathing problems (even heart problems) because of those super sweet smooshed faces. What a bummer!
However, when you get your Himalayan cat from a reputable breeder, you can expect them to do a screening for diseases beforehand. Not only that, but quality breeders make sure to minimize the possibility of developing breed-related health problems down the line.
Not to mention that they can develop hairballs because of those long, luscious coats. Other than that, they're a healthy breed that can live anywhere between 8 to 11 years.
Ragdoll vs. Himalayan: Which one gets to go home with you?
"Winner, winner, chicken dinner!" We're rooting for both Ragdoll and Himalayan fluffer and we're sure you won't go wrong with whichever you decide to go for.
Who wouldn't want to have a four-legged friend that's sweet, loving, and loyal? That's even-tempered with children and open-minded about your weird, TikTok trends? That's too big to sleep on your lap but kittenish, nonetheless?
We're giving you the green light to contact your local breeder and check what he's been cooking up as of late. Whether you go for a Ragdoll kitten or a Himalayan mouser, you won't be disappointed – for sure.
Or, you can read more about a cross between a Himalayan and a Ragdoll. Mixing these two breeds together may result in a dream-come-true pet.