Who doesn't absolutely adore Ragdolls!? Ragdoll cats are beaming with agreeable qualities that make them one of the most popular breeds out there – they're gentle, giant, and obsessed with humans. But they're known to eat more than an average cat, so you might be wondering about the best Ragdoll cat food.
Now, Ragdoll cats outgrow moggies and neighborhood cats by the time they're four months old. Not to mention that they've got plenty of growing to do after that.
And, because they're known to consume larger portions than other breeds, you need to provide them with enough high-quality, delicious, and nutritious food on a regular.
But you also need to know when to stop because Ragdolls are prone to overeating, gaining weight, and becoming obese. We know you're thinking "I don't mind her becoming floofier and squishier than ever!" but that's not worth the health niggles she might suffer from due to weight gain.
What should Ragdolls eat?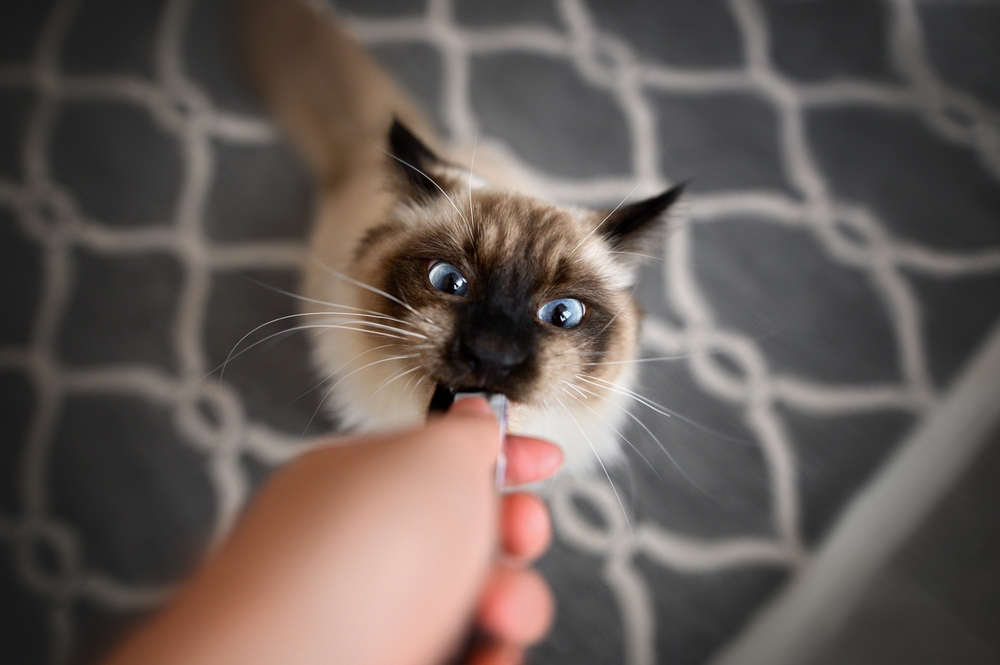 Ragdolls, same as other cat breeds, are obligate carnivores. That means that Ragdolls need predominantly meat, animal protein, and animal-sourced nutrients to survive and thrive. Rather than feasting on fruits and veggies, they're better off munching on cat kibble, canned cat food, cat treats, and an occasional meaty morsel.
Nutritionists agree that Ragdolls are the healthiest when they're fed whole-meat-based foods rather than processed protein substitutes. What are whole-meat-based foods, though?
Meat, fish, bones, and even bugs are a great source of protein for your fluffy friend – whether she's getting them from the source or commercially available Ragdoll cat food. Moreover, Ragdolls can consume plant protein and dairy protein, too.
But everything we've mentioned thus far boils down to one practical tip: Avoid carbs. Grains, starchy veggies, and sugar can cause your Ragdoll a myriad of health problems and that's why you shouldn't feed them to her.
Okay then, how much and how often should Ragdolls eat? And, should Ragdolls eat wet or dry foods? Read more down below!
How much and how often should Ragdolls eat?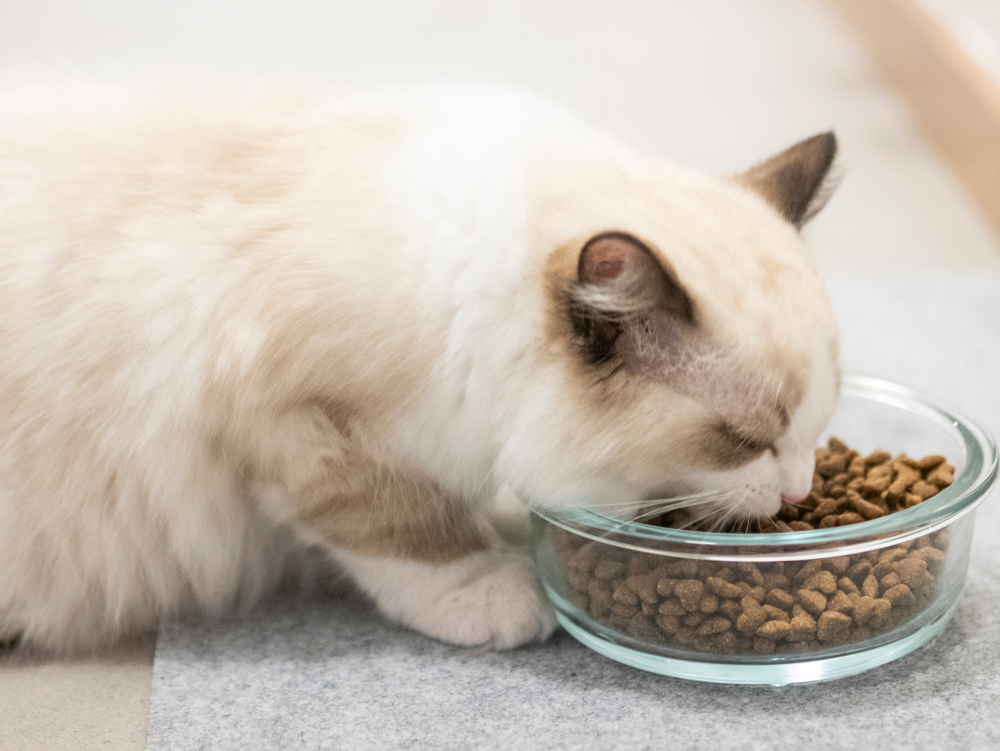 Ragdolls are known to eat more than the average fluffer, but that doesn't mean you should allow your feline friend to eat as much as she wants. Cats are ready to munch on something minutes after they've finished an entire bag of Meow Mix because they're not fans of saying no to food – and Ragdolls are no different.
We understand you might be thinking of feeding your furry friend more often than you would an average moggy or offering her bigger bites to eat because she's, well, big.
But you'd be causing her damage with the sheer volume of food she doesn't need. Ragdolls are bigger than average cats, but they don't necessarily need bigger portions because they aren't the most active animals.
When you observe your pur machine throughout the day, you might notice she spends most of her time napping, rolling on the floor, grooming her fluff, and munching on treats. Because of that, she doesn't need too much food to keep her happy and healthy.
What are you supposed to do, then? Feed your Ragdoll two to three times a day, depending on how much food she consumes for each feeding.
Counting the calories she consumes might help you understand the portions better – she needs around 40 to 42 calories for every kilogram of her body weight each day. Canned and dry foods contain different amounts of calories, and that's something you should keep an eye on, too.
But when you consider the average Ragdoll's weight and physical activity levels, you're likely going to give your Raggie a can of wet food and around 50 grams of dry food a day for a balanced, nutritious, and delicious diet.
Ragdoll cat food: canned or dry?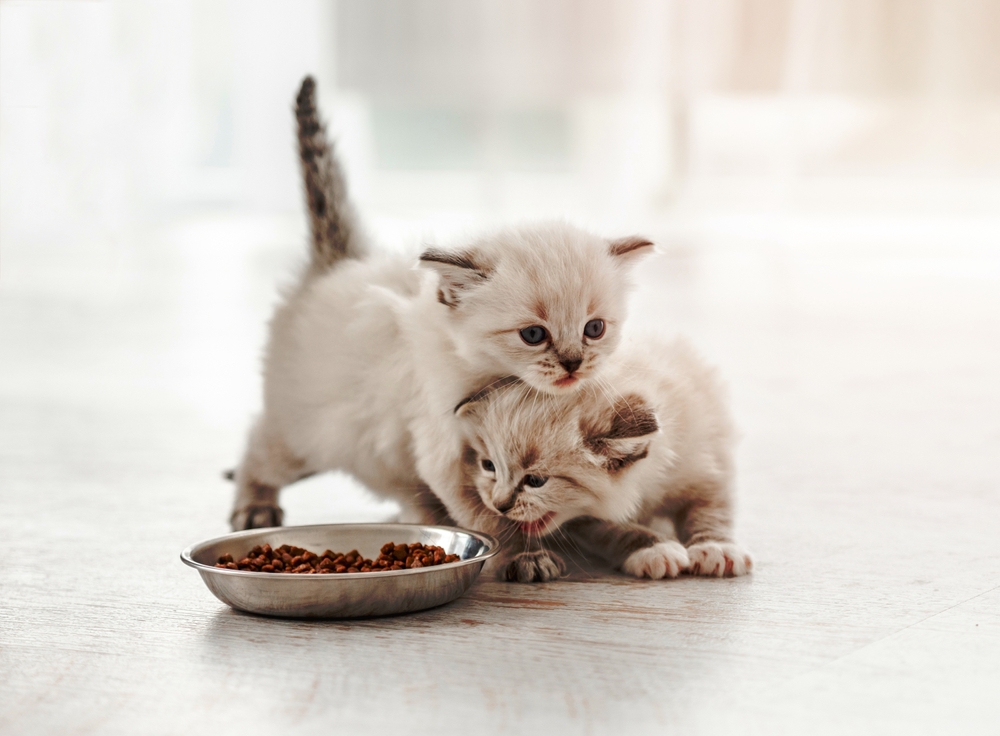 Canned all the way, but that doesn't mean she shouldn't eat dry foods at all. Cats are known to suffer from dehydration because they're bad at remembering to drink water.
When they're thirsty, they're more likely to try to find a source of running water rather than sipping from the bowl you prepared for them.
Why's that, you might be wondering? Because cats are little divas who don't like drinking water that's been sitting outside for too long.
They prefer running water because, like their wild ancestors, running water usually means it's fresh. Not to mention that they have different taste buds than us, and they aren't fans of the way water tastes.
But cats need water, nonetheless.
And, the best way they stay hydrated is by eating foods that are high in water content, such as canned foods, meat soups, and meat with gravy. We aren't referring to the type of gravy we eat because cats aren't allowed to consume a lot of the spices and herbs we eat on a regular.
We suggest feeding your Ragdoll cat food that's made with over 75% moisture content. High-quality, meat-based wet foods are the best way to keep your Ragdoll fluffy and healthy.
What are the best Ragdoll cat food brands on the market at the moment?
1. Royal Canin Ragdoll Adult Cat Dry Food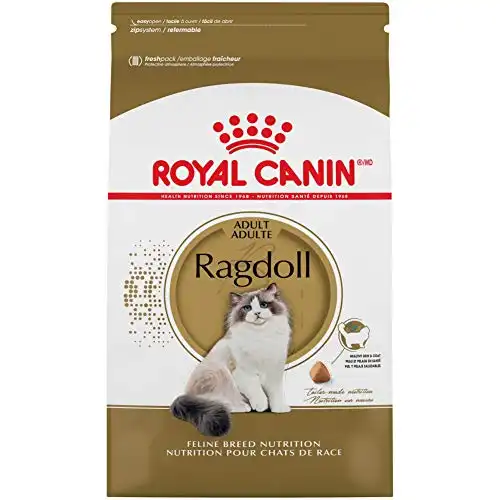 Nowadays, you can shop for cat foods that are specifically created to provide Ragdolls with everything they need, nutrition-wise.
One of the brands that cater to your Ragdoll's needs, Royal Canin, produces Royal Canin Ragdoll Adult Cta Dry Food packed with nutrients such as taurine, EPA, DHA, and omega-3 fatty acids guaranteed to keep your fluffer satisfied for longer.
Of course, these nutrients are responsible for her healthy heart, strong bones, and soft, silky coat. On top of that, the pyramid-shaped kibble encourages her to slow down while she's eating, to prevent choking and overeating.
2. Smalls Fresh Smooth Fish
Moving away from dry kibble, you might want to check out the Smalls Fresh Smooth Fish.
Smalls produces human-grade Ragdoll cat foods made with high-quality meat, prepared fresh, and shipped straight to your doorstep. Smalls offers a bunch of different options, too, but we're rooting for the cod and salmon Smooth Fish for a reason.
Fresh fish provides your four-legged friend with plenty of protein and omega-3 fatty acids, and the peas, beans, pumpkin, and parsley bring a bunch of vitamins and minerals to the table. What are you waiting for? Go ahead and get your hands on a packet of Smalls Fresh Smooth Fish!
3. Hill's Science Diet Dry Cat Food, Adult, Sensitive Stomach & Skin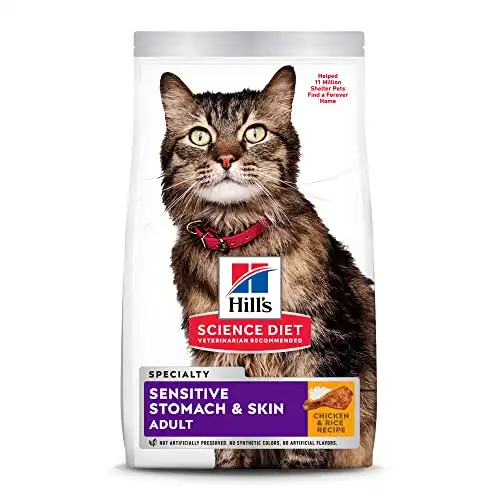 Sometimes Ragdolls suffer from GI problems, and you might be wondering about Ragdoll cat food that won't send your fluffy friend running to the litterbox.
Hill's Science Diet Dry Cat Food, Adult, Sensitive Stomach & Skin might be the right fit for her. Made with prebiotic fiber, vitamins, and minerals, Hill's Science Diet food can make a world of difference.
Other than the obvious benefits, you can count on reduced litterbox odor, boosted immune system, and enhanced skin and coat condition.
4. Open Farm Wild-Caught Salmon Dry Food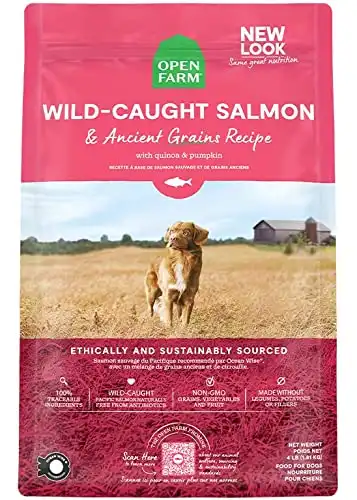 Dry food doesn't have to be boring, okay? Depending on what you're searching for, you might want to throw a glance at Open Farm Wild-Caught Salmon Dry Food. Ethically sourced, beaming with vitamins and minerals, delicious… What's not to adore?
When your Ragdoll takes a bite of Open Farm Wild-Caught Salmon Dry Food, she's never going back to that boring, chicken-and-gravy type of food. Wild Pacific salmon, ocean whitefish, and ocean herring promise a protein-packed snack, while herring and salmon oil make sure she's getting plenty of omega-3 fatty acids, too.
5. Blue Buffalo Wilderness High Protein Dry Cat Food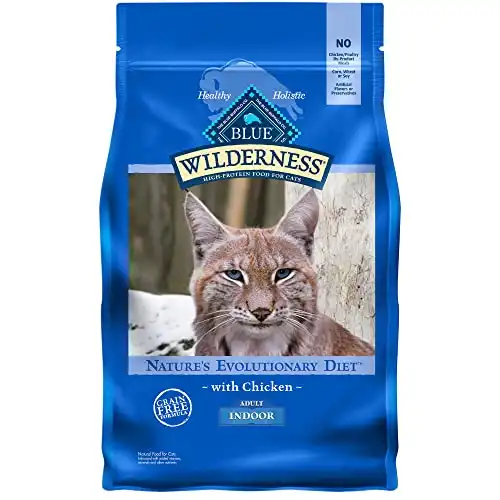 We don't mean to hate chicken-based cat foods, but they're known to come with huge amounts of carbs that aren't necessary for your Ragdoll's well-being.
But, Blue Buffalo Wilderness High Protein Dry Cat Food seems to differ from the rest. It's made with real chicken and turkey, is high in nutrients, and is grain free. Before you turn to something overhyped and overpriced, you might want to give Blue Buffalo Wilderness a chance.
6. Wellness Complete Health Chicken Entrée Canned Food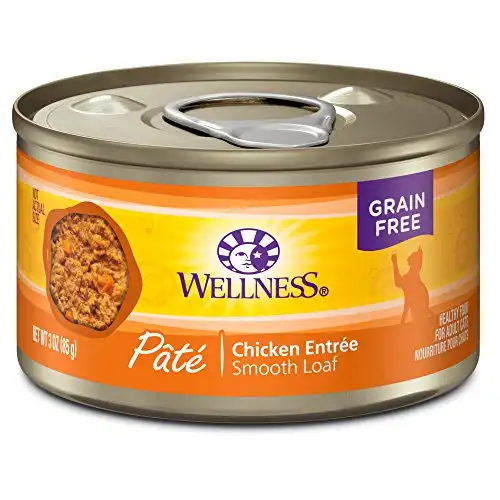 Wellness Complete Health Chicken Entrée Canned Food's popular for a reason. Right away, the recipe's pretty straightforward which means you know what you're getting for your money.
Canned cat foods reign supreme because they're paw-licking and addicting – this one's made with chicken, chicken liver, and turkey for protein, and carrots and cranberries for vitamins and antioxidants.
Contrary to popular belief, cats can benefit from fruits and veggies when they're part of a balanced, protein-packed diet.
7. Nutro Wholesome Essentials Natural Dry Cat Food for Indoor Cats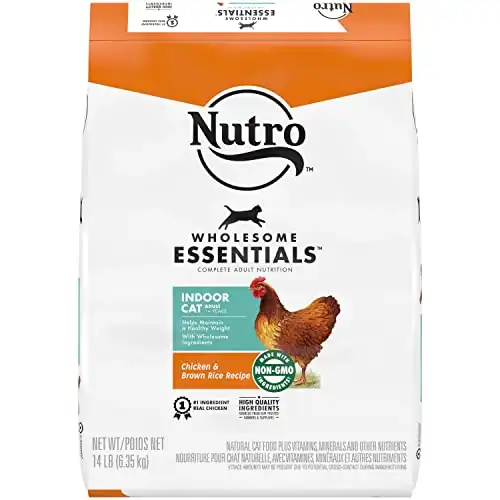 Nutro's made with indoor kitties in mind, and that's why Nutro Wholesome Essentials Natural Dry Cat Food for Indoor Cats might be perfect for your Ragdoll. Where do we even start?
Nutro features high-quality chicken, turkey, and salmon, as well as a myriad of fruits and veggies. Not to mention the prebiotics and probiotics responsible for keeping your Ragdoll's GI tract on track.
8. The Honest Kitchen Grace Grain-Free Turkey Cat Food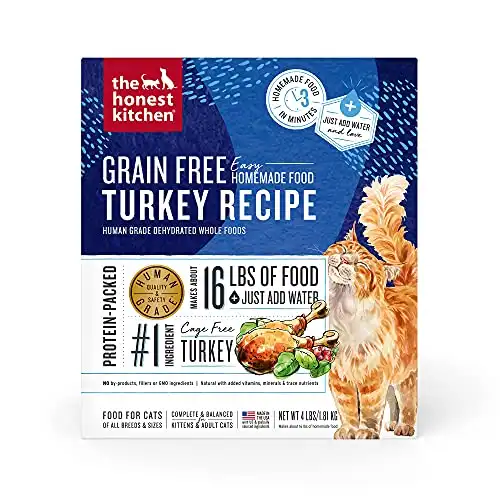 We've arrived at the end of the article with The Honest Kitchen Grace Grain-Free Turkey Cat Food that's great when you're trying to hydrate your moisture-wicking pet.
While the recipe does come dehydrated, you're supposed to add water to "activate" the ingredients. What a fun science project for you and your four-legged friend, right?
Read more: 6 Ragdoll Cat Behavior Problems: Beauty And The Beast?