It's extremely hard to come to terms with the fact that not all people are good and that not all people love animals. There are certain individuals who are completely ignorant when it comes to animals, their needs, and their well-being. All they care about is their own life.
It is a hard pill to swallow, but that is sadly just the way things are. However, it is one thing to dislike animals, and something entirely different to be cruel to them. Animals do not deserve our cruelty, no matter the reason. There is always another way, and harming a poor animal is never the way to go.
Unfortunately, the owner of the feline hero of our story today is one of those bad people.
Meet Honeycake, a beautiful ginger kitty who had right from the start been dealt a very bad hand.
Honeycake had, alongside his siblings, been put in a garbage bag and thrown out of a moving car by his former owner. Thankfully, someone had found them in the bag and immediately took them to the nearest shelter.
At the shelter, Honeycake had been thoroughly examined. His wounds, which had, thank goodness, not been that bad, were medically treated. The vet said that they would heal in time, but the damage caused by the traumatic event could be permanent.
And unfortunately, he was right. From the moment he came to the shelter, Honeycake was a very sad, stressed, and traumatized kitty. All he wanted was someone to love and accept him.
He waited at the shelter for a savior to come and offer him his furrever home. But for quite a while, no one applied for adoption, which made Honeycake even sadder.
And to make matters even worse, the shelter where Honeycake had been staying didn't have a no-kill policy, which meant that they had a certain deadline – a time period for which they could keep the orange kitty.
But, the universe decided to cooperate and offer Honeycake another chance at life by sending him a very special lady.
A woman named Renee Pelton, who just so happened to be a nurse, one day stumbled upon a video of Honeycake on Facebook posted by Michigan Cat Rescue, a non-profit organization with a no-kill policy that had taken the orange fella under their own wing.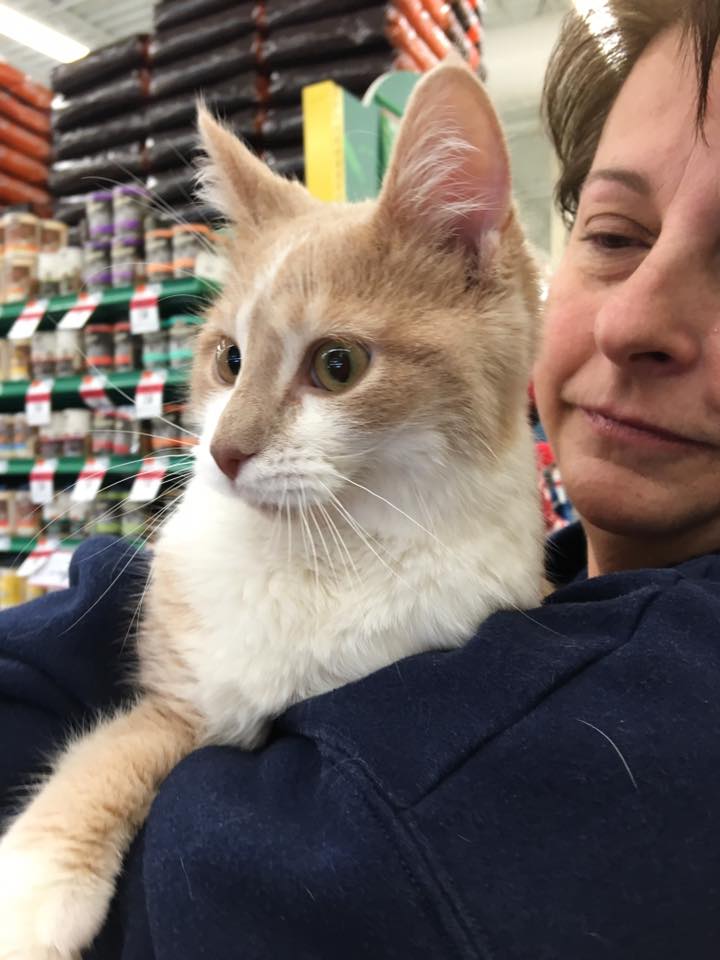 At that moment, Renee thought to herself, "I want a cat!" For Renee, that had not been a mere expression of her desires, but rather the determination to be the one who would adopt Honeycake.
She didn't waste time. She contacted Michigan Cat Rescue right away about the adoption application. And in no time, she came face to face with Honeycake.
When she took him in her arms for the first time, something adorable and heartwarming happened. With the intention to show his immense appreciation and gratitude, Honeycake showered Renee with kisses!
Renee fell head over heels for him. The moment they interacted, she knew he was the cat for her. The bond was formed and everybody knew it would be unbreakable.
She renamed him Finnegan and took him to his new home. At the time she adopted him, he had been seven months old. But unfortunately, Renee soon realized that her beloved orange fluff would probably not get to live the entirety of his nine lives.
Since Renee was a nurse, she was well aware of the importance of regular check-ups. So, during one of Finnegan's physical examinations, the vet heard a substantial heart murmur.
The vet then told her that Finnegan probably wouldn't live as long as most cats. But with regular checkups and proper medication, there was a possibility that he could live up to ten years.
That meant that Finnegan had no time to spare. He had to make the most out of his already challenging life.
Thankfully, that realization did not bring them down. Both Renee and Finnegan were determined to enjoy the time they were given.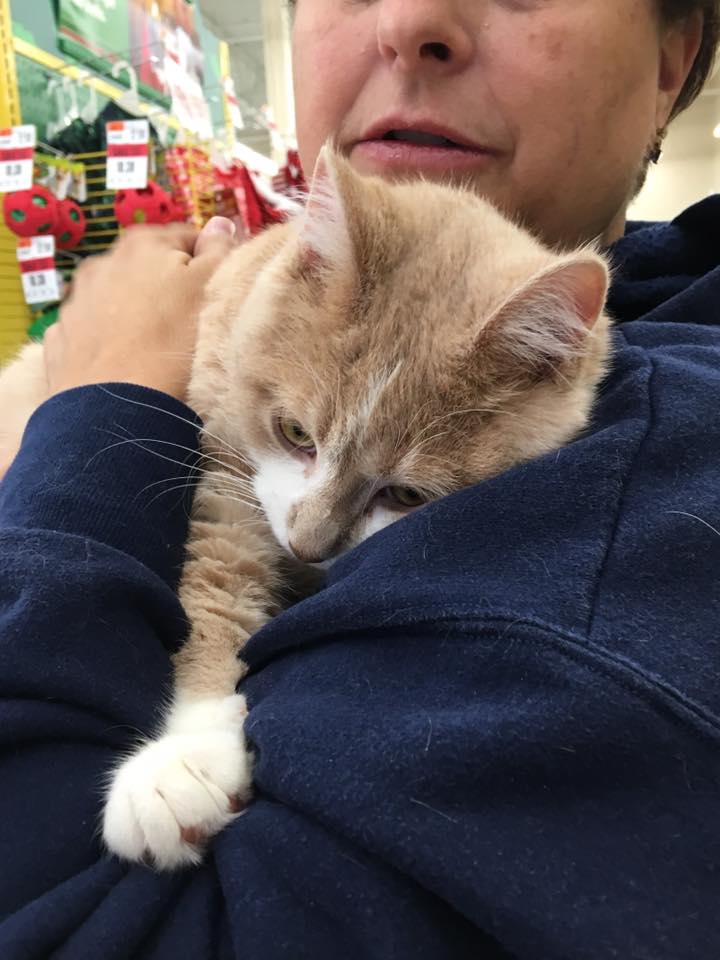 I guess the fact that Renee was a professional nurse was a blessing in disguise. She knew very well the ways of the heart, and she knew how to take care of her fluff buddy.
But, according to Renee, she was not the only caretaker. Finnegan was also taking care of her. How adorable is that?
Finnegan's siblings – the kitties that were in the same bag as he was – also suffer from the same heart condition. Their names are Cookie Pie and Custard Pie, and they were both waiting to be adopted, just as their brother was.
Since Michigan Cat Rescue is a small non-profit organization, taking care of abandoned felines with certain medical conditions can cost a pretty penny. So, if you are able and willing, we encourage you to make a donation, no matter how big or small it ends up being.
Helping felines in need is a very rewarding task. You just have to find a way to do it, one that works for you and your lifestyle.
Maybe you are currently not able to make a donation, and that's totally fine. You can always be inspired by Renee's story and offer a forever home to a kitty from your local shelter.
Just make sure that whatever you do, you are never cruel to animals. If you cannot help, please do not do anything to harm them.