Seeing my cat puffing up his tail is probably somewhere on the top of my "things that creep me out" list. It's like something got into her and I have no idea what her next move is! All those Halloween drawings of cats arching their backs in front of the full moon really left a mark on me…
That is, of course, until I did some digging to find out why this happens. And who would've thought – it's completely normal! After all, I'm pretty sure we all have memories of stray cats puffing up their tails after we tried to "here kitty, kitty" them to come to us… It's a whole new level of heartbreak.
No matter how badly we wish our furry besties could talk and tell us how they feel, we all know that's impossible. However, learning to understand their body language can tell us everything we need to know. If your cat is puffing up her tail, she's trying to tell you something.
Purring, biting, meowing, zooming through your house – those are all ways your furry buddy is communicating with you. Over time, you'll learn to understand her like you speak the same language. One look at your furball will tell you everything.
If you're not sure what it means when you catch your cat puffing up her tail, you came to the right place. I'll list all the possible causes of this behavior, so you and your fluff can understand each other much better.
Why is your cat puffing up her tail?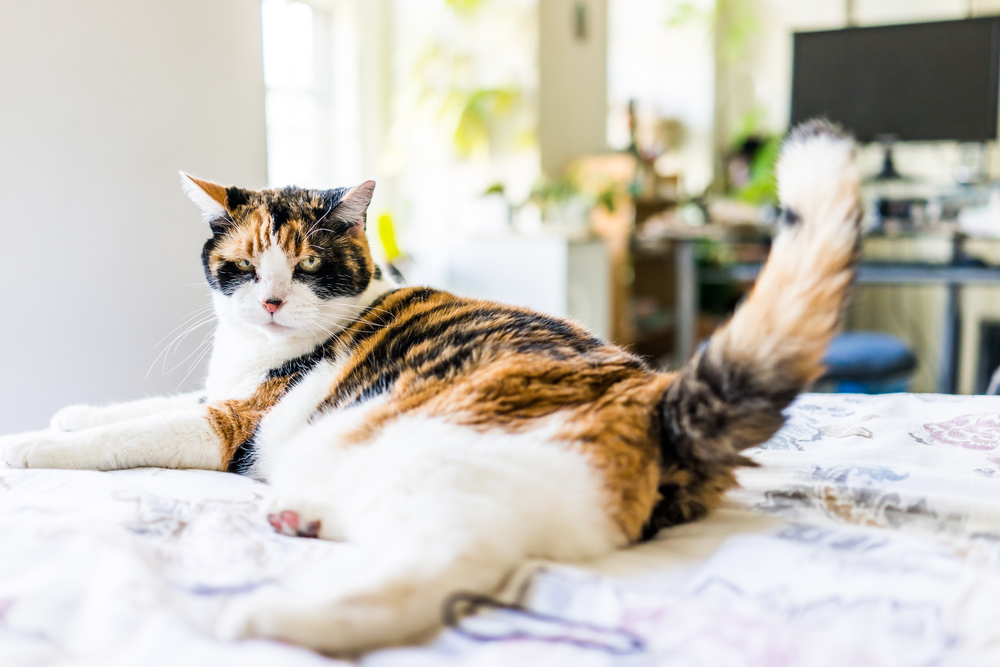 She's hissing and puffing and you have no idea what in the world got into your dear fluff. Don't worry, there are many cat parents who wonder the same thing! "Why did my adorable and sweet furball suddenly transform into a puffing machine?"
You see her arching her back and you'd rather keep your distance than approach her and see what's going on. Well, that's usually the right call. If you found yourself in this situation, it's time to finally understand what it really means.
If you'd like to dive into the incredible world of cat communication and reveal the mysteries of tail puffing, keep on reading! Let's see why your kitty's tail is standing there like a fluffy exclamation mark…
1. She's angry
Every cat parent knows – when our furbabies get angry, they sure know how to make their feelings known! If you've seen your furball go from a soft and loving cuddle machine to becoming all tense and puffed, it may be best for you to keep your distance.
See it as her way of telling you "I'm angry and I don't want to be messed with!" And trust me when I tell you – you'll want to respect that. This transformation is a clear sign that she's not in a mood. When our feline friends feel threatened or annoyed, they puff up their tails to appear bigger.
Yes, she's trying to be more intimidating! In reality, although she's trying to show you that she's a force to be reckoned with, she doesn't really mean it. It's all a facade. Sure, she may look fierce with her puffed-up tail and hissing but, deep down, she's probably just scared.
But, her enemy can't know that, of course! In nature, they had to find a way to appear tough and scare away the animal that was messing with them. Next time you see your cat puffing up her tail, remember that she's not doing it simply to be dramatic.
Yes, our feline divas love drama, but not this much. She wants you to know she's feeling angry, and threatened, and that she needs some space. If this happens during playtime, there's a chance you were a bit too aggressive, which made her angry.
Although you can try talking calmly to her and make the situation better, you should respect your fluff's boundaries. Let her simmer down and give her as much time as she needs. Don't mess with a ticking time bomb!
2. Something scared her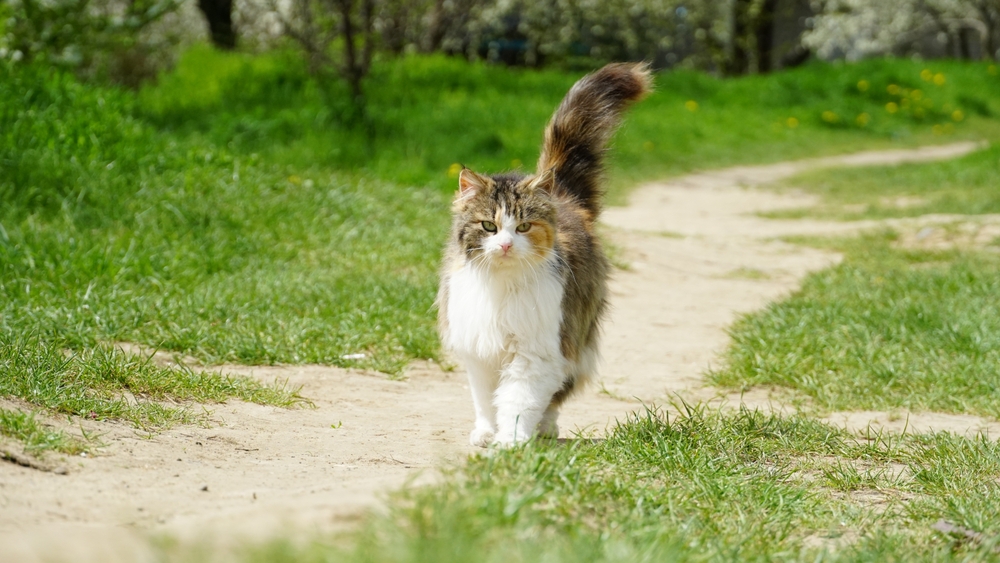 Although they like to act tough and brave, our furry friends can get easily scared. I mean, you probably remember a number of times when you'd drop something, and your furball would act as if a bomb exploded right in front of her. They're that dramatic, but we love them for it.
If your usually sleek and elegant kitty has suddenly turned into a fluffy cloud with a tail that looks like a puffy stick, she's trying to let you know that something scared her. It's amazing what a cat tail can tell you – it's like a little mood radar!
When it's relaxed, she's content. When she's wagging it, she's probably annoyed. However, when her tail puffs up, it's a big flashing sign that says "DANGER!" In other words, she's trying to let you know that you need to give her some space because she's about to lose her cool.
Yes, something as small as a loud noise or a sudden movement can scare your feline and completely change her behavior. Remember, your furry friend is a natural hunter, but she's also someone's prey. Or, well, she used to be before she became your cuddle buddy.
Because of that, there are two sides to her – the pawdator who's always ready to attack, and a scared little fluff who's trying not to be someone's dinner. When something startles her, her survival instincts kick in, and her body is instantly prepared for action. Her puffed-up tail is the most noticeable change.
It makes her appear more intimidating, no matter how she may feel inside. It may seem funny to you to see her all puffed up just because you dropped your phone, but try to understand her. Give her some space to calm down, and show her she'll be okay.
3. She's being playful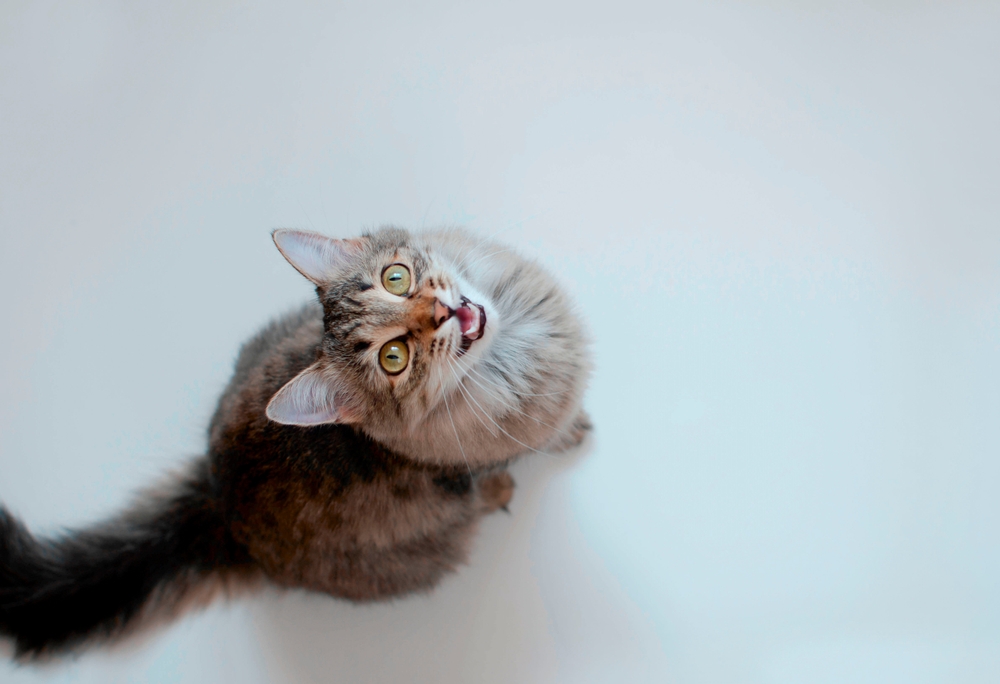 Their mischievous side is why we love our dear feline besties so much. There's absolutely no dull moment with them! Once their zoomies hit and it's time for some playtime, their tail won't be able to resist joining the fun. She can't speak your language, but her tail is clearly saying: "Game on!"
Yes, when her tail puffs up like a balloon it can be a sign of anger or defensiveness, but it can also be a sign she's in a playful mood. Good luck figuring out which one it is at the moment! One thing's for sure, though, it's definitely a sight to behold.
Her tail becomes like a cloud of excitement. I mean, she has to express her joy and enthusiasm somehow, right? If she pairs it with arched back and sideways moves, you can see it as her little happy dance!
If this happens during playtime – don't worry. It's completely normal! She's feeling all kinds of emotions, and this is simply her way of expressing them. And, it's absolutely adorable! She's allowing herself to relax and get loose, so don't be alarmed.
Whatever you're doing, take a break and relax with your fluff. Grab her favorite feather wand and watch her eyes light up and her tail puff with excitement. Both of you are in for an epic play session. Get ready for zoomies, jumping on the furniture, and some pretty intense combats with her crinkly mouse toy.
Next time you notice your cat's tail puff up with excitement – embrace it! Use it as an opportunity to have some fun with your best furry friend, and turn your house into a playground.
4. She's cold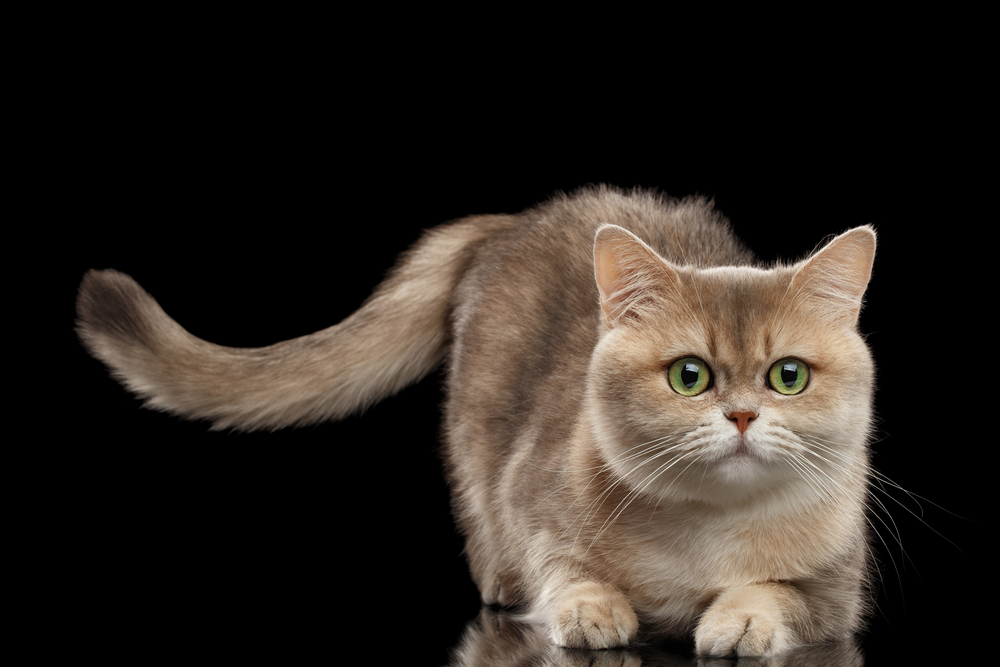 If there's one thing cats love – it's feeling warm. My buddy literally sleeps with her nose and paws pressed against the radiator during winter. They can't seem to get enough of warmth. Sometimes I wish I could make her a little sweater, but I know I'd be left with wounds, so I don't bother trying…
But, she's got her own way of bundling up in a furry jacket – puffing up her tail. The body temperature of a healthy cat is around 100.5°F and 102.5°F. So, the most comfortable room temperature for them is somewhere around 86°F and 97°F.
During the winter, it can be hard for you to keep this ideal temperature in your home, and your furry buddy will definitely have something to say about that. You'll find her hidden in the most random places in your home, and don't be surprised if you find her napping under your bedsheets.
You can use this to your advantage, though, because she'll want to spend a lot more time cuddling you or napping on your lap. Is there anything better than cuddling your fluff while it's snowing outside? I dream about it all year long…
However, when you're not available for some cuddles, your furry buddy may try to warm up by puffing out her fur, especially the tail. You can try getting her a self-warming bed or buy her some super comfy blankets she can cuddle during long winter nights.
Your cat will absolutely love it, and you may even forget she's there because she'll always be in her bed.