Is there anything better than a good love story? Well, actually, there is – the one that has kitties as the main characters, of course! And, do we have a treat for you today… You're going to melt once you hear about our two feline lovebugs that can't get enough of each other.
Today's story brings us to a neighborhood filled with meows of love. There lived a beautiful kitty named Sophie. With every elegant swing of her tail and enchanting green eyes, this fluffy and graceful feline won the hearts of many. Just beyond the fence of her forever home lived her biggest secret admirer, an adorable fluff named Scottie.
He was your typical boy cat next door, and he was head over paws in love with Sophie. From the moment he set eyes on her, she was all he looked forward to every day. From the pictures Sophie's parents shared, Scottie was like her adorable little shadow.
He would follow her every step as he was completely devoted to his lady. Each day, he would venture near her home just to get a glimpse of her. She was his world and a highlight of his every day.
Sophie was a rescued cat whose adventure began back in 2014 when her human mama gave her a forever home. During one of their walks, Sophie was gracefully strolling on a leash when Scottie appeared. He was like her little guardian, watching from afar, admiring her enchanting beauty.
Although he was keeping a respectful distance, he was longing for the day when their paths would cross. Sophie's mom remembers how patient Scottie was. He would always gaze at her across the lawn, silently observing her every move.
As time unfolded, Scottie's confidence grew bigger and at one point, he wasn't able to resist Sophie's charm. Each day, he'd come closer to her side, as if he was waiting for an invitation to join her world.
Sophie acted like a real diva. She was unaffected but allowed him to stand close to her. She was okay with him being there, as long as it didn't demand too much of her energy and attention. Regardless, simply being by her side was enough for our dear Scottie.
However, Sophie didn't stay indifferent to his admiring for too long. As time passed, his presence slowly melted the heart of the feline diva. Day after day, they grew closer, and Scottie's biggest wish came true – he became a part of her adventures!
As their bond grew stronger, Sophie came to expect him on her little daily endeavors. Together, they explored all the hidden nooks and crannies of their little world, basked in the sun, and developed a language of their own. Seeing them together was a sight to behold.
It was like two lost souls found each other at last. Whatever Sophie did, Scottie mirrored. They were two pieces of a puzzle that fit together, and it was an incredible thing to witness. As Sophie's momma says, Scottie was the epitome of the "boy next door" wanting nothing more than to join her life… And maybe steal a kiss or two.
Together, they embarked on countless adventures, paw-in-paw. They chased butterflies and shared secrets only they could understand. Wherever Sophie ventures, he is there, like a loyal sidekick and a devoted companion.
She knew she always had a friend she can count on, and was no longer able to picture her adventures without having Scottie by her side. Oh, that made little fluffy boy so happy! His eyes always sparkled with adoration, and you could see just how important she was to him.
Our feline diva found comfort, a friend, and a sanctuary where she could be herself with Scottie. Their love started with stolen glances and shy admiration from the distance, yet it turned into the biggest adventure of their lives. One thing is for sure: they were destined to find each other.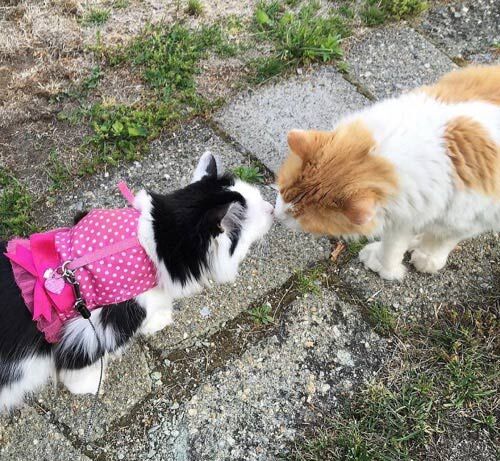 Scottie never gave up, and he gave Sophie space to start feeling comfortable around him. It took plenty of patience to melt her heart but, once it happened, it made it all worth it.
All those days he spent admiring her, and all those little careful steps his paws made towards her. He cherished her for the kitty she was, even as cold and distant as she seemed at first.
Unfortunately, nothing lasts forever, and neither did their beautiful story. With heavy hearts, Scottie and her human mama had to say goodbye to Sophie, as she crossed over the rainbow bridge, leaving beautiful memories behind.
Luckily, her mama has something she'll cherish forever – the heartwarming photos of Sophie and Scottie, as a reminder of the greatest love story of her life. Love, even with its passing nature, has a beautiful legacy that beats everything, including time.