We hope your phone is waterproof because this story might make you cry all over it… Don't say we didn't warn you!
Listen, everybody loves a good story about a kitty returning home after being gone for years, even though we mostly see them in Hollywood movies. However, a story about a kitty named Ralph is coming from Iowa and, this time, it's a real one.
For those of you who hesitate to implant an ID chip into your kitty, this story might change your mind. Ralph was separated from his family for 14 long years before he found his way back to them, all thanks to this magic chip.
When he turned up as a stray, an officer from Polk County Animal Control brought Ralph to the shelter. After a quick examination, the staff at the Animal Rescue League of Iowa discovered he had a microchip. In no time, they were able to trace his family.
Even after 14 years of being separated, Ralph's original family couldn't be happier to see their lovely fluff back. They welcomed him with open arms and were excited to continue where they left off as a family.
Jill first got Ralph on Christmas in 1998, after he was rescued by the Animal Rescue League of Iowa. It was love at first sight, and she spent the next three years caring for the fluff she loved with her whole heart. They were inseparable and shared a bond every cat parent dreams of.
Her mother Rita remembers how Jill carried him around like a baby, and they did everything together. Because of that, the little girl was devastated when Ralph left them back in 2001. Although she had other pets after her dear furbaby, no one could replace him.
She always hoped that he will find his way back home but, as the years passed, Jill made a peace with him being gone forever. Today, Jill is a mom to a lovely boy, and her childhood kitty became a distant memory… until Ralph decided to change that.
When the staff from the rescue center contacted Rita, she told them she didn't have a cat, but the microchip they found said differently. She immediately sent Jill to the compound, still in complete shock.
When they were finally reunited, Jill couldn't believe her eyes – that was her kitty! She could never forget those beautiful eyes looking at her. Happy that they were finally together, Jill took Ralph home to take care of him, and provide him with the loving home he once lost.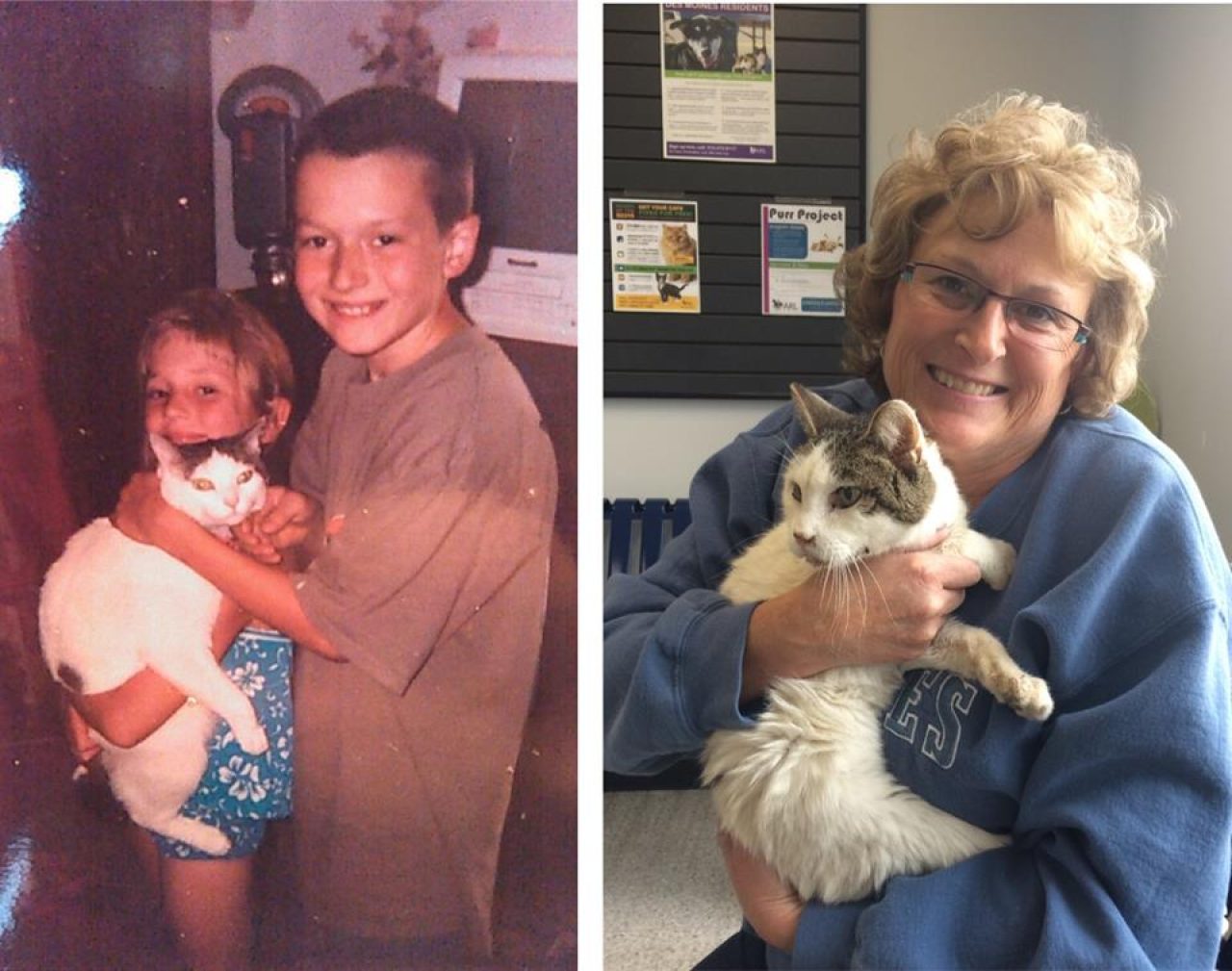 (Source: lifewithcats.tv)
Unfortunately, it seemed like Ralph found his family to say one last goodbye. After two weeks together, their lovely fluff passed away surrounded by the people who loved him. His forever family made sure he had a good ending to his life, and he said goodbye in the comfort of his first home.
Although they never found out what was life like for Ralph during those 14 years they weren't together, they were happy they got to be with him during his last moments. They were his first and last home, and they were glad Ralph experienced nothing but love those last two weeks of his life.
We wish Ralph was able to tell the story of his life. Whether he had a different family or spent his days roaming around the city, Jill never found out. But, one thing is for sure – they all wished they had more time together.
Despite having to grieve the loss of him for the second time, Jill was happy she had the opportunity to spend more time with her lovely fluff. He helped her heal her inner child that was still grieving the loss of her furry best friend. This time, Jill had the opportunity to give him a proper goodbye.
We like to believe Ralph was a free kitty who spent his life doing the things he loved, never forgetting the sweet girl that carried him around the house that was once his home. She was his forever friend, no matter where both of them ended up.
After all, once you find a home, you never really lose it, and Ralph's family proved that by welcoming their beautiful fluff back. They showed him love as strong as it was the first time he entered their lives, and we couldn't imagine a better way to end his.