Who wouldn't want to adopt a litter of kittens named after everyone's favorite childhood cartoons? When Barb, Instagram's own Kitten Mom, rescued a litter of super, super young kittens, she didn't think she'd fall for them as hard as she did.
She named them after Winnie The Pooh characters and started documenting her efforts to keep them afloat on her Instagram page.
Piglet, Pooh, Kanga, and Tigger took the Internet by storm and Barb was over the moon to experience the overwhelming amount of affection pouring from every Instagram comment.
Barb started fostering cats and kittens from the Allen County SPCA when her children grew up. She felt that her home was empty without her kids, and her husband agreed that the two of them would be great foster parents. She wanted to care for mother cats, too, but she focused on kittens that were abandoned too young to fend for themselves.
She was over the moon to help the Allen County SPCA, too, because she took over the kittens that took up too much space (as awful as that sounds).
Allen County SPCA, a pet shelter and pet adoption program, faced difficulty keeping the kittens that needed 24/7 care and that's why they were more than happy to work with Barb. Barb named her foster home Kittenland and started working day and night to keep her kittens happy and healthy.
She would take care of them for months and months, nurse them back to health, neuter or spay them, and send them off to a forever home.
She would take on the toughest of tasks, too – she took care of not only healthy, pudgy, cute-as-a-button kittens, but also those that were beaten down, barely holding on, and suffering from a myriad of diseases.
Barb and her husband bought a new house with spare rooms to ensure the kittens wouldn't be crowded. Over time, the two arranged a "Kitten Room" that was filled with cat toys, cat trees, fluffy blankets, and heating pads that would provide the kittens with pretty much everything they needed.
On top of that, with a little help from donations from her followers, Barb managed to provide her kittens with healthcare, medication, and specialized foods, too.
What happened with Winnie The Pooh kittens, though? When Barb rescued them, they were too young to survive without a mother, but she decided she'd try to nurse them back to health.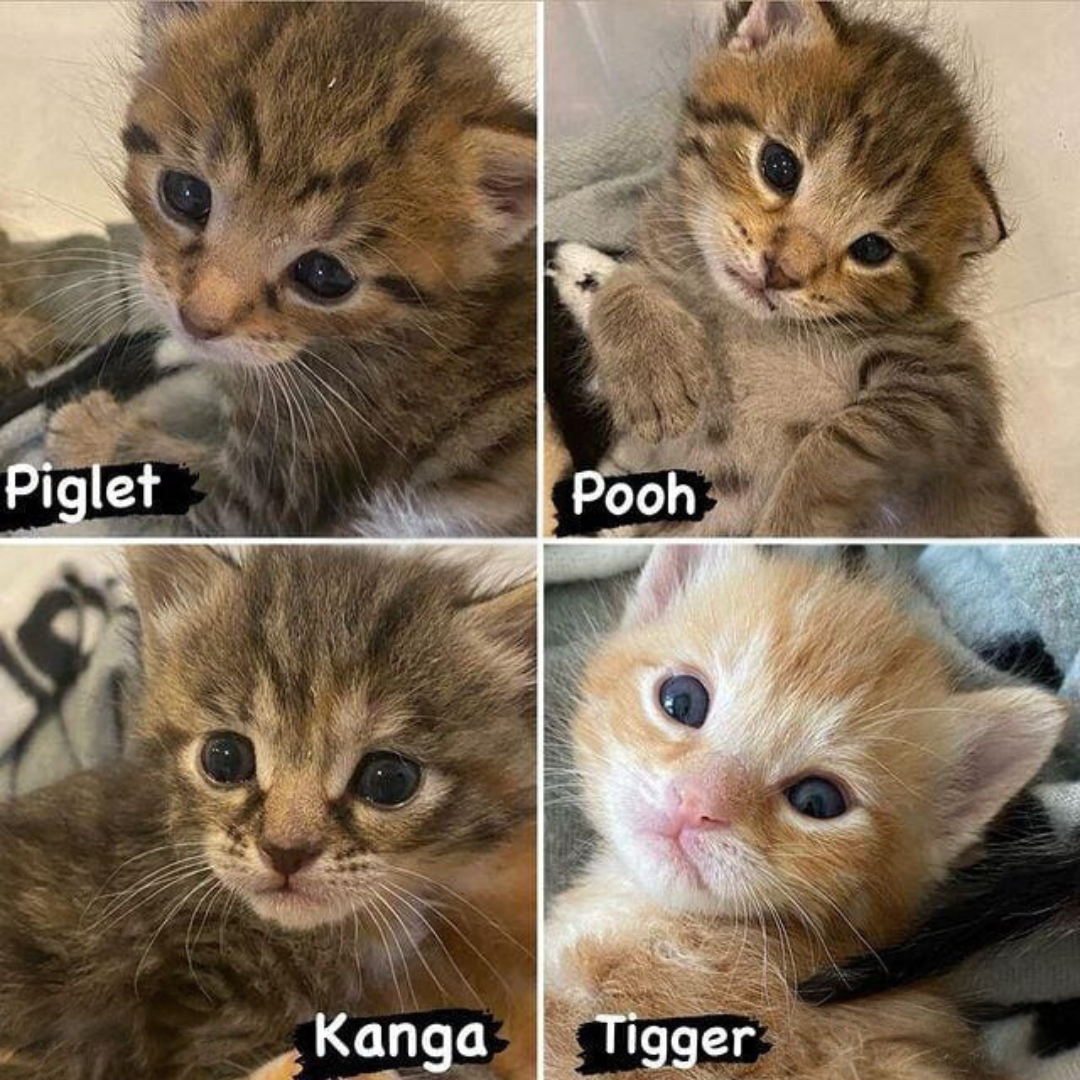 When the four kittens arrived at Barb's home, she didn't notice there was anything wrong with them. Piglet, Pooh, Kanga, and Tigger were super, super small, but that didn't stop them from meowing, purring, and exploring Barb's home.
Barb posted a few photos to show them off and started feeding them, keeping them warm, and watching over them.
But, she noticed that one of the kittens, Kanga, refused to eat. Kanga didn't seem sick, but Barb decided to tube-feed her to keep her tummy full and her blood sugar levels steady, and make sure she stayed hydrated.
Barb reported that Kanga hated the tube because she needed to be rolled into a burrito for the tube feeding to work. But she was gaining weight, and that was the most important thing. Piglet, Pooh, and Tigger were gaining weight, too, and Barb was happy with how the entire litter was progressing.
The kittens were staying in an incubator, or a "Kitty Bake Oven," for the time being because they were still too small to develop without a little extra help. "They're getting too big for the Kitty Bake Oven," Barb wrote but she decided to keep them there a little while longer, nonetheless.
When the kittens grew bigger and stronger, she started bringing them out for a few minutes to get used to the outside world. With that out of the way, though, Barb did share the ups and downs of caring for the Winnie The Pooh kittens, too.
Because the kittens were exceptionally young, they had good days and bad days. Before Barb even knew what was going on, two or three of the kittens would refuse to eat, get depressed, and stop making progress.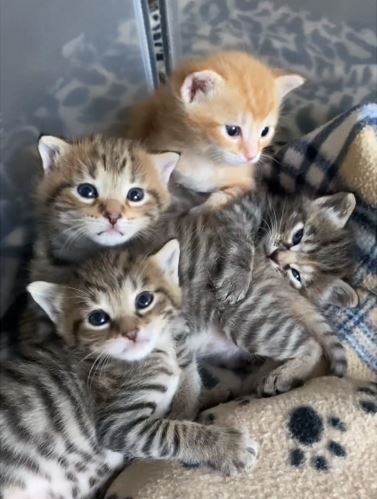 But after Barb would freak out and contact the shelter, the kittens would go back to being happy and healthy. Kanga even started crashing out of the blue and Barb was mortified she wouldn't be able to help her. Fortunately, Kanga was a strong kitten – she wasn't going to abandon her brother and sisters!
Barb was worried but kept pushing through, watching over them, and contacting pretty much everyone that might know what was going on with them. That's the thing, though – when the kittens were rescued, the staff at the shelter couldn't locate the mamma cat.
Because of that, they couldn't determine whether the mother cat was responsible for what was happening to them. Maybe she passed some sort of virus onto them. Perhaps she didn't feed them when she gave birth to them and therefore prevented them from getting the antibodies from the mother's milk.
Barb and the rest of her team weren't sure what was going on, but that didn't stop them from pulling through and making sure nothing happens to the precious purr machines.
We're more than happy to announce that Piglet, Pooh, Kanga, and Tigger survived everything that life threw at them and came out purring on the other side!
Worry not, Barb managed to get them vaccinated, spayed, and neutered – and she found them heart-warming furever homes. We're sending each and every one of them lots of love and we're keeping our fingers crossed that they're happy and healthy for years to come!