We all know life can get pretty hard sometimes. The moment a person realizes that is the moment they grow up and say farewell to their childlike naivety.
However, the painful realization of that great injustice is not reserved only for humans.
Yes, even our fluffy friends (unfortunately) experience the complexity of this life on earth. Not all of them get to live their best feline lives, despite their strong desires and aspirations, and the fact that each and every one of them undoubtedly deserves to.
But even though some kitties have a rougher start than others, there is always a light at the end of the tunnel. Something that starts as an injustice easily becomes a blessing or more a mere history to be buried in our memory.
The heroes of today's story are the purrfect example of that. Like the ugly duckling rejected by his siblings, these three felines had, too, been rejected by their owner, but fortunately had also had their transformation and got to blossom at the end. Let's learn more!
Meet Blue, Meadow, and Willow – three adorable blind felines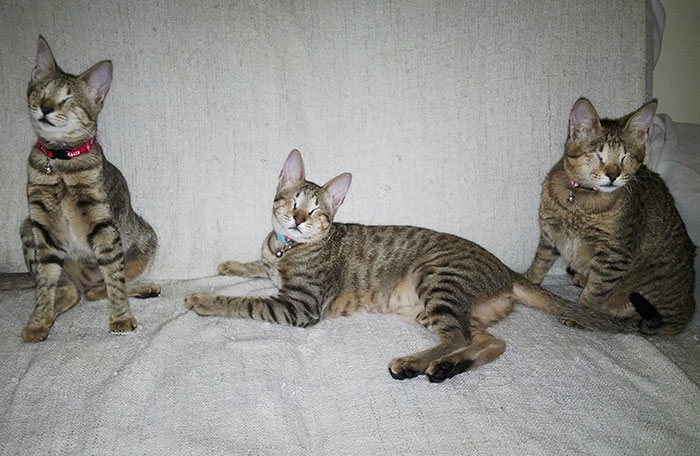 Life had not been kind to these three siblings: big brother Blue, and his two younger sisters, Meadow, and Willow. And here is why.
Their story begins back in 2014, only days before Christmas. The poor kittens were found in an abandoned warehouse in Dubai in extremely bad condition, with a not-so-bright-looking future ahead of them.
Thank goodness, the person who found them immediately took them to the nearest shelter where they got the proper examination and treatment.
At the shelter, it was determined that all three of the kittens had lost their eyesight due to previously untreated cat flu.
The shelter staff assumed that their previous owner had been very neglectful. He had not shown them enough love and attention they most certainly deserved and obviously needed, and he had not been interested in their well-being.
That was why when the kittens got infected with cat flu, he failed to take them to the vet and provide them with proper care and medication. And once their condition worsened and the flu damaged their eyesight, leaving them permanently blind, he coldly disposed of them. Like they were nothing.
Some people just do not deserve to call themselves cat owners. They should never be blessed with something so wonderful as a feline presence.
Anyway, back to the story. At the shelter, Blue, Meadow, and Willow were given the right medical treatment. But as you might have already guessed, there was nothing that could be done about their eyes. The kittens were blind.
This labeled them as special needs cats which, of course, significantly complicated their adoption procedure. Everyone at the shelter was skeptical and pessimistic. They thought that hardly anyone would want to adopt a blind kitten, let alone all three of them.
Yes, adopting all three of them was not only an option but an absolute necessity. This is because, for a brief moment, Blue, the older brother, got adopted by a family who wanted a special needs animal. However, he could not stand to be separated from his sisters.
All the time he was with his adopters, he was very sad and stressed out – he cried every night. So, naturally, the family had to bring him back to the shelter and reunite him with his sisters.
That's why the people at the shelter were even more worried about them. They thought that the three of them would never find their forever home.
But… It's safe to say that one very special lady proved them wrong.
How did Blue, Meadow, and Willow get adopted?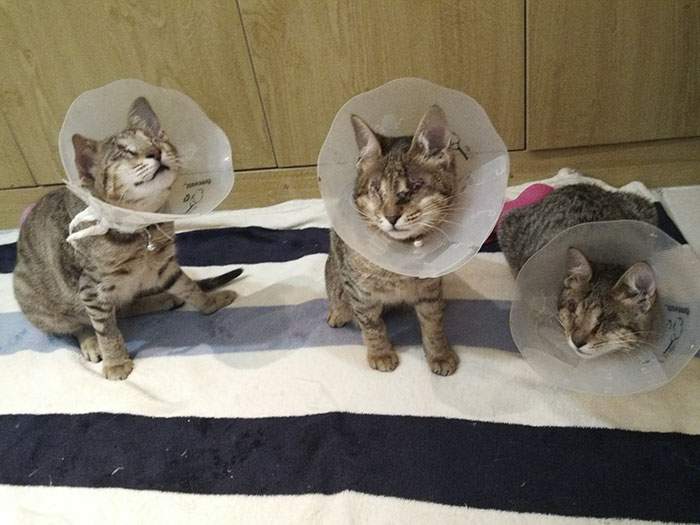 As long as there are good people in this world, we can all rest assured knowing things will be just fine.
And one of those good people is a kind-hearted woman named Catherine Magno. On February 19, 2015, she changed the course of Blue, Meadow, and Willow's destiny. And she did that by offering them their very own forever home.
According to Catherine, she was at that stage inexperienced in the feline adoption department. Only a couple of months prior to this special adoption, she had given a home to her first rescue kitty ever. So, she was still new to the whole cat momma thing.
But, as she said, their story touched her heart so much. She could not bear the thought of them being trapped in a shelter cage for God knows how long. So, she thought everything through and decided she would be the one to save them!
Catherine was very worried about what the future held. It was not like she was completely reckless and oblivious to the challenge and responsibility of adopting three blind cats. She did her research and consulted cat experts before she brought them into her home.
She thought she'd have to make many adjustments in her home and life in general. But how wrong she was. She quickly realized that all she had to do was to keep everything in its original place. It was that simple!
She had to make sure not to move their food bowls or litter boxes, but rather leave them be, no matter how badly she wanted to switch things up in her home. Her new three buddies were very flexible and adaptive, and they quickly learned where everything was in her home.
As Catherine so wonderfully said herself, "Blind pets see through their hearts." And we couldn't agree more!
We can all be inspired by this amazing story and Catherine's bravery, and possibly even adopt our own special needs pet one day. We think that experience can teach us many things and ground us in those moments when we forget what is truly important in our lives.