If you're living in an apartment, then your cat is already limited to a small amount of space where she can roam around and explore. Because of that, it's important to let her use as much room as possible so she can live a happy and healthy life. How can you make a cat-proof balcony and allow your indoor cat to get some fresh air?
There are many ways for you to keep your cat safe if she decides to explore your terrace. Depending on what you're looking for, there's a good option for everyone. Or you can change it up from time to time and see what you like the best!
There are some factors you have to consider first, though. Are you looking for a permanent or a temporary solution? Are you interested in a low-cost alternative or you're willing to pay a little extra for something decorative and safe?
If you're living above the second floor, it's vital to make your balcony safe for your little feline friend. Before you find the most suitable option for you, it's important to go over some things first before diving into re-decorating her new safe place.
Things to consider when trying to cat-proof your balcony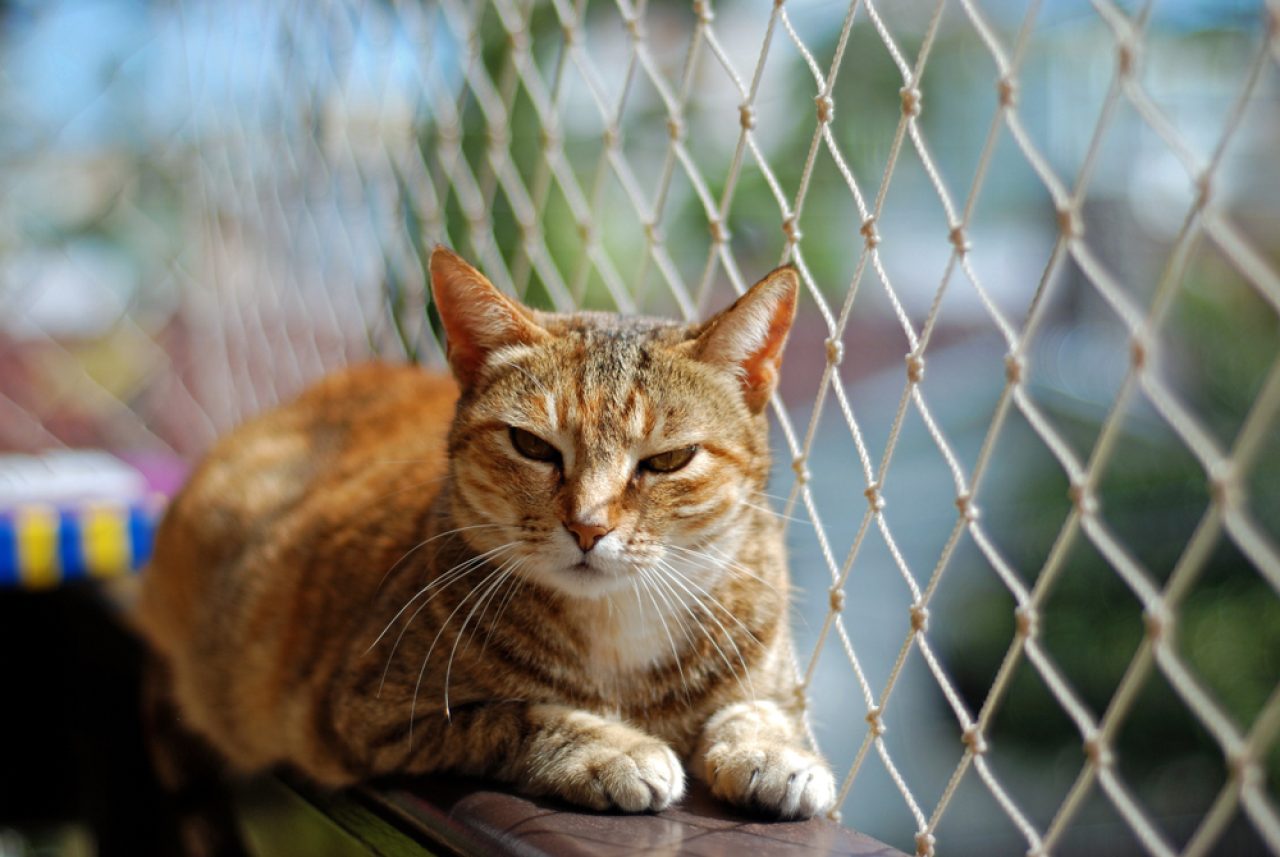 We know you want to make your balcony cat-proof as soon as possible, but you first have to think about a couple of things.
For example, measuring your balcony would be a great start. Or maybe ask your landlord if they're okay with you taking things into your hands. Before we get into the ways you can cat-proof your balcony, let's prepare for it first.
1. Take a look at your balcony
Not all balconies are the same, so it's crucial to understand what kind of balcony you have before choosing the best option for it.
If you have a covered terrace, it will be much easier to cat-proof it than an uncovered one. For those of you who don't – it's not impossible, but you'll need a lot more time and money to do it. The best option for you might be to just keep your kitty inside, or on a leash once she's on the balcony.
2. Are you looking for a permanent or temporary solution?
Would you like your cat to roam freely around your balcony or only when you're there with her? If you're thinking of just spending some time with her outside, then maybe the best option for you would be something temporary.
It requires a lot less time and money to prepare, and there are different options for you. For example, a folding screen would be a perfect solution. You could set it up when you're on the balcony and fold it once you're done playing with your buddy.
3. Think of your tenant's restrictions
Some ideas we have for you call for a bit of DIY action. They don't require much but there could be some drilling here and there. Before you set your mind on doing this, make sure your landlord approves such renovations.
Another thing to watch out for is HOA agreements. Before you decide to make any changes, make sure your agreements don't ban you from adding things to your balcony.
How to cat-proof a balcony: 8 easy and effective ways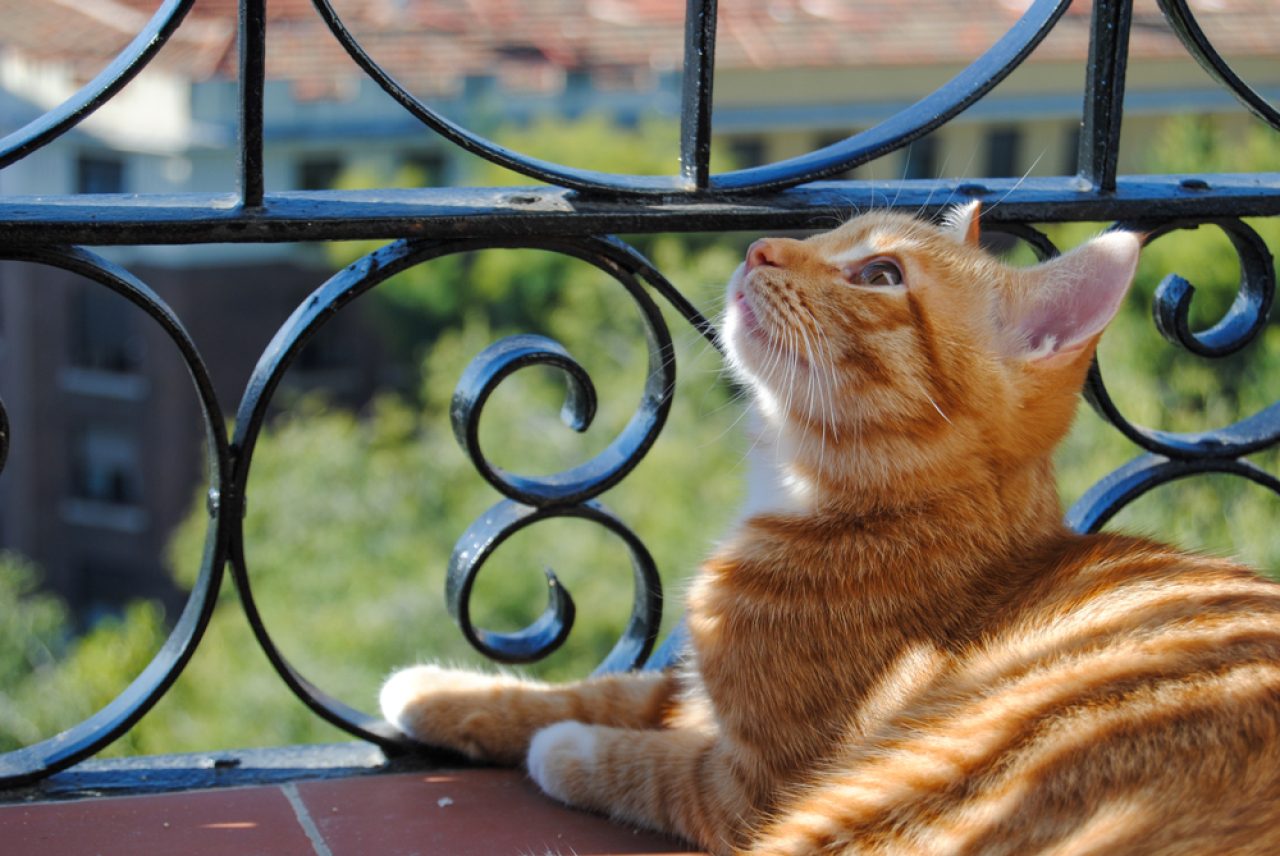 Now that we've prepared and gathered the information we need, it's time to see what options you have. Keep in mind the size of your balcony, what you're looking to achieve, and what you're allowed to do to make this possible.
1. No place for toxic plants, trash, and bug repellents
Before you start renovating your balcony, make sure you make it safe for your cat from what you already have. Making your balcony cat-proof is more than just keeping your feline from escaping. Some cat parents don't even realize that certain plants they have can be extremely toxic for their fluffy friends.
Cats love munching on things, especially plants. Every cat parent knows how hard it is to be a plant parent as well when your children just can't get along. If you notice your purrer is a bit of a plant-lover herself, make sure your plants are cat-friendly.
Some of the plants you can add to your little family are a spider plant, sunflowers, catnip, valerian, maiden grass, asters, lemon grass, and more.
Another thing to watch out for are bug repellents and torches, as they can be really dangerous for cats. Lastly, if you have a garbage can on your balcony, make sure to close it tightly or completely move it. Trash attracts bugs and our small hunters might get carried away and leave the balcony in pursuit.
2. Time to rearrange your balcony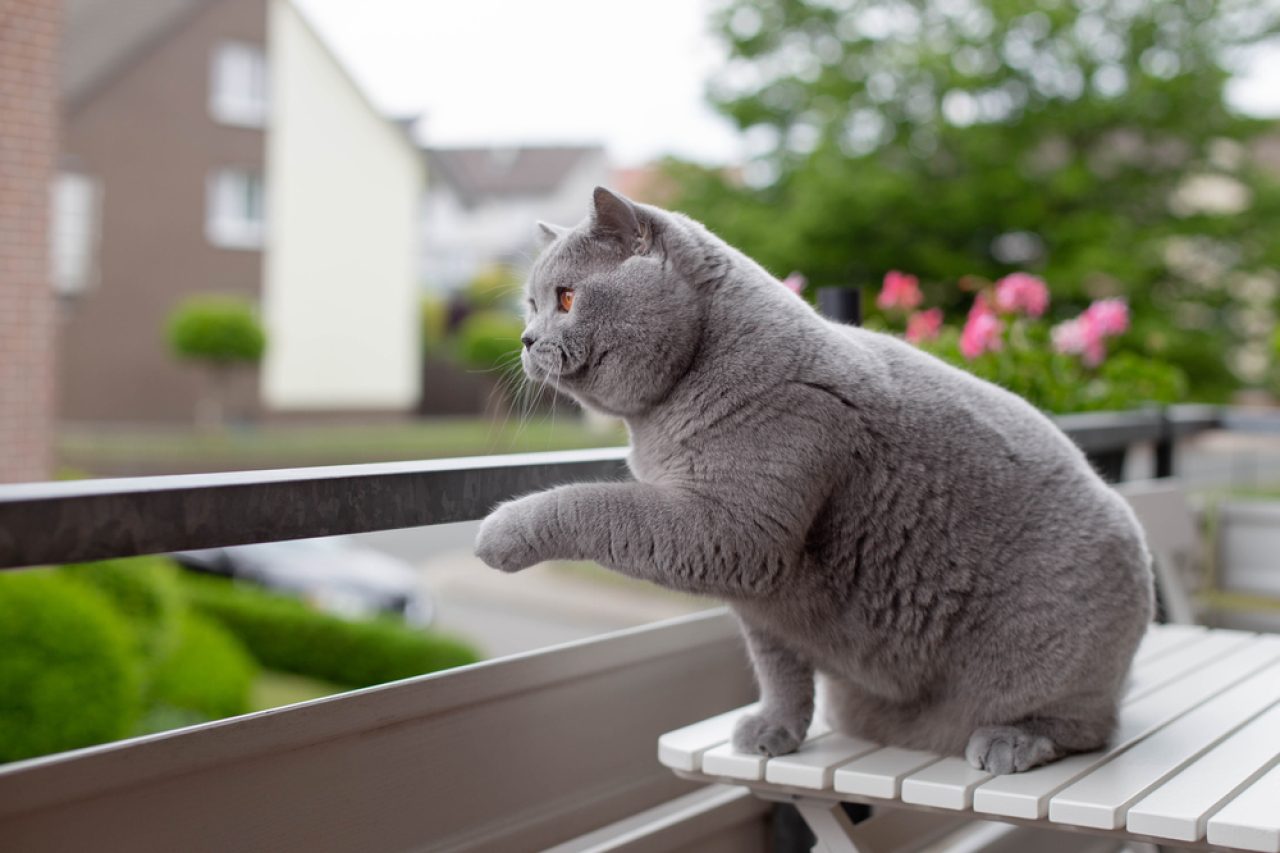 Making your balcony cat-proof doesn't have to be expensive or require much work. Sometimes, all you need to do is to rearrange your furniture a bit. Yes, it can be that simple and quick – and you'll sleep better knowing your furbaby's safe.
The main reason why you need to cat-proof a balcony is that they love to jump around and they're much more agile than dogs. Because of that, it's important to look around your terrace and see if the way you arranged your furniture represents a threat to your feline.
You don't have to do much work. Take a moment to observe your balcony and see if any tall objects are close to the railings. If the answer is yes, then the first step to cat-proofing your balcony is to move them somewhere else.
Tables, chairs, and sofas are good platforms for our little athletes. If your balcony is not big enough for you to move the furniture around, it would be a good idea to invest in folding furniture. That way you can fold your tables and chairs when you're not out there using them, and you'll have a cat-friendly balcony.
3. Plexiglass is always a safe option
If you're looking for a more solid barrier, plexiglass would be a good option for you. In case you're living in a rental, this could be one of the best alternatives because they don't require much work. Yes, there will be some drilling, but no changes will be made to the apartment itself.
To install plexiglass panels, all you need to do is drill some holes in them. Once you do, simply zip-tie them to your railing and you've got your cat tenant-friendly protection. Attaching them to metal railings should be much easier than walls, and they're a great option for covered balconies.
4. Bamboo fence for uniqueness and safety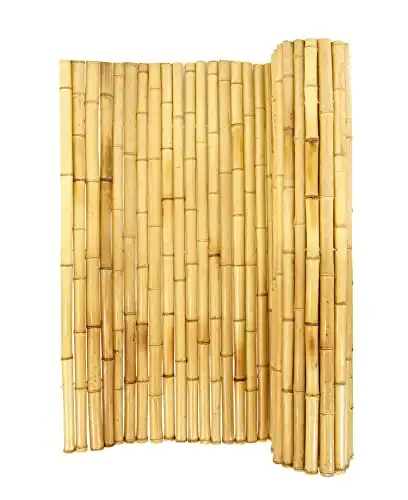 Bamboo is always a great way to decorate any outdoor area and it's a unique way to add something new. Not only is it beautiful to see, but it's also a great way to cat-proof your balcony by creating a fence from it.
The main idea is to add it to the already existing railings or walls. You don't want to replace them, just make them taller by adding bamboo so your cat can't jump over them.
Providing fencing that is tall enough should work perfectly fine whether you have a covered or uncovered balcony. To put up the fence, use a zip tie and tie your bamboo to the railings.
You might need to do a bit more work if you have walls because tying things to them isn't the easiest task. A good solution would be adhesive hooks to which you can tie the zip ties.
The only downside to this is – you might lose your view, but the good thing is that you'll gain a lot more privacy! Weigh the pros and cons, and see if adding bamboo is a good option for you. If not – don't worry, there are many other alternatives for you to make your balcony cat-friendly.
5. Installing balcony netting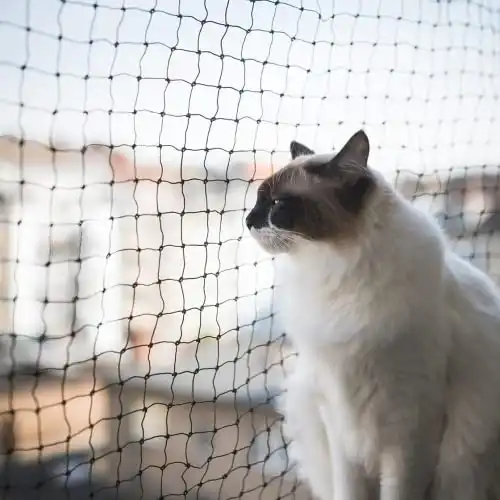 Perhaps the most logical option and the one that probably popped up in your mind first is cat netting – and for a good reason. This alternative is definitely the most popular and effective way to cat-proof a balcony.
There are many reasons why this alternative is so loved. First, it's really not that expensive and you can keep your feline safe and happy on a budget. On top of that, it's much easier to install than plexiglass. All you need are some hooks and you should be good!
It's also a healthier version, too. With netting, the air can flow easily and your usually indoor cat can finally feel some fresh breeze on her whiskers. Not only that, but it's also a lot easier to put up and take down whenever you feel like it.
Although it looks like your cat could just rip it apart, that's usually not the case. Our feline friends just assume they can't penetrate the barrier so they don't even try!
Of course, this option will be the best for people with covered balconies because you need a roof to hang the net from. If you're an uncovered-balcony owner, it's better to stick to options that provide a tall barrier.
6. Lattice for those with a bigger budget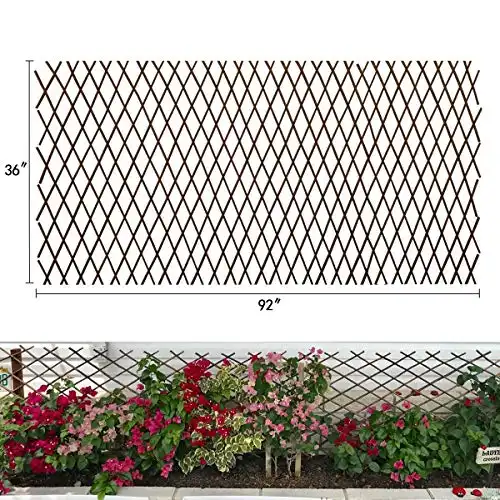 If you don't plan on spending a lot of time hanging out with your feline bestie on the balcony, then lattice would be a great option for you. If you want to prevent your cat from leaving the terrace completely, then this is definitely the most secure alternative on the list.
With lattice, your kitty still has a feeling of being outside while being completely protected from the dangers of leaving the balcony. It is a much more permanent, stable, and resilient alternative than netting or bamboo fencing.
The downside of this option is the fact that it's much more expensive than installing the balcony net or plexiglass. The good thing is – you won't have to change it for a long time, so it really pays off in the end.
If you're looking for a quick fix, then you should skip this alternative altogether. It's definitely a long-term solution and it will change the look of your balcony completely.
7. Cushions and outdoor rugs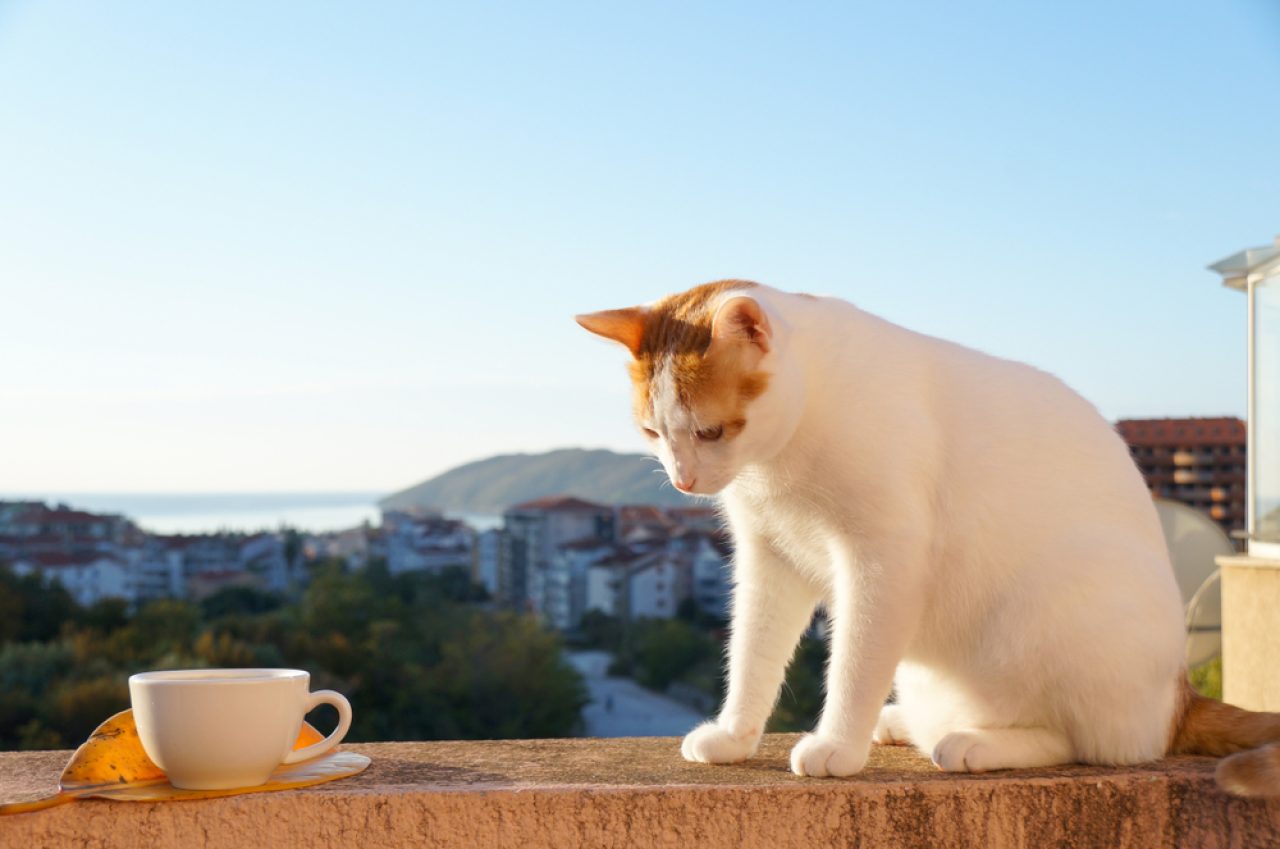 If there's one thing that cats love, it's being comfortable and sung. That's why they're so obsessed with cushions, blankets, and pillows. If your cat is anything like mine, then she can spend hours sleeping in your bed, snuggled in all those pillows and sheets.
Because of this, it's a great idea to add some extra cushions to your balcony and make it super comfy. That way your cat will love spending time on it and won't even think about leaving her warm and safe nest. Cat-proof your balcony with comfort and snuggles!
Throw some pillows and blankets around and give your cat plenty of options to choose from. It will keep her interested, entertained, and she'll soon find her favorite spot that she'll never want to leave. Now you might have problems keeping your cat inside…
Another good idea is adding an outdoor carpet. Not only will your cat love it just like any other blanket you give her, but it's also really easy to clean. You'll spice up your decor, too! I can't see any downsides to this one.
Of course, this doesn't have to exclude adding some extra protection too, like a bamboo fence or balcony netting. Making your snuggle bug fall in love with your balcony is the first step in your quest to keep her there.
8. Make a nice little catio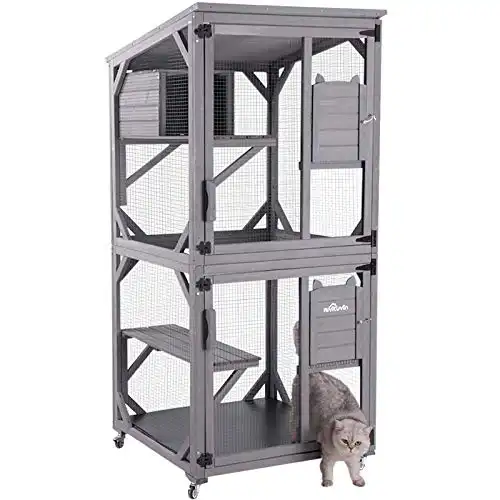 And last, but not least – a catio. As the name suggests, it's a patio for cats. Shocker, I know. This large cage is usually made for one or two cats, and it's easily transportable from one place to another.
It shouldn't be too hard to set up, either. All you need is some kind of wired netting and a wired frame or plastic structure. It will provide your cat with a small part of the balcony just for herself, and she'll have the freedom to move around just like her parent.
This is a perfect alternative for people with open balconies as it will keep your cat safe from all sides. On top of that, if you're blessed with a cat flap in your door, this will fit perfectly and it could be a really good solution for you.
If you decide to go for this type of enclosure, make sure you make it your cat's little apartment. Add some blankets, toys, and enough food and water – and she'll never want to leave her condo. It'll become her safe, private little nest.
If you have limited space, however, a catio wouldn't be the best option for you. After all, you want your feline friend to move around as much as possible, and this alternative would take up a lot of your space, too. If you have a small balcony, netting or a taller fence would be a much better option.
Final thoughts
Depending on what you have at your disposal, there are a lot of options for you to cat-proof your balcony and keep your fluff safe. It's a great option for indoor cats. It will give them a sense of living outside while you can rest knowing they're safe.
Whether it's adding a taller fence, putting up cat netting, or simply making your balcony extra cozy – your cat will love you for it. Plus, it's a great opportunity for you to do some redecorating, too!