Sometimes, destiny brings us to the exact thing we never knew we needed. It could be an excellent job opportunity, a new friend who truly understands us, or a special someone with whom we are supposed to spend the rest of our life.
And if we are lucky enough, it brings a very special furry companion into our life.
I say lucky because how else are you supposed to describe the opportunity to own any kind of pet other than using the word luck? Hardly anything else comes to my mind, and I am sure that a Salt Lake City-based devoted cat mom would agree with me.
One day, on her way home from work, the woman had a premonition that she should stop by the shelter and see what they had inside. There was nothing special about that shelter that could intrigue her and made her walk in. It was a part of her standard route, and she passed by it every single day on her way home.
However, that day, something inside of her told her she should definitely stop by and take a look.
As she was looking at all those adorable kittens, she approached one very special feline that squeaked when she saw her – the lady she did not know will be her future cat momma.
The cat was an orange, long-haired kitty the shelter folks thought was part Maine Coon, because of her thick and fluffy tail and general Main Coon-like appearance.
The woman fell head over heels for her! She wasn't necessarily looking for another feline addition to her family as she already had two beautiful cats. But something inside her told her that this particular kitty was meant for her. She needed to bring her home!
Apparently, the kitty felt the same way for her new human friend. So, from the moment this woman picked her up, she simply could not stop smiling.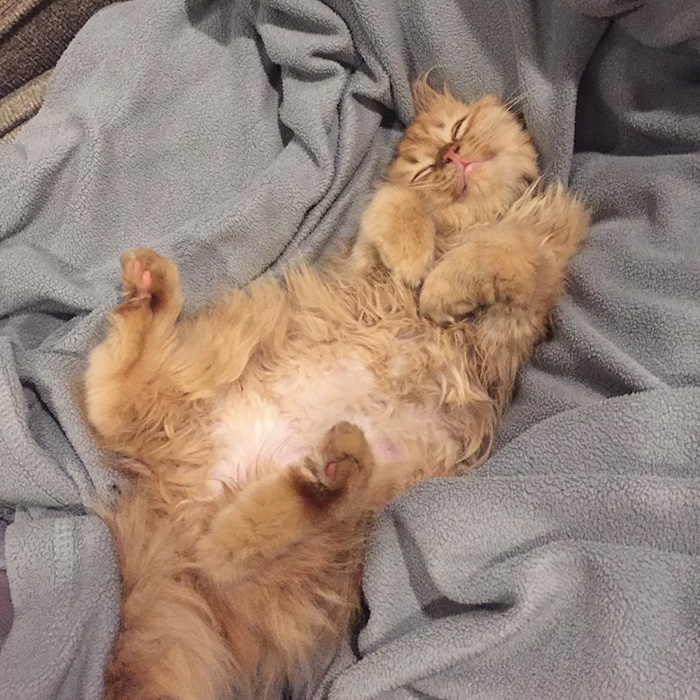 Every once in a while we are blessed by the Universe to see a feline smiling, and we could not appreciate it more. It is such a special and definitely empowering sight. And I am sure the woman and her family love it, too!
The woman adopted this smiling kitten when she was around 5 months old. She and her family decided to name her Rey after the female protagonist from the famous movie Star Wars: The Force Awakens, played by the lovely actress Daisy Ridley.
Both the woman and her partner immediately fell in love with Rey. They thought that she fitted perfectly with their family and adored seeing her playing around their home.
And their two other fluffs also accepted Rey as a part of their gang. The couple were proud cat parents of Coen, a stripped tabby tomcat, and Ava, an older black and white female cat.
It was truly as though destiny brought them all together; like it put all the missing pieces together and finally joined all five of them in one single day.
Since it was believed Rey was part Maine Coon, the couple expected her to be goofy, friendly, and very much affectionate. And Rey's personality definitely did not disappoint!
Rey loved to cuddle, play with her siblings, follow their owners around their home, and engage in various silly behaviors. It might not be sure if she is truly a Maine Coon fluff or not, but she undoubtedly has all the right qualifications.
And her siblings loved her company, too. They love to spend time with her, interact with her, groom her, and they always make sure to keep an eye on her – just like true older siblings!
However, the best part about this adorable kitten is that she never stopped smiling. Not even for a day! Her smile became the one distinct feature that she was recognized for, not just in her family or their inner circle of friends, but also worldwide.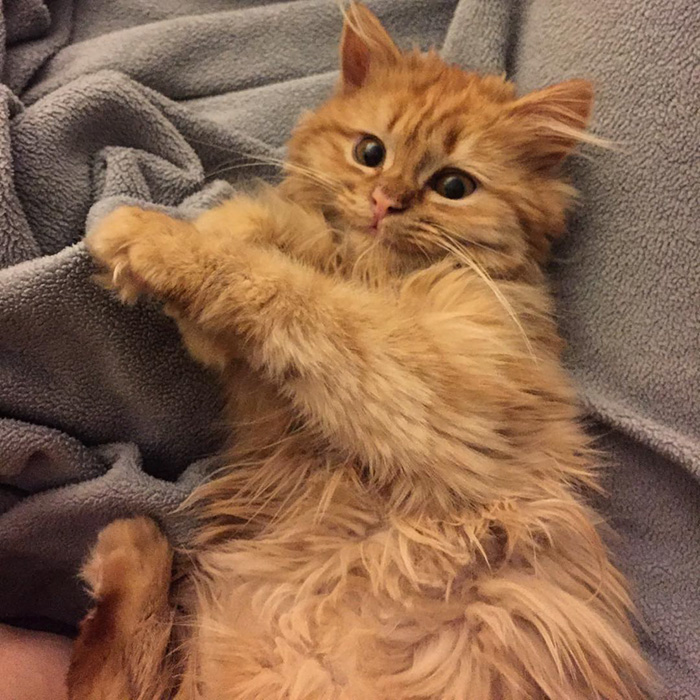 The couple shared multiple pictures of Rey, Coen, and Ava on their cat-based Instagram page where Rey's adorable smile gained them more than 2,500 followers from all around the world. She is definitely a star!
Because of her great purrsonality and infectious grin, her hooman parents tenderly refer to her as their "little Rey of sunshine." Don't know about you, but I am crazy about this wordplay. Not as crazy about it as I am crazy about this perfect feline, of course. She is everything!
I hope this family is having a blast with Rey. And I hope all of us get a chance to experience such a sudden but much-appreciated stroke of luck.
Next time you find yourself passing by a shelter, please be bold and make sure you step inside, just to see what they have in there. Who knows, maybe an adorable fluff is waiting for you to pick him up and take him home with you.
Maybe there is a feline grin destined to be yours – and a kitty that is meant to be a part of your life.