Cats might dominate the internet, but dogs are the ones that typically take the credit whenever there's somebody to save or something heroic to do. Cats make silly faces, wear strange outfits, and entertain the masses, but dogs sniff out crime scenes and rescue people out of burning buildings.
Cats and dogs aren't that different, contrary to popular belief. But for whatever reason, dogs are considered honorable, heroic, and friendly while cats are viewed as reserved, detached, and borderline mean.
Before we start the neverending fight between cat people and dog people (a.k.a. cat people and haters who don't accept the fact that cats are superior to dogs)… We're kidding, we're kidding.
We can't get over the fact that dog people hate cats because they're intelligent and independent, though. They're creatures of consent. They do what they want when they want. They make sure you know they don't need you.
Cat people adore dogs, too, but prefer the company of fluffy felines. Dog people can't seem to stop screaming bloody murder every time a cat approaches them – a cat scratched them once and now they're adamant about spreading hate everywhere they go.
Dogs are great, there's no question about that. A dog saved a random woman on the street by fighting off an alligator. Another woke up a family when a fire broke out when they were sleeping. And, we can't forget about the one that managed to call 911 when a woman suffered a seizure (for real!)
We're far from claiming that dogs don't deserve credit for what they do, but cats also deserve some credit. Cats are heroes, too.
A cat saved her owner by stomping on her chest and biting on her nose when she noticed she was having a diabetic seizure. Another one saved a little girl from getting mauled by a dog by attacking him and chasing him off of the property.
Yet another saved her owner by sniffing her, meowing at her, and scratching when she noticed something was wrong with her. The owner went to the doctor and found out she had Hodgkin's Lymphoma. Take that, dogs!
And the story we're bringing you today comes with a heroic act performed by a cat from a land far, far away. A man posting with the username sc4s2cg took to Reddit to share the story of how he got lost while he was hiking in the mountains in Gimmelwald, Switzerland.
Gimmelwald is a tiny village in Bernese Oberland at the foot of the Jungfrau-Aletsch Unesco World Heritage Site, and the man wasn't familiar with the nooks and crannies of the nearby mountains. Nonetheless, he was adamant about exploring everything Gimmelwald had to offer.
When he arrived at Lauterbrunnen, the ski season had already ended, which meant that the lifts weren't working and the trails were closed.
He wasn't happy about that, but he was an experienced mountaineer and he didn't want to allow a little setback to ruin the trip he'd been planning for months. He decided to take a roundabout trail up the mountain and follow the ski lifts to ensure he didn't veer off the trail.
He made it to the top and decided to follow a train track toward the middle of what he described as a "totally empty town." He was happy with the route he had taken and spent the rest of the road enjoying the views, stopping now and then to take pictures, breathe, and rest.
When he was done for the day and decided to go back, he checked the map and was surprised to see that the only official way down was through a trail that was closed.
He was taken aback by that because the weather was getting colder, he was getting tired, and he was struggling to walk because he had an ankle sprain.
He took a break to figure out what to do and that's when he noticed a fluffy black and white feline sitting on the side of the road, making eye contact with him, observing what he was doing.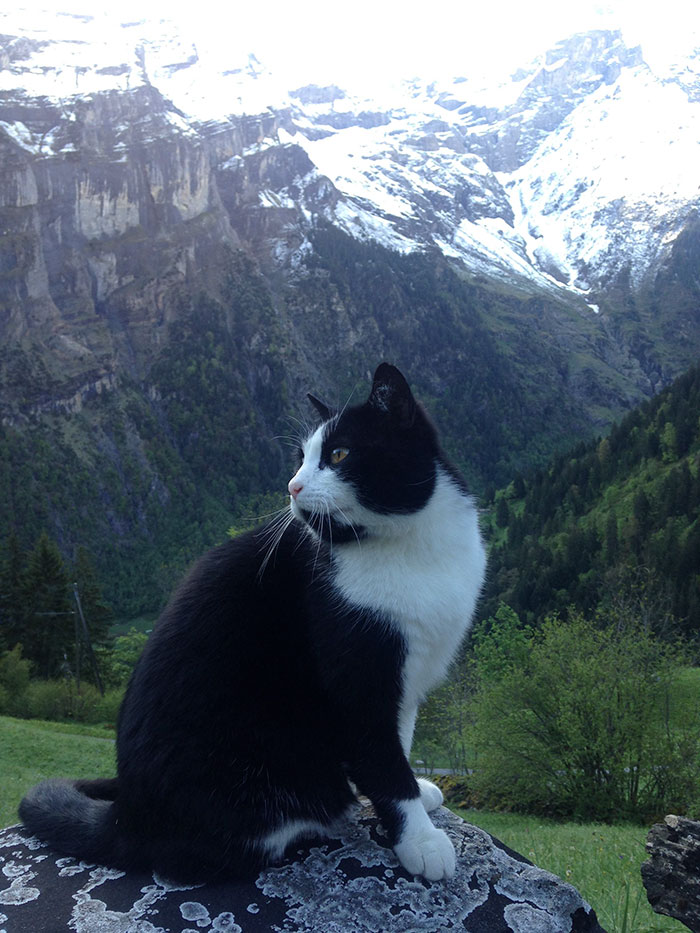 During the trip, the man noticed there weren't that many cats roaming the streets of Gimmelwad and Lauterbrunnen. Because of that, he was even more surprised to see a cat in the middle of nowhere. But he was fond of cats and more than happy to pet her and share food with her.
When the man prepared to depart, he was sure the cat would stay there. She didn't, though. She got up, walked in front of him, and guided him toward a path he'd never seen before. She seemed sure of what she was doing, so the man decided to follow her.
She was friendly and wasn't scared of the fact that he was a stranger. She wasn't a stray, the man was sure of that. She must've belonged to someone from Gimmelwald or Lauterbrunnen because she seemed to be used to walking the mountains and guiding the tourist crowd that came annually to that region.
And sure enough, she kept walking in front of him, looking back at him to make sure he was following her, and guiding him toward a path that would take him back down to the valley.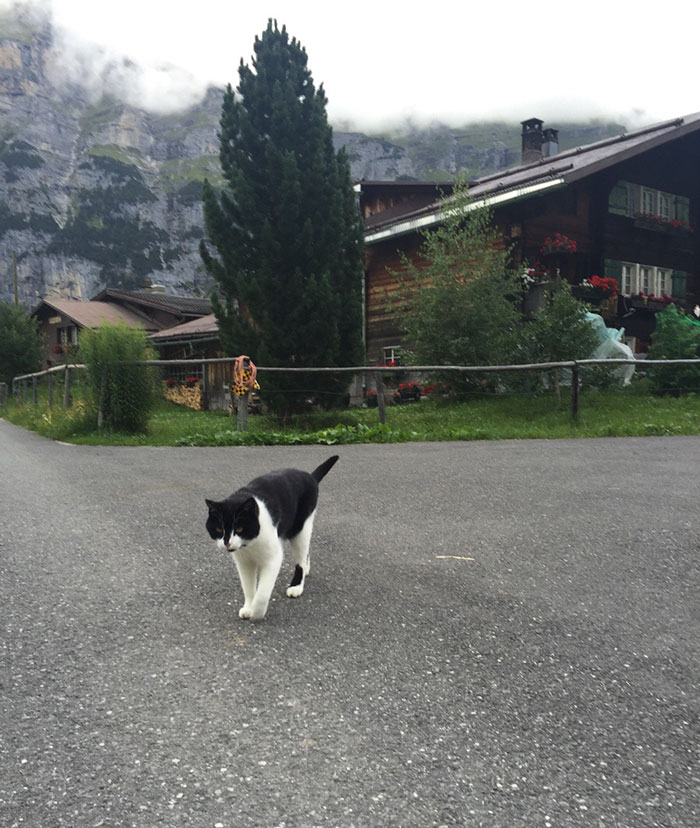 What a purrfect mountain guide she was!
When the two arrived at the bottom of the mountain, the cat meowed the man goodbye and departed. She wasn't done protecting her territory and guiding confused tourists. He wasn't done with her, though – he decided to post about her on Reddit.
He was surprised when people started commenting that the cat belonged to the owners of a little guest house at the bottom of the mountain.
She was known as the mountain cat that adored hanging out with tourists and helping them get to where they needed to be. She was loved by hundreds and hundreds of tourists. What a great story!