"What is a vampire's favorite fruit? A necktarine!" With that horribly cheesy joke out of the way, we can proceed to talk about how your feline friend feels for this smooth-skinned fruit. She seems to make goo-goo eyes at it every time you try to take a bite! But can cats eat nectarines!?
You had no idea being a cat parent was going to be this stressful! How do you juggle between providing your furball with delicious, nutrient-packed meals every single day and preventing her from accidentally eating something that could potentially harm her!?
After all, she's such a curious little stinker! She can't stay away from the kitchen regardless of how many times you tell her she isn't allowed in there. Sometimes it feels as if she doesn't speak the same language as you do. Quite odd, isn't it?
All jokes aside, it can get pretty overwhelming trying to keep your precious purrincess out of harm's way. It's no wonder you're on your laptop at midnight looking up "Can cats eat nectarines?" Let me put your mind at ease – cats can eat nectarines!
There are a couple of things you need to consider before introducing nectarines as a regular cat-friendly snack in your household. This mouth-watering fruit is packed with vitamins, minerals, and fiber. But, it does come with a couple of minor risks you might want to keep an eye on.
Do cats like nectarines?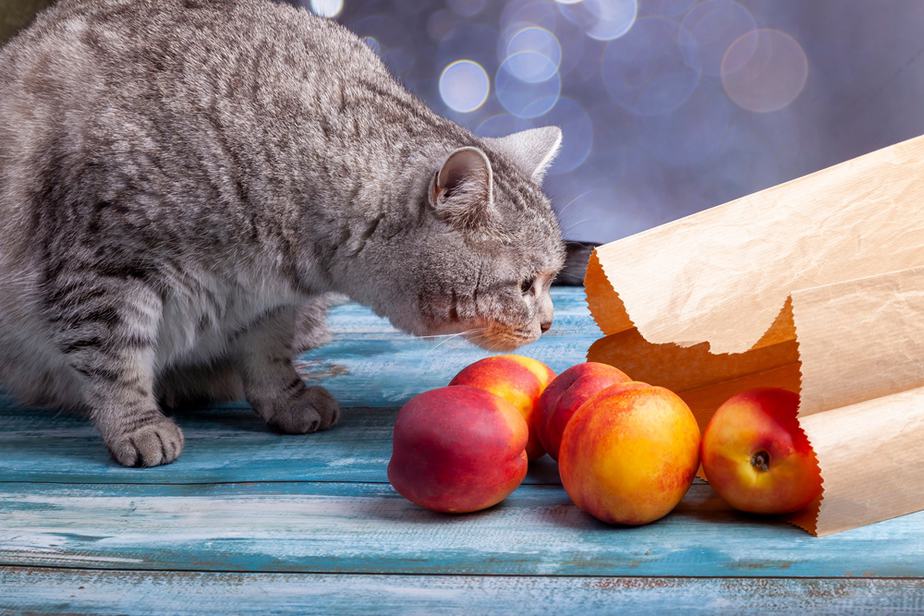 Nectarines are basically smooth-skinned peaches. They belong to the family Rosaceae which grows in warmer regions of both the Northern and Southern hemispheres. Believe it or not, they owe their hairlessness to a genetic defect!
Nectarines have red, orange, or white flesh with a medium-sized stone in the middle. This stone is incredibly important as it determines whether or not you should feed this delectable fruit to your feline friend. What does that have to do with anything!?
Well, there are two different types of nectarine stones. A freestone type implies that the flesh of the nectarine separates from the stone fairly easily. A clingstone, as the name might suggest, implies that the stone clings to the flesh and isn't easy to remove.
Nectarine stones contain a tiny amount of cyanide. While this toxin is incredibly harmful to humans and animals, such a tiny amount shouldn't cause any harm. But, it's better to be safe than sorry! If you're planning on feeding nectarines to your cat you should always remove the stone!
So, do cats like nectarines? Cats don't have sweet taste receptors which means they aren't likely to be drawn to fruit. Your mischievous monster might be showing a sudden interest in nectarines because of their alluring texture, or even because she sees you cramming them down every single day.
Besides that, cats are obligate carnivores. They don't require fruit, veggies, or grains in their regular diet. They get most of their nutritional benefits from meat and animal-sourced vitamins, minerals, and antioxidants. Does this mean your feline friend shouldn't eat nectarines?
So, can cats eat nectarines?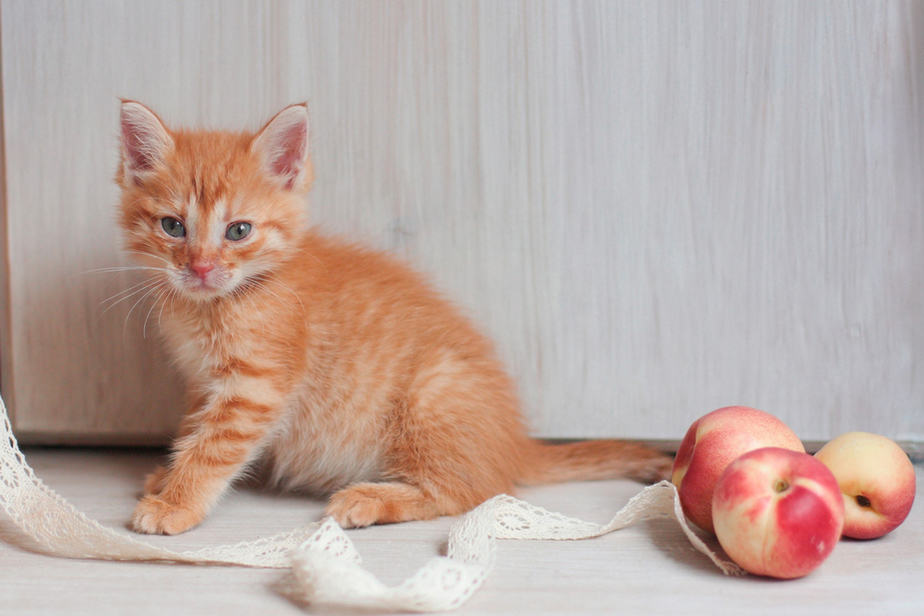 Absolutely, nectarines are completely safe for cats! If she's a big fan of this mouth-watering fruit, your cat should be able to have an occasional nectarine treat. You shouldn't include it in her regular diet, but a bite or two isn't likely to lead to any adverse reactions.
Your feline friend might even get some incredible nutritional benefits from this yummy fruit! Nectarines happen to be an excellent source of vitamin A, vitamin C, potassium, magnesium, and phosphorous.
Vitamin A is an essential vitamin for both cats and dogs. This means that it's a necessary part of their diet because it ensures their optimal health. Among other things, this vitamin supports healthy eyes and skin, the formation of organs and structures in baby animals, and the immune system.
Vitamin C plays an important role in numerous metabolic functions including the growth and maintenance of your cat's tissue and regulation of the immune system. Potassium, magnesium, and phosphorous are incredibly important as well.
They support the normal function of muscles and nerves, manage urinary disorders and struvite urine crystals, and delay the progression of chronic kidney disease in cats. Let's be honest, throwing a couple of nectarine slices in your cat's food bowl sounds like a great idea!
But… There are a couple of minor risks you need to consider before adding nectarines to your cat's groceries list. Not only do nectarines contain tiny doses of cyanide and other toxins, but they can also be pretty sugary. This tricky combination deserves a closer look!
Potential reasons why you shouldn't feed nectarines to your cat
Here's the thing. You shouldn't let this minor inconvenience deter you from letting your precious purrincess revel in an occasional nectarine treat. And you certainly shouldn't go back to googling "Can cats eat nectarines?" They can!
You just have to be a bit more careful than you initially thought. So, here are a couple of things you need to keep an eye on.
1. Nectarines contain a tiny amount of cyanide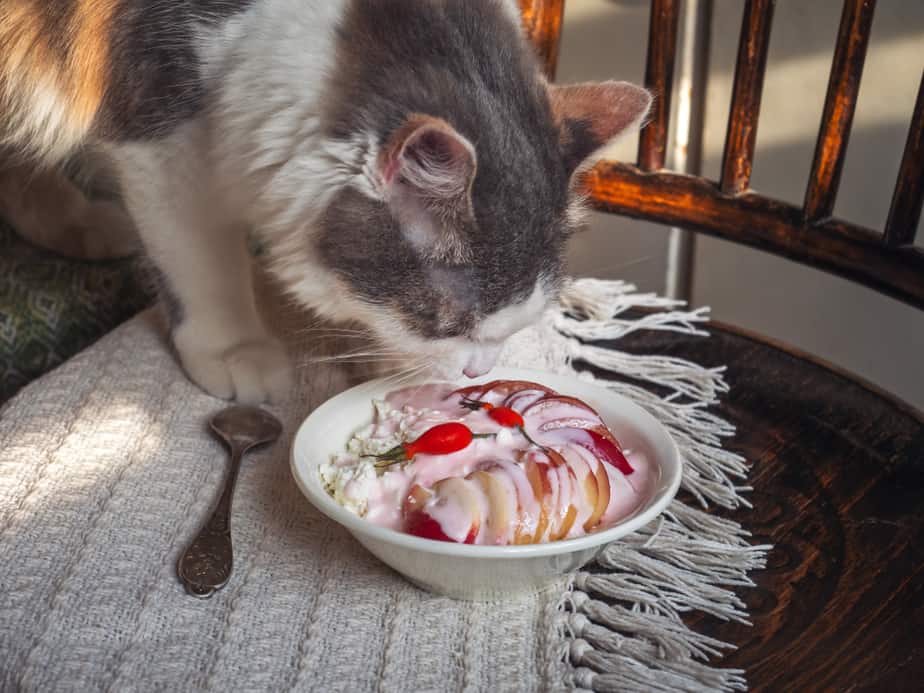 Let's get one thing straight – nectarines aren't toxic to cats. If your feline friend happens to eat an entire nectarine by herself, chances are she's going to be completely fine. She might have to run to her litter box because of all that fiber, but that's beside the point.
Nectarines do contain a tiny amount of cyanide. To be more specific, this dangerous toxic is contained within the leaves, stem, and stone. Your feline friend isn't likely to munch on any of those nectarine parts, but it's better to be safe than sorry.
Keep an eye out for any symptoms of cyanide toxicity such as respiratory distress, muscle twitching, and staggering. While these symptoms aren't likely to occur, if you do notice any of them you should contact your vet immediately!
And if you're planning on sharing a nectarine with your cat, you should take some extra precautions. Make sure to wash it properly, remove any toxic part (leaves, stem, stone), cut it into tiny cubes, or even puree it. This is the safest way to introduce any fruit into your cat's diet.
2. Nectarine stones might be a choking hazard
These nectarine stones are no laughing matter! They seem to be the main reason why you should be careful when feeding nectarines to your four-legged friend. Cats are curious creatures and they love to explore anything they can find on the floor.
If your mischievous monster happens to cross paths with a rogue nectarine stone, she might decide to give it a taste. Nectarine stones don't belong in your cat's mouth! It only takes a moment of distraction for her to accidentally choke on it!
Repeat after me "Always remove the nectarine stone!" Not only does it contain cyanide, but it can also cause immense harm to your cat if it gets stuck in her esophagus. You shouldn't mind taking some extra steps when it comes to ensuring your cat's safety.
3. Nectarines contain too much sugar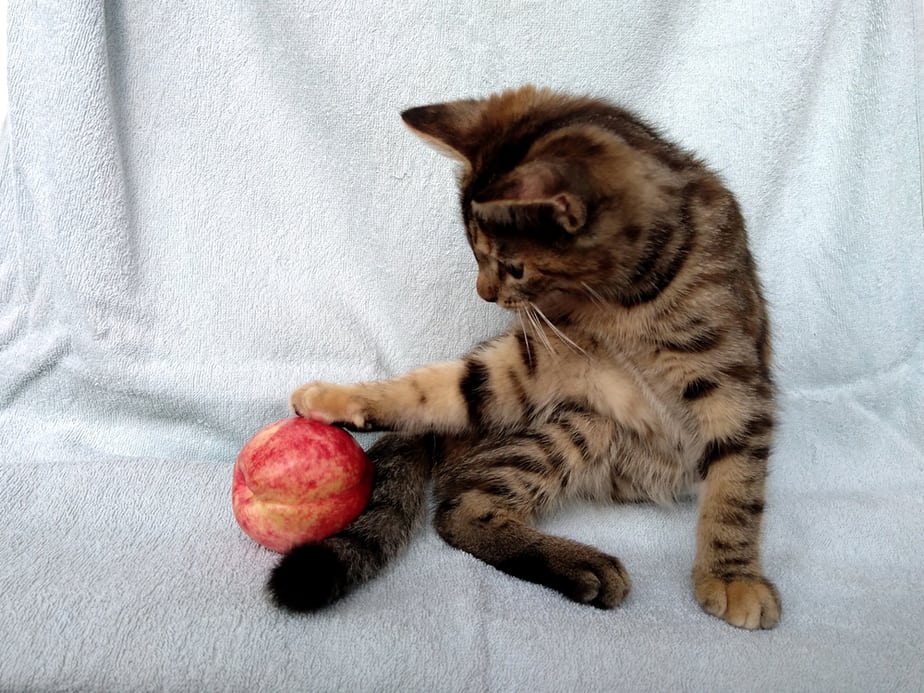 Any amount of sugar seems to be too much in the feline world. Cats are obligate carnivores, which means they don't require heaps of fruit in their diet as humans do. Their digestive system struggles to break down carbohydrates (and sugar is a carbohydrate).
Consuming too much sugar can cause a variety of problems for your cat. Her initial response might include abdominal pain, vomiting, and diarrhea. But if she continues consuming high-sugar foods she might face some serious issues in the long run.
Tooth decay and other teeth-related problems, different types of diabetes, obesity – all these diseases stem from an improper diet. While occasional nectarine treats shouldn't lead to any serious problems, you should know when to draw the line. Fruit doesn't belong in your cat's regular diet!
So, what do you do if your cat eats a nectarine?
Absolutely nothing! As explained beforehand, nectarines are completely safe for feline consumption. If your feline friend gets her paws on this smooth-skinned peach, you have nothing to worry about. She'll revel in a bunch of vitamins, minerals, and antioxidants.
Since nectarines do contain heaps of fiber, she might experience some digestive discomfort. Some cats have sensitive stomachs, so your cat might show signs of slight abdominal pain, diarrhea, or even vomiting.
You should keep an eye out for these symptoms, and contact your vet in case they become more severe. It's important to mention, once again, that nectarines aren't toxic to cats and these reactions aren't likely to occur. But, you can never be too safe!
The same goes for cyanide toxicity. Nectarines do contain a tiny amount of this toxin, but it isn't enough to cause any adverse reactions. On the off chance your cat accidentally ingests a bunch of nectarine stones, leaves, or stems you should monitor her behavior and consult with your vet.
Most symptoms of cyanide toxicity appear within the first hour. They might include anything from respiratory distress, muscle twitching, and staggering, to cherry red mucous membranes. If you notice any of them, you should take your cat to emergency animal care with no delay!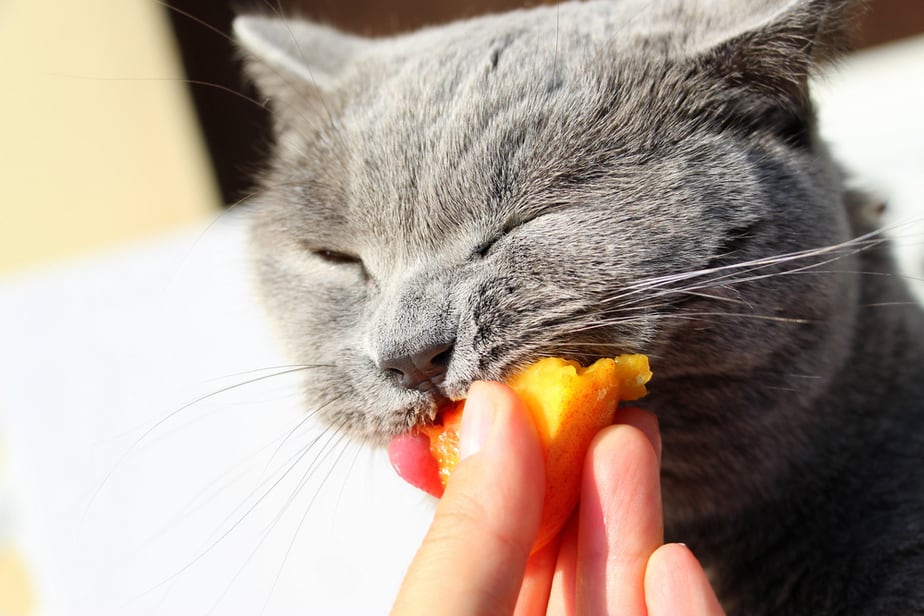 If cats can eat nectarines, can they eat peaches?
Now that we've answered your "Can cats eat nectarines?" question, we can move on to equally delicious but slightly different summer fruit. Nectarines, peaches, apricots – all these fruits are similar in color and shape, but they have a couple of traits that set them apart.
So, what's the main difference between nectarines and peaches? They are similar in appearance, but peaches are fuzzy while nectarines have no fuzz at all. Nectarines were born out of the effort to make peaches heartier, so this genetic defect makes complete sense.
Both of these summer fruits contain a bunch of vitamins, minerals, and antioxidants. Nectarines are packed with vitamin A, vitamin C, zinc, iron, magnesium and many other compounds with names too complex to write down. All these nutrients make them an excellent treat for your feline friend!
On the other hand, peaches are rich in vitamins E and K, niacin, folate, iron, choline, potassium, magnesium, phosphorus, manganese, zinc, and copper. These nutrients boost your cat's overall immune system, maintain healthy muscle and nerve functions, and keep her coat shiny and thick.
So, can cats eat peaches? It shouldn't come as a surprise that cats can eat peaches, too. After all, nectarines and peaches are close relatives! This mouth-watering fruit requires the same level of attention if you're planning on feeding it to your cat!